The Pythian, 135 West 70th Street: Review and Ratings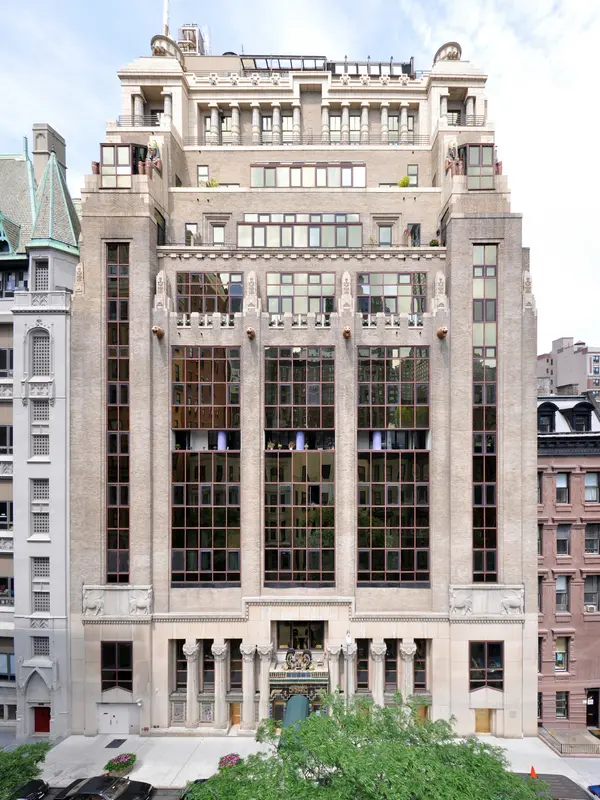 Review of 135 West 70th Street by
Carter Horsley
One of the city's most interesting buildings, the Pythian at 135 West 70th Street between Broadway and Columbus Avenue is richly decorated in brightly colored, glazed terracotta embellishments depicting figures of antiquity.
The mid-block building was designed by Thomas W. Lamb, one of the country's foremost designers of movie palaces, most of which, sadly, have been destroyed. One of his other works in New York is the Audubon Theater and Ballroom building on Broadway and 165th Street.
Built in 1926, the Pythian was converted to a condominium in 1983 and contains 84 apartments. The conversion and restoration, designed by David Gura, altered the building's largely windowless façade by inserting many new windows, but it managed to retain most of its exuberant decorative features.
Bottom Line
A wild and colorful confection close to the center of the Upper West Side with a quiet mid-block location.
The building, which has several terraces and many unusual layouts with high ceilings, is close to an express subway station and not far from Central Park and the Lincoln Center district.
Description
While the façade of the Pythian is not as fully decorated as the Alwyn Court on Seventh Avenue and 58th Street, it ranks with the gargoyle-strewn Westside YMCA on 63rd Street west of Central Park West and the former Shelton Hotel, now the Marriott Marquis New York, on Lexington Avenue at 48th Street, at the top of the city's list of surprising and delightful buildings. It also serves as a good reminder that sculpture in antiquity was often brightly painted.
According to architect David Gura, "the building was intended to be the regional meeting facility for the lodges of the Knights of Pythias and as such it housed several stacks of windowless lodge halls, each one complete with ancillary rooms and an organ loft."
"This pile of meeting rooms was suspended above the column-less auditorium, which occupied the entire third floor by two enormous steel plate trusses, two stories tall," according to Mr. Gura.
"New duplex apartments were threaded throughout the old trusses and inserted between the existing floor slabs. New floor slabs trisect the old auditorium space. New windows were added in a manner that reveals both the original construction and new renovation. Gold reflective curtain wall with deep red-colored framing members are split at the fifth floor, providing terraces for bedrooms on that level and showing both how the mass above is suspended on trusses and how the original five-bay architectural façade was overlaid on a six-bay structural frame," Mr. Gura has noted.
Some decorative elements that were removed from their original positions were salvaged for use elsewhere within the building, whose renovation won a residential design award from the New York Chapter of the American Institute of Architects.
In his June 18, 2009 "Streetscapes" column in The New York Times, Christopher Gray notes that architect Lamb "created a blockbuster synthesis of Egyptian, Babylonian and Assyrian motifs evoking the grandeur of D. W. Griffiths Babylonian movie set for his 1916 'Intolerance'…The Pythian Temple's ground-floor colonnade, with Assyrian-type heads, is centered on a brilliantly glazed blue terra-cotta entry pavilion. The windowless middle section steps back at about 100 feet up, with four seated Pharaonic figures similar to those of Ramses II at Abu Simbel. Two more setbacks rise to a highly colored Egyptian-style colonnade, and to giant urns carried by teams of yellow, red and green oxen."
Amenities
The building has a doorman, a playroom, a laundry on each floor and storage facilities. It is also pet-friendly.
Apartments
Each apartment is different and there are four professional offices on the ground floor.
Penthouse A is a one-bedroom unit with a 64-foot-long terrace that has a 7-foot-long entry foyer that leads to a 10-foot-longdining room off the 12-foot-long kitchen and a 22-foot-long living room.
Apartment 8H has a 9-foot-wide entry foyer that opens onto a 23-foot-long living room with a double-height ceiling and a small terrace on the lower level and a 22-foot-long bedroom and a 9-foot-long home office on the upper level.
Apartment 6G has a long entry foyer that leads to a 26-foot-long living/dining room with an open, pass-through kitchen and one bedroom on the lower level and a 19-foot-long bedroom and an 8-foot-long office on the upper level.
Apartment 4F has a 21-foot-long entry foyer that leads to a 12-foot-long pass-through kitchen and a 16-foot-wide dining area that leads up four steps to a 25-foot-long living room on the lower level. The upper level has two bedrooms.
History
"Hollywood may have had its Grauman's Chinese, but New York has its Pythian Temple! Hidden on an anonymous side street, this opium-smoker's dream is best seen from across the street- or better still from someone's upper floor-apartment to the south," wrote Elliot Wilensky and Norval White in the excellent book, "The A.I.A. Guide to New York City, Third Edition," (Harcourt Brace Jovanovich, 1988).
Indeed, its fantastic ornamentation clearly inspired the developers of the Coronado, a new apartment house on the same block at the Broadway corner that was finished after the third edition of Wilensky and White book was published. It features large fanciful monsters atop its large canopy.
Space in the building was rented to Decca Records and in 1954, according to Mr. Gray, Bill Haley and His Comets recorded "Rock Around the Clock" there and other musicians such as Billie Holliday, Sammy Davis Jr. and Buddy Holly also used a studio there.
"In November 1956, the singer and actor Paul Robeson spoke at the temple at a meeting of the National Council of the American-Soviet Friendship Association and he and others were bombarded with eggs" and tomatoes by protestors angry at the suppression of the recent Hungarian revolt, Mr. Gray continued.
In 1958, the Pythians departed the building, which was then acquired by the New York Institute of Technology.
According to an article by Daniel B. Schneider in the September 24, 2000 edition of The New York Times, the building was designed as a "clubhouse for the Order of Knights of Pythias, a fraternal organization founded in Washington during the Civil War."
"In their own terms, the Knights of Pythias 'seek to take hold of the hearts of men in a never-ending quest for international brotherhood.' The group takes its name from the tale of Damon and Pythias, initiates in the Pythagorean mysteries in Syracuse in the fourth century B.C. during the reign of the tyrant Dionysius. When Damon was sentenced to death, Pythias took his place so Damon could say farewell to his family in Greece. Damon returned at the hour of execution, and Dionysius, stirred by the strength of their friendship, set both men free," Mr. Schneider wrote.
Lady Gaga, the entertainer, grew up in the building.
Book a Tour or Get More Information on this Building
695 Buyers
are interested in buying at
135 West 70th Street!
Interested in Selling?
We'll introduce you to the agents that
specialize in 135 West 70th Street and are
experts in selling apartments there.

And they'll be able to contact all of the buyers interested in the building.
There's no obligation and your inquiry is confidential.
Call us at (212) 755-5544