Gateway Plaza Battery Park City, 345-395 South End Avenue: Review and Ratings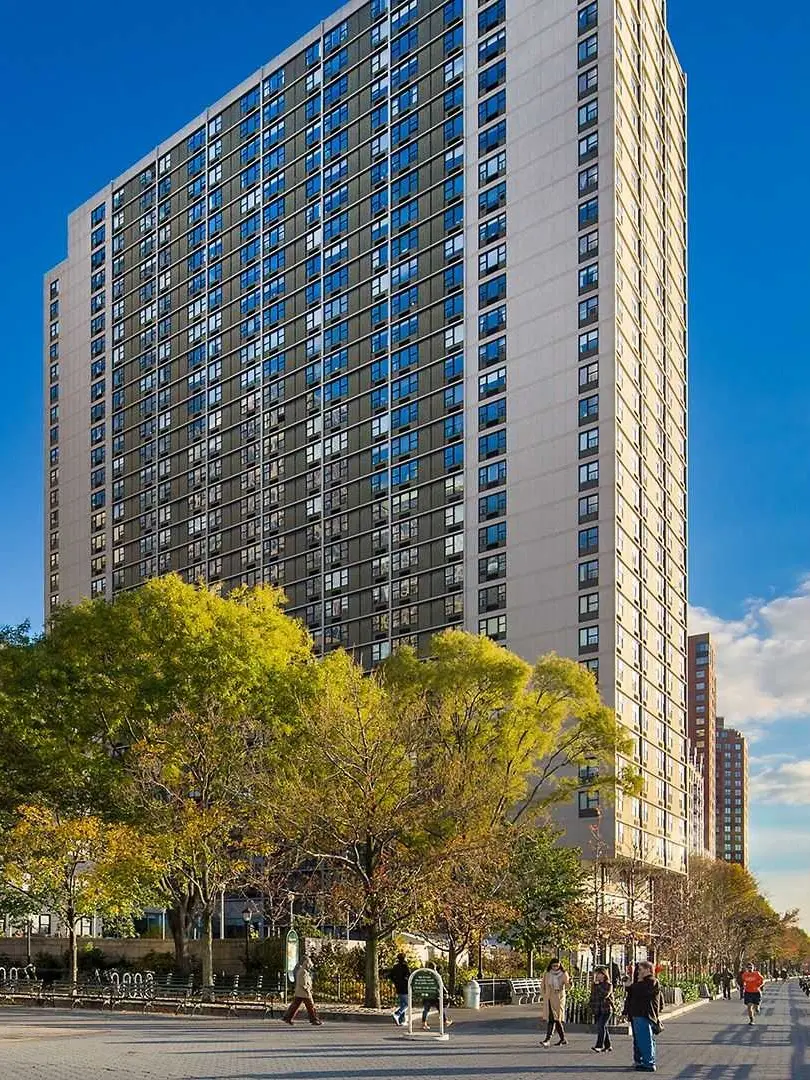 Review of 345-395 South End Avenue by
Carter Horsley
The first residential development in Battery Park City, Gateway Plaza consists of six buildings - three 34-story towers, two 7-story buildings, and one 6-story building - with a total of 1,712 apartments just to the south of the North Cove for large yachts.
It was completed in 1983 by The LeFrak Organization, Fisher Brothers and the Olnick Organization and designed by Jack Brown, the in-house architect for the LeFraks.
It is a gated-entry development with landscaped plazas and some retail and commercial spaces.
The slab towers front on Battery Park City's impressive promenade along the Hudson River and have doormen, on-site parking, two-story-high lobbies, fitness centers with swimming pools and spectacular views of the New York City Harbor, the Statue of Liberty and the Jersey City skyline.
The addresses are 335, 345, 355, 365, 375 and 385 South End Avenue.
This 34-story building at 395 South End Plaza has 420 apartments.
In their excellent 2006 book, "New York 2000 Architecture and Urbanism Between The Bicentennial And The Millennium," Robert A. M. Stern, David Fishman, and Jacob Tilove devoted an entire chapter to Battery Park City and several pages to the Gateway Plaza development:
"By the mid-1970s, Battery Park City was perhaps the most visible symbol of New York's stalled economy. In March 1976, state comptroller Arthur Levitt, having completed a yearlong audit of the Battery Park City Authority's financial condition and prospects, questioned whether the project should be dramatically reshaped or even terminated. When it was first announced in 1966 by Governor Nelson A. Rockefeller and again when an official master plan was released three years later, Battery Park City had been heralded by local and state officials and the architectural and popular press as a bold plan that would resuscitate a moribund lower Manhattan by creating a vast mixed-use complex featuring significant amounts of housing. It was an ambitious attempt to jump-start the rejuvenation of downtown, transforming the almost exclusively daytime area of office buildings into a vital, twenty-four-hour community. But the specific design, proposed by a team of architects led by Wallace K. Harrison, William Conklin, and Philip Johnson, had produced a megascaled project that was not susceptible to piecemeal development. Moreover, with its futuristic imagery, it seemed dated, and many questioned its internalized, city-within-the-city approach. Of course, this might not have stopped it had not the business climate changed so drastically in the 1970s recession. In short, Battery Park City was a very troubled project, with only one sign of development progress: the creation of ninety-two acres of landfill, the by-product of the construction of the World Trade Center (Minoru Yamasaki and Emery Roth & Sons, 1973), that, by its vast emptiness, made the project's plight all too visible. Moreover, the Trade Center itself was part of the problem: its completion at the depth of the economic recession had flooded the market with office space, virtually eliminating the change of attracting developers to build any new space downtown, which was still suffering in comparison to the situation in midtown. The city's fiscal crisis in 1975 was perhaps the final nail in Battery Park City's coffin....Still, there was the landfill, tempting - indeed daring - real estate-minded New Yorkers to devise a development strategy. One developer was willing to take a gamble on Battery Park City's potential: Samuel J. Lefrak, whose Gateway Plaza, a middle-income apartment complex, had been proposed in 1973 by the Battery Park City Authority (BPCA) as a last-ditch effort to build on the site. The Lefrak Organization was one of the city's most successful developers of apartment houses; its extensive portfolio was almost exclusively confined to the outer boroughs of Brooklyn and Queens. To design Gateway Plaza, Samuel Lefrak, no patron of high-art architecture, commissioned his in-house architect, Jack Brown, working with Irving E. Gershon, to prepare plans for 1,712 units at 345, 355, 365, 375, 385 and 395 South End Avenue, constituting a development that bore almost no resemblance to the megastructural images proposed in the 1969 mast plan, but instead was a cluster of buildings realized in exposed concrete....The crushing banality of the buildings was somewhat mitigate by the suprisingly pleasant landscape they sat in, designed by Abel, Bainnson & Associates, completed in 1982....Ada Louise Huxtable rallied around the initial project, concentrating on what was then to be a deck landscaped by Lawrence Halpern, the distinguished San Francisco-based landscape architect and urbanist....Mixing Le Corbusier's description of his unrealized proposal to rebuilt Paris as a vertical garden city with the name given to federally sponsored suburban new towns in the 1930s, Halpern put a positive spin on Gateway Plaza by labeling it a 'vertical greenbelt town,' while Huxtable, virtually blinding herself to the buildings, praised Halpern's plan as yet another step in the improvement of New York's public space....Many politicians and the general public were not entirely convinced that this project even deserved the federal government's precious housing dollars being sought in the form of mortgage guarantees. By the time these guarantees were achieved in 1978, Huxtable, who always seemed to find something to praise in the proposal, reported that its brightest spot, the innovative work by Halpern, had been abandoned....In 1979 the troubles over building Gateway Plaza were eclipsed by fears that the entire Battery Park City project was in real danger of imploding. The Downtown-Lower Manhattan Association...retained the services of Vollmer Associates, who concluded that unless radical changes in its financial structure were made within four years, the Battery Park City Authority would be unable to pay interest on any of the bonds it had issued....One of the first steps in Battery Park City's rescue plan took place in January 1979 when Governor Hugh Carey...was finally given an opportunity to gain control of the Battery Park City Authority board....Carey appointed two members to the board: William D. Hassett Jr., the Urban Development Corporation's chairman, and Richard A. Kahan, the UDC's president. Within a month, Kahan was named president and chief executive officer of the Battery Park City Authority. Under a memorandum of understanding with the city, the Urban Development Corporation condemned the site and took possession of it for a dollar. In effect, the Battery Park City Authority became a subsidiary of the Urban Development Corporation and was now exempt from the city's planning regulations and public-review procedures....critics suggested that a renewed Battery Park City project would drain development away from other parts of the city, a point that was countered by Peter J. Solomon, Deputy Mayor for Economic Development: 'Who's going to believe in New York's rebirth so long as we have that hunk of deserted beach down there?' In announcing his plan of attack, Governor Carey asked the state legislature for $8 million to bail out the authority as well as the bond authorization to build a new headquarters for the American Stock Exchange, which was seen as the cornerstone of the new plan. After I. M. Pei refused the commission reportedly because he felt it would interfere with his chances of winning the convention center job at Thirty-Fourth Street, Davis, Brody & Associates, in association with the planning firm Llewellyn Davies Associates, was hired to plan for the new American Stock Exchange....In an enlightened and politically astute move, Richard Kahan, after consulting with Edward Logue and I. M. Pei, selected Alexander Cooper, a former member of the City Planning Commission who had recently entered private practice as an urban designer, to prepare a new plan for development. Cooper, working with Stanton Eckstut, who soon become his partner and was coauthor of the master plan, was given only ninety days to prepare the design....From the very beginning, Cooper and Eckstut were careful to emphasize that what was needed was a 'deliberately flexible' plan that was 'capable of refinement.' 'The premise of the Battery Park City Master Plan is that new urban developments need not be amusement parks,' they observed, 'but handsome, workable extensions of the city. Manhattan successfully maintains its own vitality, there was no need here to provide a booster shot of new ideas, only more space to encourage natural growth along proven patterns. Now that we have all learned from Las Vegas, it's time to learn also from Fifth Avenue, Gramercy Park and Riverside Drive.' In their master plan, released in November 1979, Cooper and Eckstut criticized the 1969 master plan for being excessively rigid and complicated. 'Instead of restricting development to huge commercial and residential complexes that only large firms can undertake,' they proposed that provision should be made for small-, medium-, and large-scale building opportunities, concluding 'This should quicken the pace of development and broaden the selection of building types.' At the heart of the new master plan were eight 'organizing principles': 'Battery Park City should not be a self-contained new-town-in-town, but a part of Lower Manhattan'; 'the layout and orientation...should be an extension of Lower Manhattan's system of streets and blocks'; 'Battery Park City should offer an active and varied set of waterfront amenities'; 'the design...should take a less idiosyncratic, more recognizable, and more understandable form'; 'circulation...should reemphasize the ground level'; 'Battery Park City should reproduce and improve upon what is best about New York's neighborhoods'; 'Battery Park City's commercial center should become the central focus of the project'; and 'land use and development controls should be sufficiently flexible to allow adjustment to future market requirements.'....Cooper and Eckstut's plan was bold, moving the office complex from the south tip to opposite the Trade Center,...and incorporating design controls on future commercial buildings in the relocated business center. The controls encouraged prospective developers and their architects to mass their buildings pyramidally toward the Trade Center in an effort to create a set of mountain-sized foothills that, they believed, would return to downtown's west side skyline the traditional hierarchical massing that Minoru Yamasaki's prismatic Trade Center towers so powerfully repudiated. Additionally, the master plan called for a glass-enclosed mall, or 'winter garden,' that would tie the office buildings together with the showpiece of the commercial district, the proposed new headquarters of the American Stock Exchange....Although Cooper and Eckstut's master plan was well received, not only for its design but also for its perceived potential for tangible progress, there were naysayers as well. Herbert Muschamps...criticized the plan as 'reactionary...since its major polemical objective is the restoration of qualities characteristic of New York architecture before the post-War Modern invasion...There is a profound irony to this epic show of sensitivity to traditional urban values, for what was often most objectionable about the Modern invaders...was the devastating impact Modern buildings had on 'older, more established neighborhoods.' Yet, here on Battery Park City's 92-acre landfill site, the developers were given a perfectly clean slate. There were no older buildings to tear own or accommodate; no landmarks to imperil or preserve; no street life to disrupt or enhance. One could hardly imagine a site more suitable to experiments in Modern town planning; it was the perfect tabula rasa - 30 years too late.'...Stanton Eckstut, in a 1986 interview noted that 'because its foundations were already poured before we drafted the 1979 Master Plan, we had to accept it as it was,' treating Gateway Plaza as if it were an urban renewal superblock project of the 1950s imposed upon a long-established urban grid, a kind of found object, a theme park of modernity encapsulated in the townscape of post-modernity. When Gateway Plaza was complete, the reaction was largely negative, with Brendan Gill describing the buildings has having 'a grim, gray penitentiary look'....
The authors' commentary is incisive but not complete. The original master plan by Harrison, Conklin and Johnson was spectacular and highly influenced by the dramatic megastructures being contemplated by several leading Japanese architects at the time. The authors are probably correct that such gigantic plans would be hard to implement on a piecemeal basis but it should not be forgotten that the 92-acre landfill site was unquestionable the most spectacular building site in the world and a great opportunity for the city to do something wonderful to counteract the negative impact of the shining twin towers on the downtown skyline, which had been the most famous and romantic in the world. Fortunately, Cooper and Eckstut's guidelines for the commercial center were wonderfully carried out by Cesar Pelli for Olympia & York and his "foothills" help bright the imbalance of the twin towers.
Cooper and Eckstut's guidelines for the residential sites were brilliant fine-tuned to create nice amalgams of some of the city's finer residential enclaves and resulted in a Post-Modern outpost of tasteful but not terribly inventive or exciting residential buildings. Their plans, of course, created the splendid esplanade and their emphasis on open spaces and art resulted in the city's most attractive residential neighborhood. The decision to impose a street grid, however, limited design experimentation.
The great problem with Battery Park City was beyond their reach. It is cut off by a highway from Lower Manhattan, a highway that should have been put under a park.
Gateway Plaza, of course, was much maligned in the architectural press, but that criticism largely became moot with the completion of the large and impressive World Financial Center and the rest of the residential complexes that were close to completion in 2010.
Their central location, furthermore, makes them very desirable.