Tribeca Park, 400 Chambers Street: Review and Ratings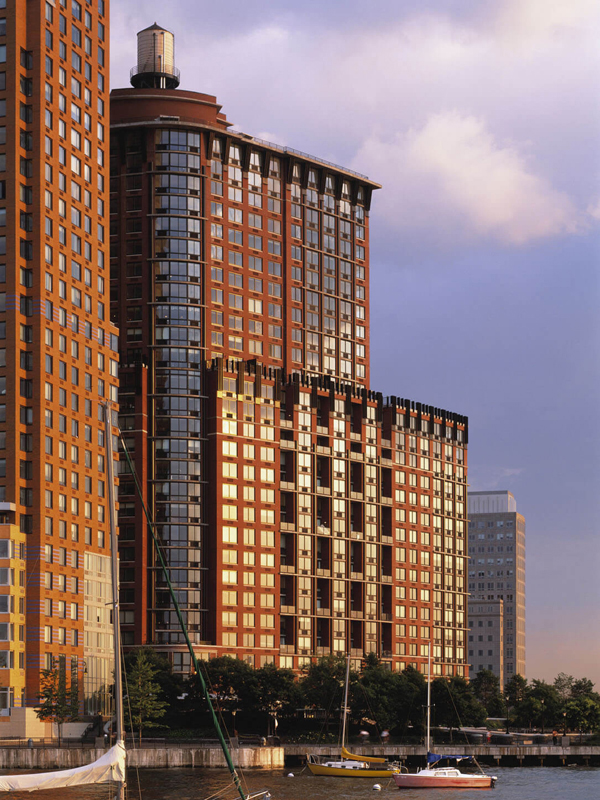 Review of 400 Chambers Street by
Carter Horsley
TriBeCa Park is a handsome, 27-story apartment building located at the northern end of Battery Park City in Manhattan at 400 Chambers Street between Vesey and Murray streets. It is also known as 34 River Terrace.
It was developed in 1999 by the Related Companies and was designed by Robert A. M. Stern and Costas Kondylis.
It was erected as a rental with 396 units and was reported by The New York Post in 2014 to be being offered for sale as a conversion to residential condominiums.
Bottom Line
This red-brick building is one of the more distinctive at Battery Park City with a curved corner, inset balconies, several unusual floorplans, a rather bold cornice treatment and an exposed roof-top watertank on a sculpted podium.
Description
In their great book, "New York 2000, Architecture and Urbanism between the Bicentennial and the Millennium," authors Robert A. M. Stern, David Fischman and Jacob Tilove, noted that the architects, which included Mr. Stern, "responded to the scale of adjoining streets as well as its current and future neighbors by utilizing several building heights – one, nine, sixteen, and twenty-seven stories – to break down the apparent mass of the complex."
"To visually unite the building with TriBeCa's warehouses," they continued, "Stern jettisoned the genteel, Riverside Drive-inspired aesthetic of the south residential area in favor of a tougher vocabulary of hard edges, bold bracketed overhangs, and colossally scaled columnar elements. A palette of red-brick with Indiana limestone trim and black window frames, railings and brackets defined the building above its polished black granite base. A twenty-seven-story tower on the northwest corner of the site marked the intersection of the Chambers Street pedestrian corridor to TriBeCa and the culmination of the River Terrace street wall. On Warren Street, a one-story, skylit swimming pool wing framed the south side of the building's courtyard, which was entered through the lobby at the base of the nine-story Chambers Street façade. On River Terrace, four stacks of recessed balconies rose through a complex composition of masonry and glass to the top of a sixteen-story street-defining wall, above which the corner tower rise until its termination at 250 feet by a concrete cornice with metal brackets, all capped by a contextually referential wooden water tower on the roof."
The building's façade has large sections that are vertically defined by black columns and the top floor of the base has wide black vertical elements rising up between the windows and extended over the top of the base as railing supports. The top of the tower section has angled black brackets sporting a thin projecting cornice and also extending down about half a story below the top floor.
The building has discrete air-conditioners.
The Teardrop Park on which the building fronts was designed by Michael Van Valkenbergh and was meant to evoke the terrain of the Catskill Mountains further up the Hudson River and it has a very picturesque rock mount.
Twenty percent of the apartments are "affordable."
Amenities
The building has a skylight swimming pool, a 24-hour concierge, a gym, a children's playground, a garage, a large, landscaped roof deck, and a large garden with sculpture.
Apartments
The building has many unexpectedly angled layouts.
Apartment 18D is a two-bedroom unit with a five-sided, 31-foot-long living room with a dining cover near a pass-through kitchen.
Apartment 14R is a one-bedroom unit with a 23-foot-wide living room with a pass-through kitchen and a slightly angled three-sided window wall, a five-sided. 17-foot-long bedroom and a 13-foot-long home office.
Apartment 11A is a one-bedroom unit with a 17-foot-long entrance gallery that leads to an 18-foot-long living room with an 11-foot-long angled dining room next to a pass-through kitchen.
Apartment 9C is a one-bedroom unit with an entry foyer that leads to a 17-foot-long living room with a 10-foot-loong dining alcove and an enclosed and windowed kitchen.
Apartment 6S is a one-bedroom unit with an entry foyer that leads to a 29-foot-long, six-sided living room with a 9-foot-long dining area and an angled, pass-through kitchen.