The Atrium, 785 Dekalb Avenue: Review and Ratings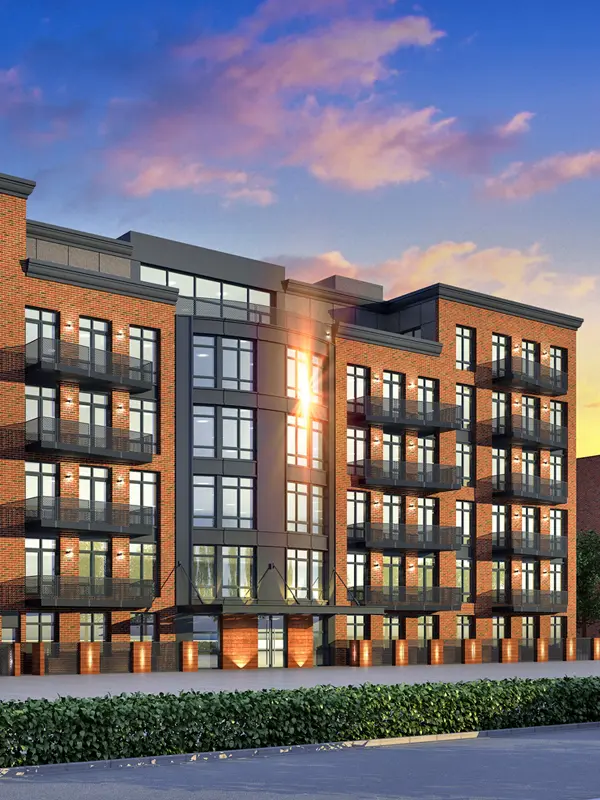 Review of 785 Dekalb Avenue by
Carter Horsley
This 6-story apartment building at 785 Dekalb Avenue in Bedford-Stuyvesant was built in 2016 and has 70 rental apartments. The building is known as the Atrium.
The site was formerly occupied by the Kismet movie theater that was subsequently converted to a two-story church that was demolished in 2008.
SSJ Realty LLC, of which Sam Klein is a principal, is the developer.
Meltzer/Mandl was the architect and Durukan Designs is the interior designer.
Bottom Line
Close to Herbert Von King Park and several subways, this building offers many amenities including a roof deck, fitness center and garage.
Description
The red-brick building has a slightly curved central section clad in dark metal panels.
The building has many angled balconies.
Amenities
The building has a roof deck, a fitness center, a garage, bicycle storage, a laundry, a business center, a residents' lounge on the fifth floor with a wet bar and television and an entertainment and game room on the sixth floor.
Apartments
Apartments have hardwood floors, central air-conditioners, video intercoms and options to include washers and dryers in the units.
History
An early rendering for this development indicated that the center portion of its façade would have a four-story-high, tilted and asymmetrical oval center window and two one-story similarly-shaped windows.
The rendering lead Virginia K. Smith of observe in the March 2, 2014 edition of bkmag.com that "Bed-Stuy: no longer immune to hideous condos." "Bed-Stuy's been one of Brooklyn's biggest real estate boom neighborhoods for a while now, but for obvious reasons, we'd laughed off any 'the new Williamsburg' comparisons as nonsense realtor-speak. Well, here' one way in which the neighborhood really is catching up to the 'burg" preposterously ugly condos!"
That rendering also showed that the building's atrium had a glass dome.
Both the dome and ovals were removed in a redesign after an item at ny.curbed.com said it had the potential to be "Brooklyn's ugliest building."