Oriana at River Tower at 420 East 54th Street: Review and Ratings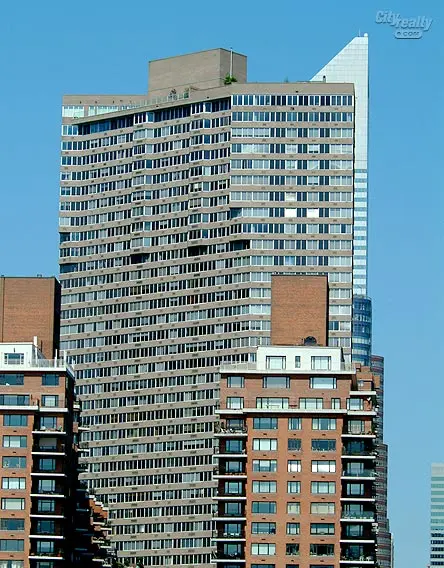 Review of 420 East 54th Street by
Carter Horsley

Carter B. Horsley, a former journalist for The New York Times, The International Herald Tribune and The New York Post. Mr. Horsley is also the editorial director of CityRealty.com.
This giant, trapezoidal, through-block, apartment tower at 420 East 54th Street radically departs from the city's regimented building alignment with its rectilinear midtown grid.
Developed by Harry B. Macklowe, this 38-story, mid-block building was erected in 1982 and was designed by Schuman Lichtenstein Claman & Efron with Rudolph de Harak.
It has 311 rental apartments.
Gachot Studio is the interior designer.
It was subsequently acquired in 2010 by Equity Residential, which is headed by Sam Zell, along with 777 Sixth Avenue and Longacre House Apartments at 305 West 50th Street for $475 million.
HHIn 2015, Equity Residential sold this building the Slate Property Group, which is headed by Martin Nussbaum and David Schwartz, and Greenoak Real Estate for $390 million. Slate has often partnered with Adam America Real Estate. Greenoak partnered with Capstone Equities in 2015 to acquire the former Playboy Club building across from the GM Building on East 60th Street. A February 4, 2016 article by Konrad Putzier at therealdeal.com noted that Slate and Greenoak secured a $248.6 million loan from Blackstone Real Estate Debt Strategies to finance the acquisition.
Slate and Greenoak renamed the tower Oriana. It had been known as RiverTower.
Bottom Line
If all buildings were to slip and slide and play diagonal tricks on their sites, Manhattan would lose much of its character that is heavily dependent upon the grid for convenience and uniformity. The occasional exception, however, can be very dramatic. When seen from south on First Avenue, Oriana appears to be a colossal oceanliner run amok, or at least ashore.
In concept, this is a dynamite building.
In reality, it's intimidating and not chintzy enough, but then power buildings don't look good in chintz.
Description
Although a midblock building, much of Macklowe's site fortunately faces east to the East River between the wings of a Sutton Place building, providing more waterfront vistas.
Its long façades are at 45 percent angles with the sidestreets and the tower is set back from 54th Street with landscaped plazas on either side of it.
More interestingly, it is bigger at the top than at the bottom, an exceedingly rare high-rise phenomenon. Its bulges provide dramatic bay windows for the highest, and most expensive, apartments, and give the building a less than svelte, but very powerful profile.
Despite its architectural bravura, this building's pale beige masonry and glass façades are a bit of a letdown, a cheapening of an otherwise very important project.
The banded window pattern works well, maximizing residents' views and somewhat minimizing the building's very large bulk. If only the base of the building at least had some more impressive facing such as a dark red or green polished granite, this would be a more impressively monumental development.
As it is, nonetheless, it was a precursor of Macklowe's more famous Metropolitan Tower on West 57th Street, a black reflective glass building whose main tower is also slanted rakishly.
It is interesting to note that this building preceded Edward Larrabee Barnes's IBM Building, with its famous angled façade facing southwest on Madison Avenue at 57th Street by two years.
This was one of several huge "luxury" apartment towers of its period that placed hundreds of apartments into massive structures with a full complement of building services, but relatively little in the way of true luxury detailing, or spacious layouts. Still, such blockbusters provided stupendous views for their residents and a burgeoning new East Side skyline.
Amenities
The building has a roof deck with outdoor kitchen, a health club, a garage, valet service, a concierge, doormen, a bicycle room, storage space, a porte-corchere, a dog wash room, and Rooster Pens, a children's play area with climbing wall, party area, library and TV lounge.
Apartments
Apartment 28C is a four-bedroom unit with a 17-foot-long entry foyer that leads to a 30-foot-wide, angled living room next to a 13-foot-wide dining room adjacent to an enclosed kitchen.
Apartment 38G is a two-bedroom unit with an entry foyer that leads to a 30-foot-long living room with a fireplace and a 24-foot-wide library and a staircase to a roof terrace in one direction and an angled 21-foot-wide dining room adjacent to the enclosed kitchen in the other direction. The master bath has a whirlpool and a sauna in its bathroom.
Apartment 20B is a two-bedroom unit with a 7-foot-wide entry foyer that leads to a 9-foot-square gallery that leads to a 22-foot-wide living room with an adjoining, open, 12-foot-wide dining room next to an enclosed kitchen.
Apartment 37G is a two-bedroom unit with a 7-foot-wide entry foyer and an angled, 9-foot-long gallery that leads to a 26-foot-long, angled living room with a 12-foot-long dining alcove next to an enclosed kitchen.
Apartment 38D is a one-bedroom unit with an 8-foot-long entry foyer that leads to a 23-foot-long, living room with a large bay window and an 11-foot-wide dining alcove adjacent to the kitchen.