Baltic Rentals, 577 Baltic Street: Review and Ratings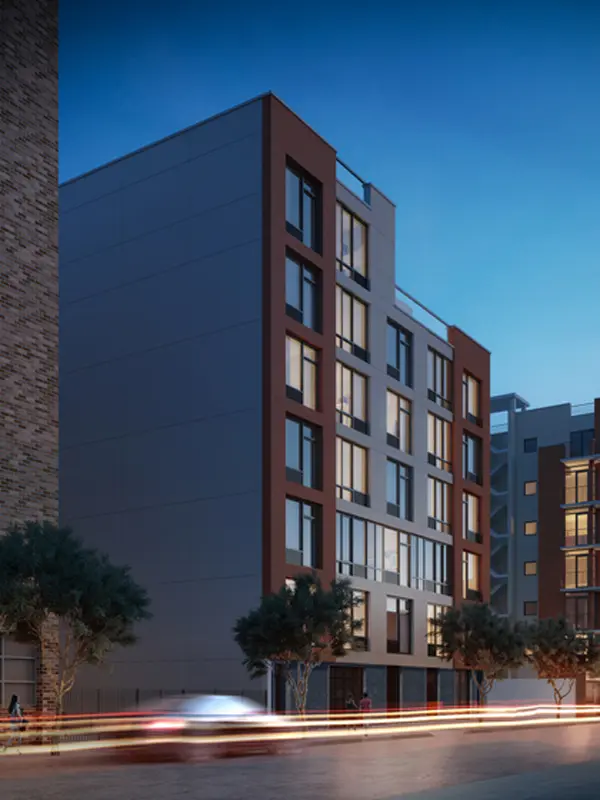 Review of 577 Baltic Street by
Carter Horsley
This attractive, 7-story apartment building at 577 Baltic Street between Third and Fourth avenues in the Boerum Hill section of Brooklyn was erected in 2017 by Adam America Real Estate, which is led by Tomer Yogev, and has 27 rental apartments.
It was designed by Isaac & Stern Architects.
The building is next to the 9-story apartment building at 595 Baltic Street, which was designed by ND Architecture & Design of which Nataliya Donskoy is a principal and built by Common Living and Adam America. That building is known as Common Baltic and both buildings were completed in 2017.
That larger and more attractive building "follows the shared-living model and includes several common spaces to foster a neighbor-friendly environment that promotes resident interaction for co-activities and outings," according to an article by E. Fitzgerald February 23, 2017 at 6sqft.com. "To further this mission," the article continued, "there are 'house leaders' on each floor to encourage interaction and programming," adding that "Community living also comes with community amenities" such as weekly cleanings, and shared supplies and furnishing." That building has a façade that is mainly orange brick with gray metallic panels at its ends with wraparound balconies and a center section with long balconies. One end of the building has two cantilevered floors.
The two buildings are close to Barclays Center.
Bottom Line
A pleasant 7-story rental building that has a 9-story "sister" building next door at 595 Baltic Street.
Description
A orange-brick building with a center façade of metallic panels and an asymmetric massing.
Amenities
This building has a roof deck, a fitness center, a lounge, a game room, a bicycle room for 14 bicycles and on-site parking for 15 automobiles.
Apartments
Apartments have Fisher & Paykel refrigerators, Blomberg gas ranges, Bosch dishwashers and Maax bathtubs.
Apartment 3E is a two-bedroom unit with 855 square feet with an open kitchen and a balcony.
Apartment 5A is a one-bedroom unit with 579 square feet and an open kitchen with a breakfast bar.
Apartment 2C has 415 square feet and is a studio unit with an open kitchen.