180 Montague Street: Review and Ratings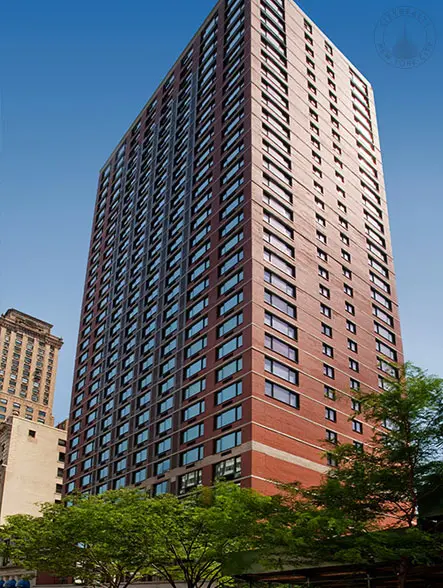 Review of 180 Montague Street by
Carter Horsley
This building is a rarity in Brooklyn Heights, a high-rise apartment building.
It was built by Ian Bruce Eichner in 2000 and designed by H. Thomas O'Hara. It was subsequently acquired by Equity Residential.
The 33-story, red-brick building has 186 rental apartments.
The upper floors - from the 10th floor-and-up on the south side; and from 14th floor-and-up on the north side - have great views of Lower Manhattan and the harbor.
The building has a sundeck, a concierge, a fitness center and a garage. It also has a gourmet food store in its retail spaces.
The mid-block building is setback in a plaza on Montague Street. It is not in the Brooklyn Heights Historic District.
Mr. Eichner, a veteran developer in Manhattan, was the builder of CitySpire on 56th Street between the Avenue of the Americas and Seventh Avenue and adjacent to the City Center for the Performing Arts, and the America, an apartment building on the southeast corner of Second Avenue and 85th Street. Both buildings were designed by Helmut Jahn, the architect of the State of Illinois Center building in Chicago.
Mr. Eichner also was the developer of several other Manhattan apartment buildings including the Kingsley on First Avenue, the Royale and Richmond on Third Avenue and the Boulevard on Broadway.
He was also the developer of the striking, blue-glass-clad office tower in Times Square at 1540 Broadway and the Continuum in Miami and the Cosmopolitan in Las Vegas.
This building is within one block of the Court Street subway station and within two blocks of the Borough Hall subway station, providing easy access to Wall Street and Midtown. The Brooklyn Bridge and Brooklyn-Queens Expressway are within four blocks of the community, providing convenient access to Manhattan, Long Island and other destinations in the Northeast.