455 Central Park West: Review and Ratings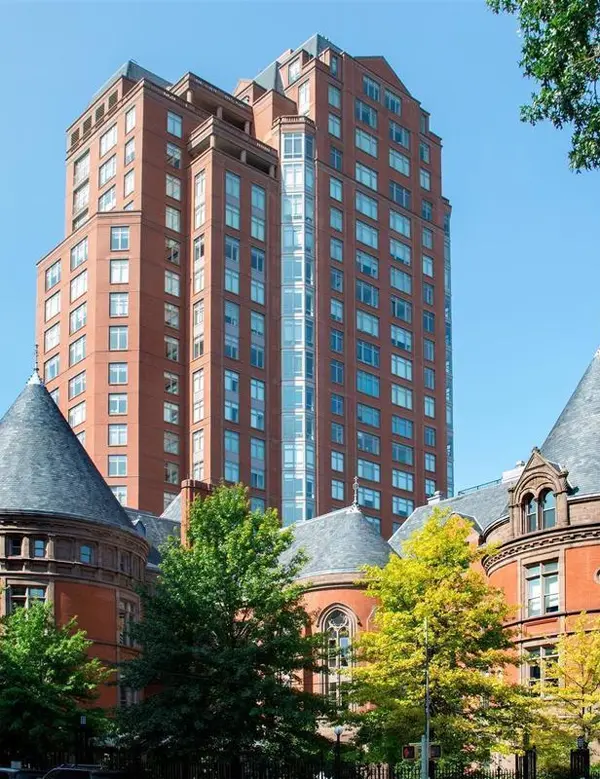 Review of 455 Central Park West by
Carter Horsley

Carter B. Horsley, a former journalist for The New York Times, The International Herald Tribune and The New York Post. Mr. Horsley is also the editorial director of CityRealty.com.
This impressive complex at 455 Central Park West between 105th and 106th streets began as The New York Cancer Hospital in 1887 and then became a nursing home before it was redeveloped as a spectacular and very dramatic residential condominium in 2005.
The original building with its broad turrets and chapel, which was designed by Charles Coolidge Haight in French chateau style with English Gothic trim, became an official New York City landmark in 1976.
It now has 16 apartments in the very distinguished, low-rise, older buildings and 83 units in a 25-story, red-brick tower designed by Rothzeid Kaiserman Thomson and Bee on the northwestern part of the site. RTKB Architects, Perkins Eastman Architects and Victor Caliandro were the architects involved in the new tower and restoration of the original buildings.
The Rockwell Group designed the lobby.
MCL Companies of Chicago, which is headed by Daniel E. McLean, did the conversion.
Bottom Line
One of the more important landmarks of the Upper West Side, this complex offers architectural glory, an interesting history and Central Park.
Description
The entrance at 1 West 105th Street has a long canopy, attractive landscaping and a lovely fountain.
Ashlar-cut sandstone forms the base and first story of the three-and-a-half story original buildings with the two upper stories composed of red brick with sandstone trim, and the conical roofs sheathed with slate.
The towers have stone belt courses and round medallions separate paired windows on the two east towers and Gothic dormers on moulded cornices provide light and ventilation for the top half story. A rectangle wing is accented on the first story by a loggia with five arches and on the north side there was originally a main entrance with a double curved flight of steps.
In 1889 and 1890 two other towers were added and in 1916 a four-story laboratory was added and in 1925 a two-story x-ray facility.
Amenities
The building has a doorman, a live-in superintendent, storage, a garage, a children's playroom, a business center and a Landmark Club.
Apartments
Several of the apartments in the original building have enormous circular rooms.
Three-bedroom, three-bath units on the 20th and 21st floors have 2,446 square feet, three-bedroom, three-and-a-half bath units on floors 16 to 23 have 2,083 square feet, and a penthouse on the 25th floor has 3,540 square feet plus a terrace.
Apartment 9LM has a 17-foot-long entry foyer that leads to a 36-foot-diameter circular living room that opens onto a 26-foot-long terrace and a 22-foot-long eat-in kitchen. The apartment also has a 10-foot-wide study and four bedrooms, one of which, the master, is a semi-circular space that is 36-feet-long with four walk-in closets and a long curved bathroom.
Another unit has a 22-foot-long entry foyer that leads past a 22-foot-long eat-in kitchen and a 27-foot-long terrace to a 37-foot-diameter living/dining room with a wood-burning fireplace. The apartment also has a 12-foot-long gallery that leads to a 24-foot-long master bedroom with a bay window and two other bedrooms.
The "Chapel" apartment has four levels with a 20-foot-wide "reception" area on the main level that leads to a 41-foot-long gallery that opens into the 42-foot-long "Chapel" living/dining room with a wood-burning fireplace that is next to an enclosed 15-foot-long kitchen. The main level also has a 22-foot-wide library. A spiral staircase leads up to a 22-foot-wide mezzanine level with a fireplace overlooking the "Chapel" double-height space and there are is a bedroom and a 16-foot-wide angled living room for staff on a fourth level. The lowest level has a 21-foot-wide semi-circular master bedroom and four other bedrooms.
Apartment 18B is a two-bedroom unit with an entry foyer that leads past an enclosed 9-foot-long kitchen to a 21-foot-long living/dining room with an angled bay window.
Apartment 21C is a three-bedroom unit that has an 18-foot-long entry foyer that leads to a 22-foot-long living room with Central Park views and a 17-foot-long dining room next to an enclosed 17-foot-long kitchen.
Penthouse 3 is a three-bedroom unit has a 20-foot-long entry foyer that leads to a 22-foot-long living room with wood-burning fireplace and a 16-foot-wide dining room next to a 16-foot-long eat-in kitchen.
History
When it was erected in 1890, the wide circular towers on this site were the New York Cancer Hospital, the first facility of its kind in the nation, and the first with circular wards that were believed to promote cleanliness and prevent the trapping of bad air.
The death of President Ulysses S. Grant from cancer in 1885 aroused public interest in the funding of the hospital.
Architect Haight had designed the Downtown Club in 1886 and the General Theological Seminary in 1887-1890.
In their great book, "New York 1880, Architecture and Urbanism in the Gilded Age" (The Monacelli Press, 1999), Robert A. M. Stern, Thomas Mellins and David Fishman noted that this building "was, along with the Dakota (1882-1884)...the second building of substantial size to be constructed facing Central Park on the West Side since the American Museum of Natural History (1874-77)...and one of the city's grandest public buildings."
"From the first, the marriage of [Charles C.] Haight's individualistic, French Renaissance-inspired imagery to an inventive plan of forty-foot diameter circular towers was widely discussed," the authors observed, adding that "The idea to build an independent cancer hospital had been formulated after a bequest made by John Jacob Astor II to the Woman's Hospital in 1882 to fund a pavilion for the treatment of cancer patients was rejected. Working with John E. Parsons and Elizabeth Hamilton Cullum, a cousin of Astor's wife, the New York Cancer Hospital realized the aspirations to establish the institutions, which was built in three stages. The Astor money paid for the first third of the new facility. The Astor pavilion was to treat women only, but by the time it opened plans were under way for a companion facility for the treatment of men, also funded by Astor. At the same time, a chapel was added near the 105th Street corner."
The hospital would change its name in the early 1920s to the General Memorial Hospital for the Treatment of Cancer and Allied Diseases and in 1955 moved to the East Side where it grew to become the Memorial Sloan-Kettering Center.
The Central Park West facilities were then converted to the Towers Nursing Home by Bernard Bergman. It fell into neglect and after allegations of Medicaid and tax fraud was closed in 1974.
According to Wikipedia, at one point Ian Schrager, a part owner of Studio 54, the discotheque, contemplated converted the facility to a hotel.
MCL Companies eventually decided to restore the low-rise buildings and add a 26-story apartment tower.
MCL's portfolio includes River East in Chicago, a 3,000-unit residential and retail complex, and residential projects on Fisher Island in Miami Beach, Fla.
The new tower's red-brick masonry complements that of the low-rise, chateau-like structures. The tower contains 81 apartments, many with corner bay windows, and there are 17 in the original buildings, which have wrought-iron gates with a fountain at the center of a circular drive and a courtyard with garden. The original building has an arcaded loggia and some small circular windows.
Book a Tour or Get More Information on this Building
241 Buyers
are interested in buying at
455 Central Park West!
Interested in Selling?
We'll introduce you to the agents that
specialize in 455 Central Park West and are
experts in selling apartments there.

And they'll be able to contact all of the buyers interested in the building.
There's no obligation and your inquiry is confidential.
Call us at (212) 755-5544