The Ardsley at 320 Central Park West: Review and Ratings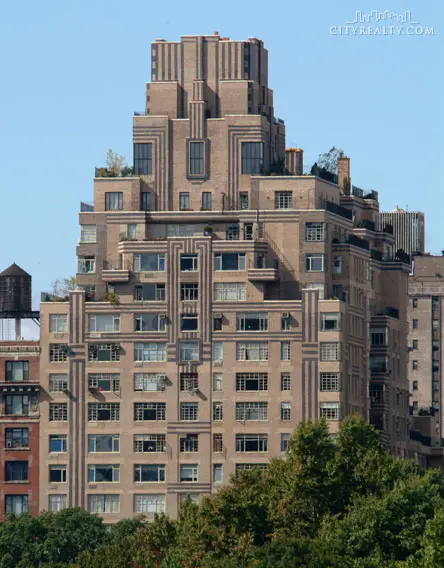 Review of 320 Central Park West by
Carter Horsley

Carter B. Horsley, a former journalist for The New York Times, The International Herald Tribune and The New York Post. Mr. Horsley is also the editorial director of CityRealty.com.
The Ardsley at 320 Central Park West between on the southwest corner at 92nd Street is one of the city's greatest Art Deco residential buildings.
It was designed by Emery Roth, the architect who also designed such famous landmarks on Central Park West as the San Remo, Beresford and Eldorado apartment towers.
The Ardsley was built in 1931 and converted to a co-operative in 1971.
The 22-story building has 201 apartments.
Bottom Line
This very striking building is one of Emery Roth's finest Art Deco-style towers.
Description
In his fine book, "The Skyscraper Palazzi of Emery Roth," Steve Ruttenbaum provided the following commentary about this building:
"This 22-story structure is dramatically different from every other Roth building that came before it, for there is no trace of historical styling in its rectilinear lines. The only precedent it recalls is the massing of a prehistoric Mayan temple. The Ardsley is Central Park West's most elaborately detailed Art Deco work. Contrasting with its buff brick wall surfaces are vertical bands of black brick that sweep up the façades, imparting an upward thrust to the composition. These are balanced by horizontal bands of black brick that relate the building to its streetscape. Further, the horizontal and vertical bands converge in the upper stories and in the tower to create bold geometric patterns.
"Above the fifteenth floor, multiple setbacks and cantilevered balconies culminate in the stepped-back water tower, resulting in an animated yet balanced profile....Adding even more visual delight to this composition is a zigzag cast-stone frieze, consisting of geometric patterns in four-color inlay, is applied to the base. The lower portion of the building is embellished further with pink-tinted cast-stone door surrounds, executed in voluptuously curving geometric forms."
A preliminary drawing for the Ardsley showed that Roth considered topping its watertank enclosure with a lantern-like finial, similar to those atop the twin towers of the El Dorado, one block to the south.
The built structure, however, does not need the finial tower as the boxiness of the composition is very effective and the tower would have distracted from its visual impact. The striped masonry patterning on this building is striking and very strong. The building's park frontage is almost symmetrical, but the strong accents of the patterning are quite remarkable and original.
In their book, 'The A. I. A. Guide to New York City,' (Harcourt Brace Jovanovich, 1988), Elliot Willensky and Norval White observed that "there is a quality almost like that of inlaid furniture in the ribbons of contrasting brick which enrich the surfaces of the upper façades."
Amenities
It has a doorman, a gym, a children's playroom, a bicycle room, a live-in superintendent, cold storage, and a laundry.
The building is pet-friendly.
Apartments
The building has mostly small apartments except for some duplex and triplex penthouses that have terraces, circular staircases, 15-foot-high ceilings and dens and libraries and servants' quarters.
According to Mr. Ruttenbaum, "even though these were high-class amenities, the were not quite the same as in Roth's earlier buildings," adding that "the spaces were smaller, and the finishes were less elegant."
Apartment 8H is a two-bedroom unit that has an entry foyer that leads to a 15-foot-long gallery that leads past an 18-foot-long, windowed kitchen to a 22-foot-long living room.
Apartment 9G is a two-bedroom unit that has a 12-foot-wide entrance gallery that leads to a 23-foot-long living room and a 14-foot-long dining room off a 13-foot-long kitchen.
Apartment 19A is a three-bedroom unit that has a 7-foot-wide elevator landing that opens onto a 23-foot-wide gallery that leads to a 24-foot-long living room with a fireplace and a small corner terrace and a 19-foot-long dining room with a corner window across from a 19-foot-long enclosed kitchen.
History
On June 6, 2010, Fred A. Bernstein in The New York Times noted that "the lobby of the Ardsley, a co-op on Central Park West at 92nd Street, is ready for its close-up. The designer Scott Salvator spent about two years restoring the building's Art Deco interior - a series of spaces totaling about 4,000 square feet - before declaring the job complete. Though the work was largely finished over a year ago, Mr. Salvator wasn't happy until a mirrored wall constructed off-kilter was rebuilt and paint-splattered curtains were replaced." "The main space now has as huge Art Deco chandelier and murals digitally printed on canvas," the article continued.
"His biggest change was to the outer lobby - he calls it the anteroom - where he commissioned a monumental desk in the same black marble that Roth chose for the baseboards. He also filled a hole in the wall where there had been an old intercom panel with a handsome new clock. (Although it has Art Deco-style hands, it also has a high-tech movement that automatically adjusts for daylight time.) And he lacquered the ceiling to make it reflect people's movements through the lobby."
The article said that Joanne Ollman, the president of the buidling's board, was particularly pleased with one of Mr. Salvator's moves. "He installed a mirror," she joked, "that makes everyone look 15 pounds lighter." Mr. Salvator said the mirror had been "intentionally distorted, to look old and more period, and by accident it makes people look thinner."
Book a Tour or Get More Information on this Building
400 Buyers
are interested in buying at
320 Central Park West!
Interested in Selling?
We'll introduce you to the agents that
specialize in 320 Central Park West and are
experts in selling apartments there.

And they'll be able to contact all of the buyers interested in the building.
There's no obligation and your inquiry is confidential.
Call us at (212) 755-5544