The Beresford at 211 Central Park West: Review and Ratings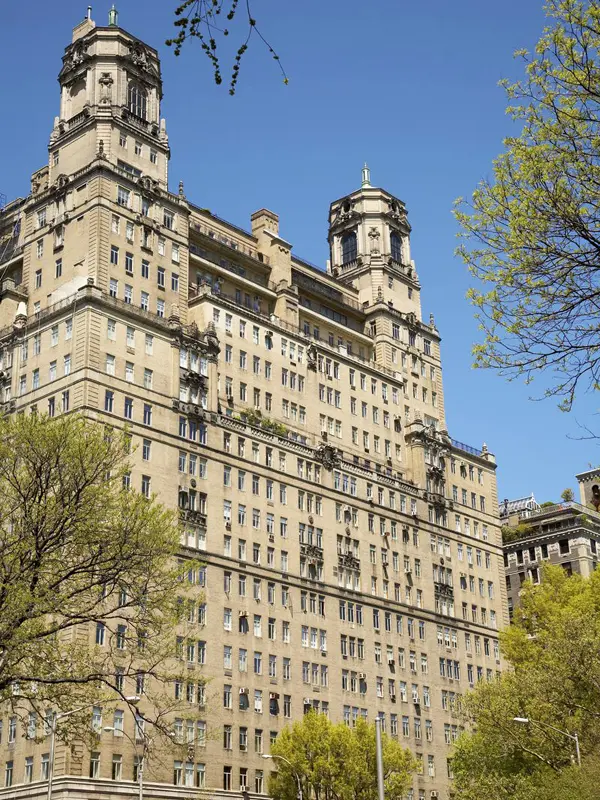 Review of 211 Central Park West by
Carter Horsley

Carter B. Horsley, a former journalist for The New York Times, The International Herald Tribune and The New York Post. Mr. Horsley is also the editorial director of CityRealty.com.
One of the world's greatest residential buildings, the Beresford at 211 Central Park West is distinguished by its three towers and its two major façades, one overlooking Central Park and the other Manhattan Square, the park that contains the American Museum of Natural History.
This 193-unit cooperative building is one of the masterpieces of architect Emery Roth, who also designed the twin-towered San Remo a few blocks south on Central Park West and the twin-towered El Dorado a few blocks north on Central Park West. It was erected in 1929. His firm, Emery Roth & Sons, would also design more office buildings in the city than any other firm.
Bottom Line
A monumental and magnificent residential palazzo, the building has always been one of the city's grandest addresses with wonderful apartment layouts, rich details and great views.
Description
The genius of the Beresford's design is the deployment of three hexagonal towers, one of which, of course, conceals the building's water tank. Each of the towers has huge arched windows topped by oval windows in broken pediments. The asymmetry distracts from the building's massive bulk while adding a memorable and intriguing skyline. The three towers, which have pyramid roofs capped with copper lanterns that are brightly lit at night, are placed at all the corners, except the northwest one, of the building whose frontages on Central Park West and 81st Street are about equal.
The building is not a square, however, but a U-shape as the middle of its west side is open and the center of the building is a courtyard, which contains a fountain and garden.
Although the building is only 22 stories tall, its presence is significantly more because of its scale. The towers, which have illuminated finials, are quite large and are spaced far apart.
As Andrew Alpern has aptly written in his book, "Luxury Apartment Buildings in Manhattan, An Illustrated History," (published in 1992 by Dover Publications, Inc.), the Beresford is "a stone symphony." Likening the Beresford to a fortress, Alpern noted that "the grandeur comes in the embellishment," adding that "there are belt courses, stone balustrades, iron railings, rosettes and cartouches."
The building has a three-story limestone base topped by beige brick and the very handsome entrances are highly reminiscent of Italian Renaissance motifs. The lobbies are lavish with marbles and moldings and superb, though restrained detailing. Light sconces in the lobbies are very tall and boldly ornate.
Despite its great size, the building is relatively intimate, at least for its residents, as it is divided, internally, into three distinct structures, each with their own separate, one-step-up entrances and three-step-up vestibules with marble cartouches and elevator. Each entrance is flanked by pilasters decorated with classical urns and floral motifs.
The buff brick façades above the three-story limestone base is divided into layers by terracotta string courses. Corners have brick quoins and the façades have terracotta rosettes, cartouches, spandrels with brackets and cherubs.
The building, which was developed by the HRH Construction Company, has a courtyard with garden and a fountain.
Lobby windows overlooking the courtyard are art glass panels depicting medieval characters and symbols.
The brass elevator doors have a dragon-crested shield with a bear and the rather odd motto Fronta Nulla Fides (Place No Trust In Appearances).
Amenities
The Beresford offers elevator men, wood-burning fireplaces, 24-hour doormen, fitness center, cold storage, laundry, bicycle room, and private or semi-private elevator landings.
Apartments
Apartments have ceilings of 11 feet or more providing a fine sense of grandeur as well as more hanging space for one's art collection.
Many of the apartments on the higher floors at the Beresford are duplexes and most have long entrance galleries leading to huge living rooms overlooking Central Park or the American Museum of Natural History.
A two-bedroom apartment with a maid's room on the second floor has a 27-foot-long entrance gallery that leads to a 27-foot-long living room on 82nd Street and a large dining room.
A two-bedroom, duplex unit on the 19th and 20th floors has a private elevator entrance that opens onto a small foyer next to a 27-foot-long dining room/kitchen that opens onto a large living room with an adjoining study. There is a small terrace off the master bedroom and a 33-foot-long terrace off the dining room. Upstairs there is a maid's room.
A six-bedroom duplex on the 16th and 17th floors has a smaller lower floor with a small entrance foyer leading to a 27-foot-long staircase hall that leads into a large living room next to a large library and a coat room. The staircase hall also leads to a large playroom and a dining room and eat-in kitchen. On the upper floor there are "north" and "south" halls, a 28-foot-long master bedroom with a large dressing room and a large terrace, four other bedrooms, a maid's room and a large library with its own terrace.
History
The building replaced the six-story Hotel Beresford that was erected by Alva Walker in 1889 after Jose de Navarro abandoned plans filed five years earlier for four 12-story apartment buildings and the site. In 1892, Walker expanded the hotel with a 10-story annex at 82nd Street and its top floor contained a dining room for residents as the apartments did not have kitchens, noted Christopher Gray in a September 14, 1977 article in The New York Times.
For many years, the building's windows had awnings, which also helped add dimensionality to the large façades.
The Beresford was completed one month before the stock market crash of 1929, and in 1940 it and the San Remo were sold together for $25,000 over the existing mortgages, an indication of how severe the Depression was on New York real estate values.
The southeast corner tower contains a multi-level apartment that was occupied for a while by Mike Nichols, the director, and, at another time, by Helen Gurley Brown, the magazine editor, and her husband, David Brown, the producer.
The Beresford has been home to many celebrities including Isaac Stern, the violinist, singers Beverly Sills and Diana Ross, columnist Leonard Lyons, comedian Jerry Seinfeld, tennis player John McEnroe, anthropologist Margaret Mead, actors Rock Hudson and Tony Randall, and Citigroup CEO Vikram Pandit.
Actress Glenn Close and her husband David Shaw bought a 19th floor corner apartment in 2005 for about $6 million and sold it in 2010 for a little more than $10 million to Continental Properties managing partner Mark Fisch and his wife, Rachel Davidson. According to August 6, 2010 article in The Observer by Chloe Malle, "the petit apartment, by Beresford standards (only 2,300 square feet) was originally the parlor floor of an opulent duplex. The two-bedroom apartment has two "entertaining terraces."
Book a Tour or Get More Information on this Building
6,558 Buyers
are interested in buying at
211 Central Park West!
Interested in Selling?
We'll introduce you to the agents that
specialize in 211 Central Park West and are
experts in selling apartments there.

And they'll be able to contact all of the buyers interested in the building.
There's no obligation and your inquiry is confidential.
Call us at (212) 755-5544