The Prasada at 50 Central Park West: Review and Ratings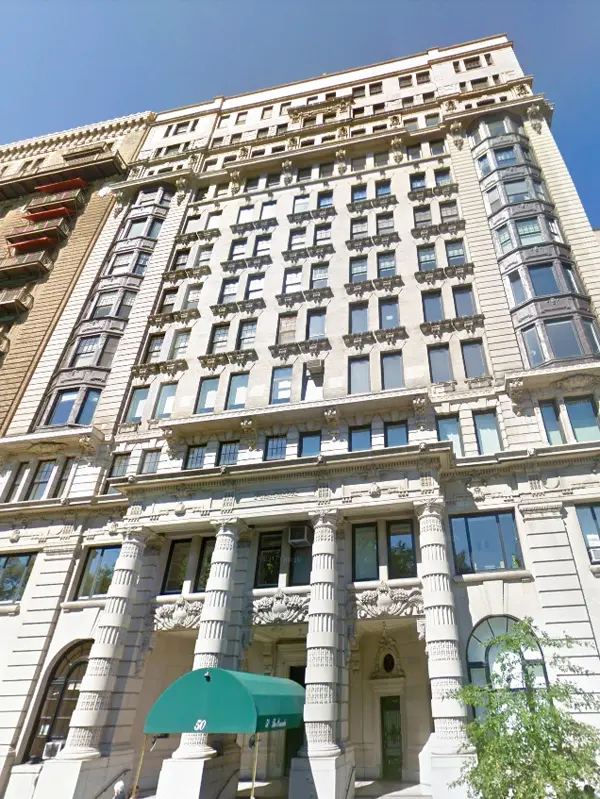 Review of 50 Central Park West by
Carter Horsley

Carter B. Horsley, a former journalist for The New York Times, The International Herald Tribune and The New York Post. Mr. Horsley is also the editorial director of CityRealty.com.
The 12-story Prasada at 50 Central Park West on the south corner at 65th Street has one of the grandest residential entrances in the city.
The French Second Empire-style building was built in 1907 by Franklin and Samuel Haines and designed by Charles W. Romeyn and Henry R. Wynne.
In 1919, however, its mansard roof was removed and the top floor slightly expanded to its current configuration which is relatively flush with the next two highest floors. As a result, the building's composition has been seriously tampered with and truncated, although the alteration did not leave visible scars as in some of the more outrageous instances of cornice removal in the city.
It has 40 apartments.
The site was formerly occupied by a small wood-frame structure.
The building has spectacular views of Central Park and the Upper East Side and midtown skylines. It is convenient to the Lincoln Center for the Performing Arts and all the restaurants and stores in that area and the cross-town bus to the East Side runs on 65th Street.
Bottom Line
With its fine location, renovated lobby and magnificent entrance, the glorious Prásáda is one of the premier buildings on Central Park West despite its sadly altered roof.
Description
In its August 10, 2010 article on the building, Daytonianinmanhattan.blogspot.com noted that the "building was frosted with Beaux Arts ornamentation and capped with a two-story mansard roof," adding that residents and guests entered through an impressive portico supported by four two-story banded pillars."
"The impressive lobby entrance hall was floored in marble, its walls were French Caen stone and the ceilings were ornately plastered. It lead to a large 'Palm Room' with fountain, covered by a stained glass dome supported by four caryatids," the article continued.
In 1909, the building was sold to a group of investors who resold it in 1912 and the next owners sold it in 1918 to Penrhyn Stanlaws and Walter Russell who hired Starrett and Van Vlect to renovate the building and create a swimming pool and gymnasium in the basement and all apartments were connected to a large kitchen by electric dumbwaiters.
The renovation, however, included the removal of the mansard roof that was replaced with a flat brick façade.
The article indicated that "sometime before World War II the stone balustrades on the fourth and tenth floors were removed and the iron railings outside each apartment window were discarded" and "the Palm Room fountain was eliminated with most of the lobby detailing.
The article had a photograph that showed a large, long and curved and very handsome vaulted stained glass lobby.
In his August 20, 2000 "Streetscapes" column in The New York Times, Christopher Gray, in a rare lapse of perceptiveness, noted that "the four banded columns at the entrance make an impressive statement, but overall the result it tepid."
The building has a six-step-up grand entrance with a hanging light, landscaping and three-entrances at the top.
In his fine book, "Luxury Apartment Houses of New York, An Illustrated History," (Dover Publications Inc., 1992), Andrew Alpern finds the architects to have been "heavy-handed at best" in this building, which may be true as far as being pure to French Second Empire style but perhaps far too critical a judgment by New York City standards as this is a very impressive structure.
The undeniable exterior charm of this structure, however, remains otherwise largely intact.
It is most distinguished by its grand entrance that has four large, two-story banded columns that support a cartouche with the engraved name of the building above the entrance steps that lead to a semi-circular loggia entrance. The first floor windows are arched and very large and the ground floor has a "dry" moat. Most of the fourth floor has balustrated balconies. The fourth through the ninth floors have angled bay windows at the edges of the building.
"Beginning at the third floor and going up," Alpern wrote, "the façade presents stiffly academic interpretations of classical French detailing in inelegant combinations.... The upper floors offer pseudo-French casement windows with vestigial iron balcony railings, pressed-steel spandrels and a cornice supported on voluted and floriated consoles. Above the cornice are two more stories. Originally there was an elaborately detailed mansard roof embellished with ornamental cresting that concealed the top-floor apartments."
"Inside, the Prásáda was also lavishly designed, but with a defter touch than on the outside....At the center axis of the loggia are the entrance doors to the building, which open onto a succession of spaces culminating in a spectacular Palm Room....This waiting space and visual enhancement was designed with a barrel-vaulted, leaded glass skylight roof supported by four large carved classical caryatids. It also boasted an elegant stone fountain backlighted by a wall of leaded stained-glass windows. With the marble benches, the potted palms and the immense oriental rug, the Prásáda's Palm Room was a rival of the public spaces of the finest of New York's hotels, albeit on a smaller scale."
The building originally had three apartments per floor and only a few have subsequently been subdivided. Each rear apartment consists of eight rooms, while each of the two in front has ten.
According to Alpern, the spacious apartments did not have many bathrooms but their dining rooms, libraries and parlors were aligned with "sliding pocket doors" so they could be combined into larger spaces.
There was a mail chute on each floor.
Alpern notes that a newspaper report in 1918 indicated the Penrhyn Stanlaws and Walter Russell, who had developed some "studio" apartment buildings nearby such as the Hotel des Artistes on West 67th Street, were planning to spend $1,350,000 on this building and rebuild it into a club, hotel and apartment facility, according to plans by Starrett and Van Vleck, with dining rooms on the first floor, a pool in the basement and room service.
Apparently, the only change made was to the roof and a plan to convert the rental apartments to cooperatives was abandoned at the time. It finally was converted to a cooperative building in 1988.
Amenities
The building has a full-time doorman, a gym, a live-in superintendent and a laundry.
Apartments
"The typical floors," according to Mr. Gray, "were divided into three apartments each of eight to 12 rooms, renting from $190 to $300 a month. They showed the typical quirks of apartment planning of the time. None of the bedrooms had private bathrooms, and many rooms had sinks set inside the closets….Each apartment had a long hall – visitors generally made a substantial trek past kitchens and bedrooms until they got to the entertaining rooms. On the other hand, the stair hall had three large windows giving natural air and light, and the layouts often introduced 45-degree angles and odd-shaped rooms that give an interest and charm which the later, more efficient planning of the 1920s could not rival."
All apartments have two fireplaces and wainscotting.
Most apartments have three bathrooms, two maid's rooms and a butler's pantry.
Penthouse B is a four-bedroom unit with a circular, 8-foot-wide main entry that leads to a 30-foot-long living/dining room with a decorative fireplace adjacent to a 16-foot-long library, a 16-foot-long study and a 16-foot-long kitchen with an island. The apartment also has a 26-foot-long family room and a 17-foot-long study and a 5-foot-wide circular rear entry.
Apartment 2B is a three-bedroom unit with a five-sided entry foyer that leads to a 29-foot-long living/dining room with a fireplace adjacent to a 16-foot-library and a 13-foot-wide study. The apartment has a 14-foot-wide enclosed and windowed kitchen and a large, five-sided storage room.
Apartment 2A is a three-bedroom unit with an 11-foot-wide entry foyer that leads to a 29-foot-long living room adjacent to a 17-foot-long dining room that is next to the enclosed 20-foot-long, windowed kitchen.
Apartment 3C is a three-bedroom unit with a 16-foot-wide entry gallery and a very long, curved hallway that leads to the 41-foot-long living/dining room with a large bay window and a decorative fireplace. The apartment has an eat-in, 17-foot-long, windowed kitchen.
Apartment 10D is a one-bedroom unit with a 21-foot-long entry hall that leads to an 18-foot-long living room with an open, 14-foot-wide kitchen.
Book a Tour or Get More Information on this Building
707 Buyers
are interested in buying at
50 Central Park West!
Interested in Selling?
We'll introduce you to the agents that
specialize in 50 Central Park West and are
experts in selling apartments there.

And they'll be able to contact all of the buyers interested in the building.
There's no obligation and your inquiry is confidential.
Call us at (212) 755-5544