35XV at 35 West 15th Street: Review and Ratings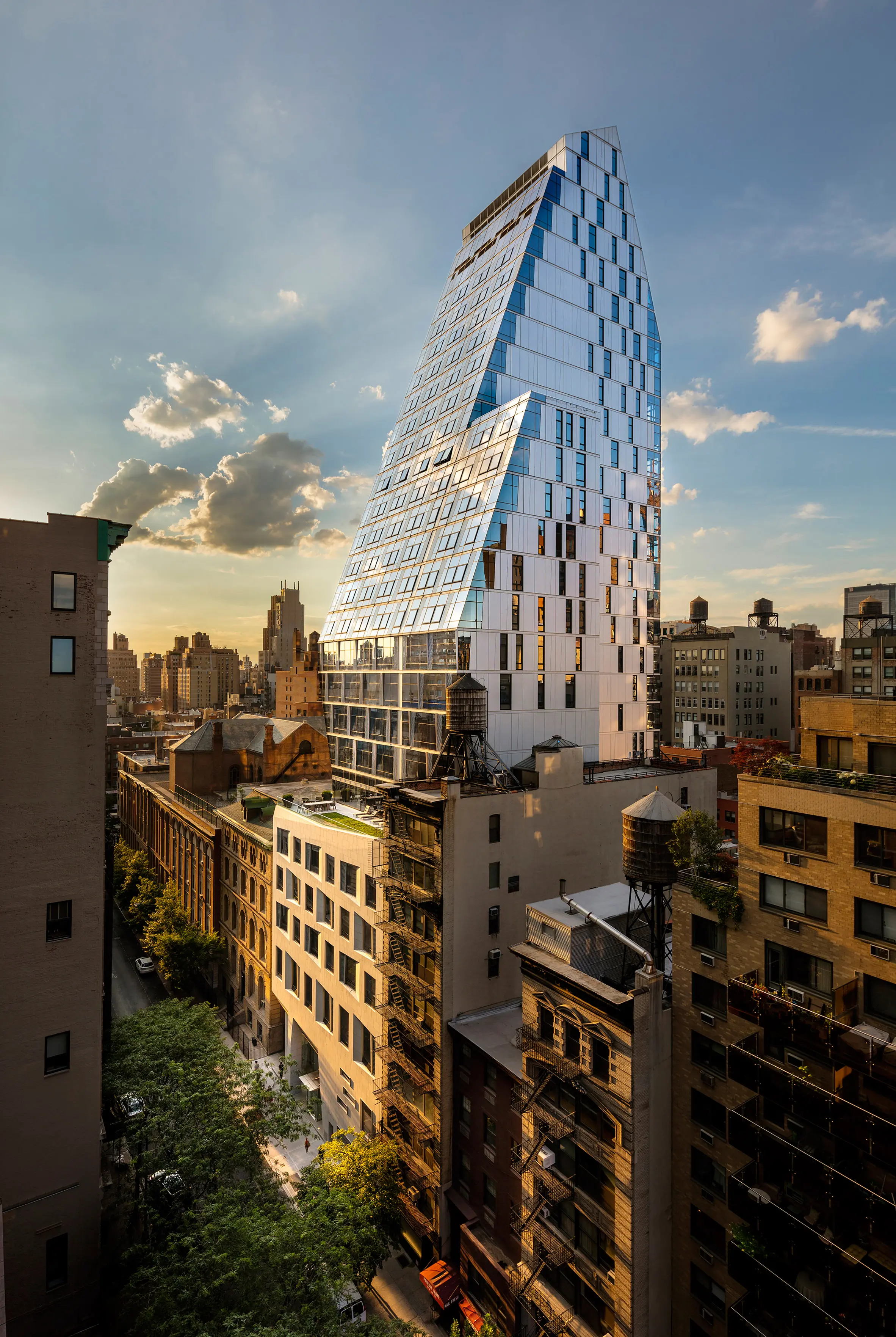 Review of 35 West 15th Street by
Carter Horsley

Carter B. Horsley, a former journalist for The New York Times, The International Herald Tribune and The New York Post. Mr. Horsley is also the editorial director of CityRealty.com.
This very slick and very dramatic apartment building at 35 West 15th Street between Fifth Avenue and the Avenue of the Americas conjures a high-tech "grater," and that's meant as a high compliment.
It does not slice and dice, or appear in late-night infomercials but unlike some new cantilevered projects it is nicely squeezed into its neighborhood and stands pretty freely in its skyline splendor.
It is a fine representative of a new generation of New York apartment towers that are not comfortable with the city's traditional, rigid geometry of right angles, or what the late Mel Kaufman, one of the city's leading office building developers, liked to call "panels and rails" before he changed his philosophy and built 17 State Street, the great semi-cylindrical, reflective-glass tower facing the harbor.
This mid-block tower, which is known 35XV, a reference to its address, is slightly cantilevered and its south and north façades are angled to align with the street's "sky exposure plane" atop a 6-story base that is expansion space for the adjoining Xavier High School to the west, which is one of the city's top Jesuit educational institutions.
The mixed-use 35XV is near the school's campus that includes a handsome church designed by Patrick Keely.
The base of the new building will be used by the school and has been designed by Beyer Blinder Belle and its residential tower has been designed by FXFOWLE and will contain 59 condominium apartments upon completion in 2014.
Alchemy Properties was the developer.
Benjamin Noriega-Ortiz was the interior designer for the project.
Bottom Line
A striking addition to the East Chelsea neighborhood, this mixed-use tower is a major new landmark and one of the most attractive new mid-rise projects of its "generation."
Description
In its general massing, the project recalls Bernard Tschumi's "Blue," 2007, 17-story residential building at 105 Norfolk Street on the Lower East Side, which also has angled tower forms but it is bigger and more complex and not blue.
The tower's glass façades are reflective and silvery and, according to Mr. Seward, "the vertical portions of the curtain wall are articulated to resemble shingles or fish scales, while the angled portions are blush." He noted that "the windows from level to level are also staggered, much like courses of brick, with a pattern that repeats every three levels," adding that "in order to maximize usable square footage, it hangs off the back of the lower section, supported by angled 'flying buttress'-style steel columns that tie back into the podium."
The tower windows on the east and west façades have slightly angled and protruding perforated metal mullions that add considerable detail and the mullions on the south and north façades have slightly tapering but flush large mullions.
The first six floors are clad in white Mount Airy granite most of which has a thermal finish except for the windows and doorway where it has a high honed finish.
The large windows in the base are slightly angled and the school and the residential entrances are deeply insert alongside a group of several small windows irregularly spaced as if in an interesting building by Le Corbusier.
A few floors at the base of the glass-tower at slightly chamfered on one corner.
Amenities
The building has a lobby attendant and a live-in superintendent.
The building's 7th floor contains numerous amenities including a fitness center and a large terrace.
The building also has a large wine cellar and a private dining salon.
It has no garage and no bicycle room.
Apartments
Apartments have Lutron systems for controlling shading, lighting and temperature.
Kitchens have lacquered Poggenpohl cabinetry, Sub-Zero refrigerators and Miele appliances.
Apartments have marble bathroom floors with radiant heating and very large mirrors with no projecting medicine cabinet in the bathrooms.
Many apartments have 10-foot-high ceilings and floor-to-ceiling windows with large panes.
Apartment 12C is a four-bedroom unit with a large, irregular entry foyer that leads to a 27-foot-long living room with two circular columns next to a 9-foot-long breakfast/den adjacent to an 11-foot-long enclosed kitchen with a sliding door.
Apartment 23A is a four-bedroom unit with a large entry gallery that opens onto a 29-foot-long living room with a 17-foot-long kitchen enclosed with sliding door and a 30-foot-long, windowed dining room.
Apartment 16C has a small entry foyer that opens onto a long gallery that leads to a 32-foot-long living/dining room with two circular columns near windows and a 10-foot-long breakfast/den next to an 11-foot-long kitchen. The three-bedroom unit also has a 10-foot-long den.
Apartment 20B is a three-bedroom unit with a long entry foyer that leads to a 28-foot-long living/dining room with three circular columns near windows and an open 12-foot-long kitchen.
Apartment 12A is a three-bedroom unit with a long entry foyer that leads to a 37-foot-long living/dining room with one circular column and a partially enclosed, 11-foot-long kitchen.
Apartment 8D is a two-bedroom unit with a large entry foyer that leads to a 16-foot-long dining room with an open 11-foot-wide kitchen with an island and a 22-foot-long living room.
History
The school had agree to sell its unused air rights to Tishman Hotel & Realty LP but that market changed and, according to a April 16, 2013 article by Josh Barbanel in The Wall Street Journal "the school's air rights were potentially worthless unless sold to the buyer of the union hall and Alchemy working with Angelo, Gordon & Co, paid $13.77 million for the air rights, which covered the cost of the school's new wing as well as part of the cost of furnishing it." "By putting a school in the base of the Building, Alchemy was able to qualify for a "community use' zoning bonus."
"Two brokers involved in the air-rights deal at Newmark Grubb Knight Frank, David Noonan and Jennifer Schwartzman, won an award from the Real Estate Board of New York for the "most ingenious deal of the year" in 2010 when they represented the union hall.
Book a Tour or Get More Information on this Building
76 Buyers
are interested in buying at
35 West 15th Street!
Interested in Selling?
We'll introduce you to the agents that
specialize in 35 West 15th Street and are
experts in selling apartments there.

And they'll be able to contact all of the buyers interested in the building.
There's no obligation and your inquiry is confidential.
Call us at (212) 755-5544