505 West 19th Street in Chelsea: Review and Ratings | CityRealty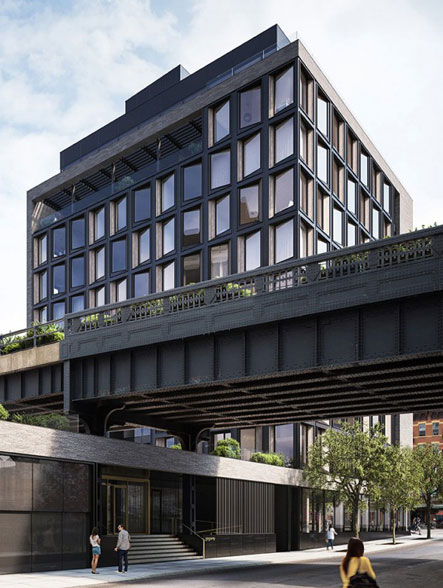 Review by
Carter Horsley

Carter B. Horsley, a former journalist for The New York Times, The International Herald Tribune and The New York Post. Mr. Horsley is also the editorial director of CityRealty.com.
This very handsome, two-tower, mid-rise condominium project at 505 West 19th Street is the only one that connects its twin buildings with a connection beneath the High Line Elevated Park.
The 10-story towers at 505 West 19th Street contain a total of 35 apartments.
The buildings not only straddle the High Line, but also have a 7-step-up entrance beneath the very popular elevated park in Chelsea.
It is the first Manhattan project designed by Thomas Juul-Hansen, who previously had done the interiors for Extell's One57 project, Alf Naman's HL23 project, and Enrique Norten's One York Street project and restaurants for Jean-Georges Vongerichten.
He is also the architect for Glenwood's mid-block residential project at 60 East 86th Street.
HFZ Capital Group, which is headed by Ziel Feldman, is the developer. The initials stand for Harriet, Mr. Feldman's wife, and his own name.
Goldstein Hill & West are also involved as architects.
Bottom Line
Talk about entrances, this rather grand peek-a-boo has the city's biggest marquee for those desirous of Egyptian-tomb pageantry and certain of which direction to follow in the shared space. The apartments have Pharoah-sized living rooms and some units have mud rooms for wiping Papyrus off one's gilded sandals.
Description
The project is notable for its very pronounced, waffle-like façades in which windows are alternately slightly angled as well as being set in concrete and metal frames.
The lobby beneath the High Line has a skylight with amber lights aimed upward to highlight the High Line's riveted undercarriage.
An October 11, 2013 article by C. J. Hughes in The New York Times quoted Mr. Feldman as stating that "we wanted to celebrate the rebirth of a deserted railway that was going to be torn down," adding that "it's a shout-out."
In a January 9, 2015 interview with Nikolai Fedak of newyorkyimby.com, the architect said that "Not only did we have to think about the privacy from the sidewalk, but also from the rooms next to the High Line."
"Our response to that," he continued, "was trying to direct the building and its views up and down the High Line, and not right onto the park. It might not be so apparent, but the whole eastern building is actually angled to face south. And the face of the western building is positioned so it faces north. And within that we angled the windows, so instead of having a flat surface of glass the windows shift directions even within the façade. Also, the windows actually get bigger as you go up. Looking north and south along the High Line is a much more compelling view than simply looking down onto it."
When asked about placing the development's entry under the High Line, he said that "we could have made one entry close to 10th Avenue, which is probably where a lot of circulation will be." "But for residents of the western tower," he added, "they'd come in, be greeted by the doorman and then have to make a long crossing underneath the High Line to their building. Or we could have made two entries with two doormen, which isn't very efficient. So why not approach it with the idea that the High Line is a built-in entry canopy? If you put the entry right underneath the High Line, you come in the center, there's a big doorman lobby, and then you can go up either side. Once we came to that conclusion we were able to expand on the idea. Inside the lobby we have a huge sky light, and you see the underside of the High Line through that sky light. And when you're in the lobby, you have the columns of the High Line actually inside the lobby. It's all about finding a way to merge with that, and it turned out to be a great opportunity. I thought it was a little bit risky because some people say, why do you want to see the bottom of the High Line? Perhaps it's not as luxurious as a backlit onyx canopy that you might find at a Park Hyatt, but it's a little more edgy of a solution and I know it's been received very well. The underside, to me, is the best part of the High Line architecturally."
Amenities
The building has a 24-hour concierge, a live-in superintendent, a gym, a garage, a bicycle room, storage, and a package room.
Apartments
Apartment 4W is a three-bedroom unit with an entry foyer that leads to a 36-foot-long living/dining room adjacent to an enclosed 20-foot-long kitchen. The unit also has a mud room and a long gallery.
Apartment 5A is a two-bedroom unit with an entry foyer that lead past a pass-through kitchen to a 29-foot-long living/dining room with a 13-foot-long study alcove.
Apartment 4C is a two-bedroom unit with an entry foyer that leads to an open, pass-through kitchen and a 25-foot-long living/dining room.
Apartment 7D is a one-bedroom unit with an entry foyer that leads past a pass-through kitchen to a 29-foot-long living/dining room.
History
Ziel Feldman is the founder and managing principal of HFZ Capital Group, a Manhattan based real estate investment and development company formed in 2005. Some of Mr. Feldman's recent projects under HFZ include the acquisition of the notes securing 303 East 51st Street, 20 West 40th Street, The Setai at Wall Street (40 Broad Street) and One Madison Avenue, as well as acquiring the properties located at 11 East 68th Street and 11 Beach Street.
Prior to forming HFZ, Mr. Feldman co-founded Property Markets Group in 1991.
Mr. Feldman graduated from Queens College and the Cardozo Law School.
Before founding his own firm, the Danish-born Mr. Juul-Hansen was a senior designer at Richard Meier & Partners.
Book a Tour or Get More Information on this Building
47 Buyers
are interested in buying at
505 West 19th Street!
Interested in Selling?
We'll introduce you to the agents that
specialize in 505 West 19th Street and are
experts in selling apartments there.

And they'll be able to contact all of the buyers interested in the building.
There's no obligation and your inquiry is confidential.
Call us at (212) 755-5544