HL23 at 515 West 23rd Street: Review and Ratings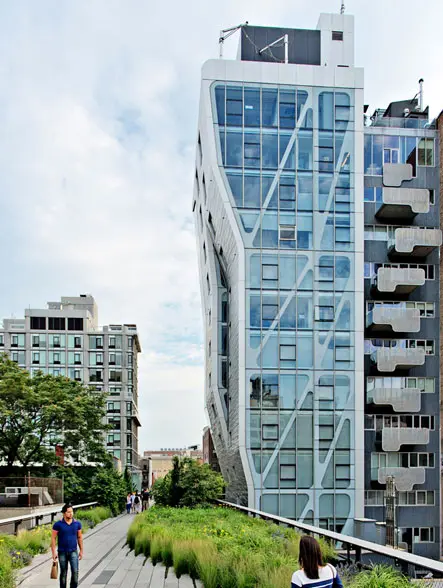 Review of 515 West 23rd Street by
Carter Horsley

Carter B. Horsley, a former journalist for The New York Times, The International Herald Tribune and The New York Post. Mr. Horsley is also the editorial director of CityRealty.com.
A lot of the most spectacular new buildings in the city in recent years are unconventionally shaped.
One of the most startling is HL23 on the northwest corner of 23rd Street and the High Line Park. The building is 40 feet wide and has a two-floor maisonette, a duplex penthouse and nine-full-floor residential condominium units.
It juts out a bit in various directions as if it was been pinched in somewhat by the High Line even as it overpowers and hems in another new "High Line" residential building, the High Line 519 at 519 West 23rd Street with its "cloud"-like balconies next door.
Its façade is definitely not uniform and much of it is glass set within large diagonal braces that give way to curved, embossed stainless-steel panels on the side directly facing the High Line.
The building was developed by Alf Naman and designed by Neil M. Denari, a California architect who from 1997 to 2002 was the director of the Southern California Institute of Architects. Interiors were designed by Thomas Juul-Hansen. Marc I. Rosenbaum was the collaborating architect.
Bottom Line
This shiny machine-age building is ungainly and perhaps even alien in its ungraceful angularity, but in New York what could be more welcome, especially in Far West Chelsea, a land once known for its big trucks and leather jackets? It is clearly a macho building, one given to shoulder jerks and shuffles and maybe even "high-fives."
Description
The north and south curtain walls of the reverse tapering tower have angled cantilevers and the glass panels are each more than 11 feet high and six feet wide.
Amenities
The building has a health club, a bicycle room, 24-hour doormen, motorized window shades and basement storage. It has neither a roof deck nor private balconies.
Apartments
The building is notable for its column-free interiors. Apartments range in size from about 1,900 to 3,600 square feet. Some living rooms are 24 by 45 feet.
Apartments have keyed elevator access and entry foyers.
Apartment 5 is a two-bedroom unit that has a foyer that leads directly to a 17-foot-long library/media area that opens onto a 19-foot-long living room adjacent to a 16-foot-long dining room adjacent to an 11-foot-long pass-through kitchen.
Apartment 11 is a three-bedroom unit with 2,571 square feet and a 35-foot-long living/dining room and a 13-foot-long kitchen.
History
In his April 4, 2011 review in the Los Angeles Times, architecture critic Christopher Hawthorne notes that the building is a "standout" in "ways that begin with - but aren't limited to - its gymnastic form."
"The design has without a doubt," he continued, "yielded a building of drama and cunning - particularly in its relationship with the High Line. Thanks in part to seven separate zoning waivers from New York's planning commission, which sanctioned its bulging form, HL23 behaves a like a flower planted along the park's underside that manages to grow up and out over its urban host. That connects it in spirit with the small number of other Manhattan buildings that either lean out over public space or grow wide as they rise."
A more unified and beautiful design can be found nearby at 245 Tenth Avenue, a stainless-steel clad residential building designed by Della Valle Bernheimer.
In his April 25, 2011 review in The New York Times, Nicolai Ouroussoff described the building "as sleek and muscular as an Italian sports car." "Seen from 23rd Street, the building's bulging glass south façade has an aerodynamic look. Seen from the High Line, the folded steel surface of its eastern side - whose panels were manufactured in Argentina on presses used to make body parts for Mercedes trucks - conjures a hood scoop on a car," he wrote.
"The machine aesthetic is everywhere," he continued, adding that "many of the glass walls are mechanized, sliding open a few inches at the touch of a button."
"In Chelsea," he concluded, "Mr. Denari has created a building that, intentionally or not, is as much about the desire to recapture that vision of America as about the pretty views. Inevitably, it makes you wonder where that dream went wrong."
Book a Tour or Get More Information on this Building
149 Buyers
are interested in buying at
515 West 23rd Street!
Interested in Selling?
We'll introduce you to the agents that
specialize in 515 West 23rd Street and are
experts in selling apartments there.

And they'll be able to contact all of the buyers interested in the building.
There's no obligation and your inquiry is confidential.
Call us at (212) 755-5544