180 Franklin Avenue: Review and Ratings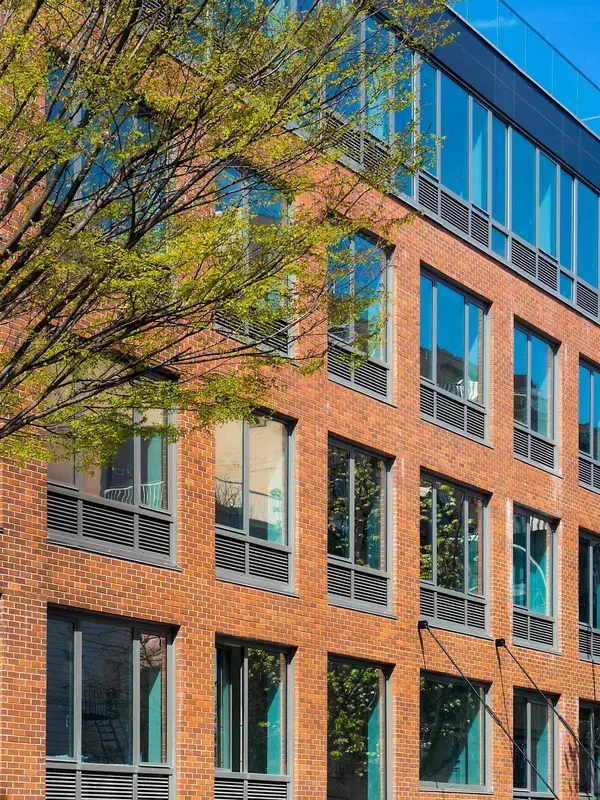 Review of 180 Franklin Avenue by
Carter Horsley
This very attractive, 5-story building at 180 Franklin Avenue in the Clinton Hill section of Brooklyn was built in 2016 and has 118 rental apartments.
It was developed by Adam America Real Estate and The Horizon Group.
It was designed by Isaac and Stern Architects.
It is close to the Pratt Institute.
Bottom Line
A very crisp orange and black low-rise rental apartment building that is quite striking in the Clinton Hill section of Brooklyn with its "slipped" façade, rusticated base, some corner windows, some setbacks and a driveway.
Description
The building's torso is orange brick wedged between a black one-story rusticated base and a black one-story top.
For a long low-rise, its massing its quite subtle with a "slipped" façade, some setbacks and a discrete driveway.
A July 10, 2014 article by Stephen Smith at newyorkyimby.com noted that "The five-story building will also be significantly less dense than its Hasidic neighbors, since this stretch of Franklin had its density reduced by one-third after the Bed-Stuy North rezoning of 2012 – a case of closing the stable door after the horse has already bolted, since the majority of the existing structures on Franklin between Willoughby and Myrtle are already overbuilt, according to the new zoning."
Amenities
The building has a doorman, a fitness center, a sound-proofed music rehearsal space, an artist's workroom, a bicycle storage, a social lounge with a pool table, a landscaped roof deck and on-site parking.
Apartments
Apartments have washers and dryers.
Apartment 2A is a three-bedroom unit with an entry foyer that leads to a 13-foot-wide living/dining room and a 11-foot-long windowed kitchen. There is a 10-foot-wide office next to the smallest bedroom.
Apartment 523 is a two-bedroom unit with a large living room with access to a large patio and an open kitchen.
Apartment 504 is a two-bedroom unit with a 9-foot-long kitchen and a 16-foot-long living room.
Apartment 4H is a one-bedroom unit with a 14-foot-wide entrance gallery that leads to a 14-foot-wide living room with an open 10-foot-long, windowed kitchen with a breakfast bar.
Apartment 5B is a one-bedroom with a long entry foyer next to a windowed, 11-foot-long kitchen and a 17-foot-long living/dining room.