7 Dekalb Avenue in Downtown Brooklyn: Review and Ratings | CityRealty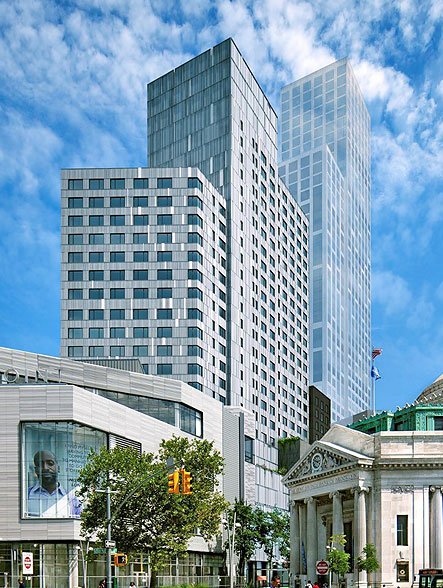 Review by
Carter Horsley

Carter B. Horsley, a former journalist for The New York Times, The International Herald Tribune and The New York Post. Mr. Horsley is also the editorial director of CityRealty.com.
The first and lowest of the three towers at the large and impressive City Point development in Downtown Brooklyn at 7 DeKalb Avenue is a very handsome, zinc-clad, 23-story rental apartment tower. It is also known as Tower One in the complex and was once known as 70
Fleet Street.
It was developed by BFC Partners, Washington Square Partners and Acadia Realty Trust.
It was designed by CookFox with interiors by SLCE and BanG Studio.
When it initially opened in 2015, 50 percent of its 250 units were affordable but the developers raised that to 80 percent at the city's request.
The entire complex comprises about 1.9 million square feet of space and occupies the former site of the Albee Square Mall. It is bounded by DeKalb Avenue, Gold Street, Willoughby Street, Flatbush Avenue Extension and Fleet Street.
Bottom Line
One of the most visible and prominent mixed-use developments in Downtown Brooklyn, this zinc-clad, 23-story residential building is the shortest of three towers at the City Point complex, which appears like an articulated, giant, urban three-masted ship maneuvering for its angled berth.
Description
The prow of this complex is a low-rise, angled retail building across the street from the dome-topped, landmark Dime Savings Bank Building that was erected in 1908.
This tower has an angled wing like the larger, 440-unit market-rate tower next to it, but more sedate fenestration patterns.
The complex includes a Alamo Drafthouse Cinema that serves beers, a lot of retail including Trader Joe's and the DeKalb Market Hall that will have food vendors, including Katz's Delicatessen, selected by Anna Castellani, the founder of Foragers, a gourmet grocer in DUMBO.
The middle tower is a 430-unit market-rate rental tower developed by the Brodsky Organization and it has a couple of setbacks and it also angled.
The development rights for the third and tallest tower was acquired by Extell Development for $115.5 million from Washington Square Partners and Acadia Realty Trust. It address is 138 Willoughby Street and it is expected to be 59 stories with about 450 apartments and will be designed by Kohn Pedersen Fox.
Amenities
The building has a full-time doorman, cold storage, a fitness center, a bicycle room, storage, a movie room, a children's playroom and a laundry room on every floor.
Apartments
The low- and moderate-income apartments are spread through the building. Twenty percent of the units are for renters who earn 40 percent of the area's median income and 60 percent are for renters who earn 130 percent of the area median income.
Apartment S is a two-bedroom unit with 1,056 square feet with an entry foyer that leads to an angled living/dining room with a corner window and an open, pass-through kitchen.
Apartment F is a two-bedroom unit with 894 square feet and an open kitchen.
Apartment E is a one-bedroom unit with 742 square feet and an entry foyer across from an open, pass-through kitchen.
Apartment K is a one-bedroom unit with 661 square feet and an entry foyer next to open kitchen.
History
During the recession, the California Public Employees' Retirement system withdrew its backing for the project and the design of its retail mall changed.
The large site was formerly occupied by the Albee Square Mall that was erected in 1980 but razed in 2007.