Avalon Willoughby Square at 214 Duffield Street: Review and Ratings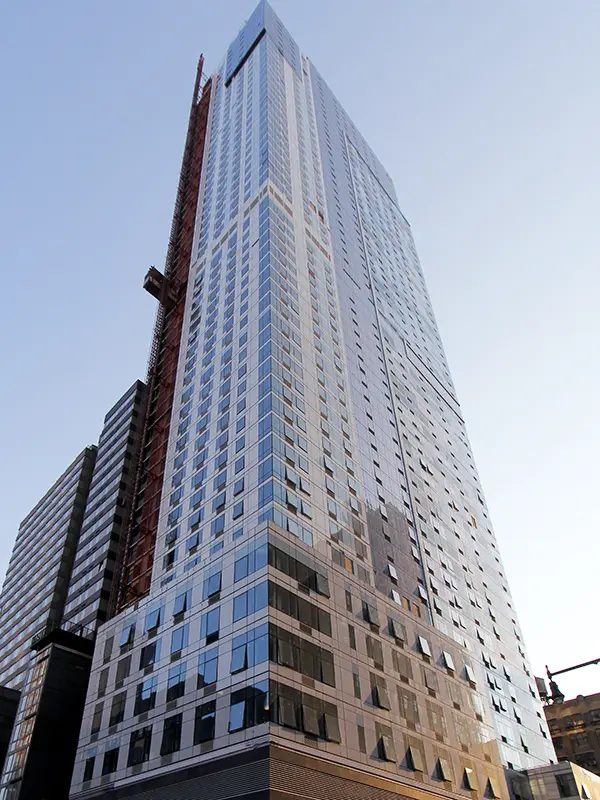 Review of 214 Duffield Street by
Carter Horsley

Carter B. Horsley, a former journalist for The New York Times, The International Herald Tribune and The New York Post. Mr. Horsley is also the editorial director of CityRealty.com.
This 58-story rental apartment building at 214 Duffield Street in Downtown Brooklyn was erected by Avalon Bay Communities in 2015 as the tallest building in Brooklyn.
The 634-foot-high tower consists of 326 "upscale" rental apartments on floors 31 through 58, and 500 lower-price rentals on floors 2 through 29. Both rental groups share amenities on the 30th floor.
The lower rentals has their own entrance on lobby at 100 Willoughby Street and that section is known as AVA DoBro.
The more expensive rentals at the top of the building at known as Avalon Willoughby Square.
The building has designed by SLCE Architects for Avalon Bay Communities and the development was formerly known as AVA Willoughby West.
Cetra/Ruddy did the interior design for the entire building.
The building is close to Borough Hall and Fort Greene Park.
It is one of two related Avalon buildings in this neighborhood. The first, Avalon Willoughby, was erected several years ago at 343 Gold Street.
Bottom Line
It has one of the most distinctive high-rise façade designs in the city that from some angles looks like a drunken Russian Constructivist painter had a Deconstructivist fit and hurled paint in the hopes of pointing exclamations, a most laudatory effort by one of the city's most conservative architectural firms.
Description
This distinctive, 58-story tower was the tallest in Downtown Brooklyn when it was erected in 2015 and it has 500 rental apartments in its base beneath 326 "upscale" rental apartments.
That division is not indicated by the façades that mix large white blank areas to offset pale blue vertical section with delicate thin white piping and what appears to be random black "pixelated" stiches with some corner windows.
Asymmetry gone asunder!
There are some setbacks that do not impede the building's rocket rush of verticality.
The building is contrapuntal to the fine symmetry of the nearby tower at 388 Bridge Street.
Sometimes the best compliment is contrast rather than context.
The building has a subway entrance via the R train platform to the Jay Street-MetroTech subway station and discrete air-conditioners.
It is a slab tower and has a 29-story wing setback on a 6-story base.
In an October 7, 2016 article in The New York Times, Ronda Kaysen wrote that "step into the lobby of AVA DoBro…and you are transported from the uninspired streetscape of Downtown Brooklyn to the epitome of the Brooklyn hipster band - with its requisite mural on a brick wall, reclaimed wood and polished concrete floors," adding that "the adjoining café, AVA Brew, with mismatched furniture and Pushcart Coffee, doubles down on the vibe."
She points out the building's dichotomy noting that "maybe that other new Brooklyn speaks to you instead….It's urbane and shiny and has sprouted like tall weeds of glass and steel overtaking Downtown Brooklyn, Williamsburg and Prospect Heights. If that aesthetic is more your speed, step outside, walk around the corner and meet Avalon Willoughby Square, AVA DoBro's taller (and richer) sister."
"Where Ava is edgy art and mood lighting, Avalon is airy elegance and sweeping views….While most expensive apartment available on the AVA website in early October was a 1,242-square-foot three-bedroom listed for $5,735 a month, the top listing at Avalon was a 1,505-square-foot three bedroom listed for $11,490 a month."
AvalonBay Communities, the developer, had used the "split" approach before, the article continued, citing its AVA High Line and Avalon West Chelsea, two rentals housed in the same 32-story tower that opened in 2014."
Amenities
It has a fitness center, a 57th floor indoor/outdoor rooftop lounge, a terrace with a fire pit on the 29th floor, a 24-hour concierge, a 167-car garage, bicycle storage, a children's playroom, a package room with cold storage and it is pet friendly with a pet-washing facility. The building is smoke-free. Ava DoBro does not have a doorman but Avalon Willoughby Square does. Avalon Willoughby Square has a private dining room with a demonstration kitchen on the 58th floor and Ava DoBro has a Chill Lounge with "funky furniture and retro neon signage" on the 7th floor.
Apartments
Apartments have washers and dryers, plank flooring, stainless-steel GE kitchen appliances, quartz countertops and Marazzi tile backsplashes.
The top five floors have Signature Collection apartments with upgraded appliances, wine cellars, recessed lighting and exclusive service features.