300 Ashland Place: Review and Ratings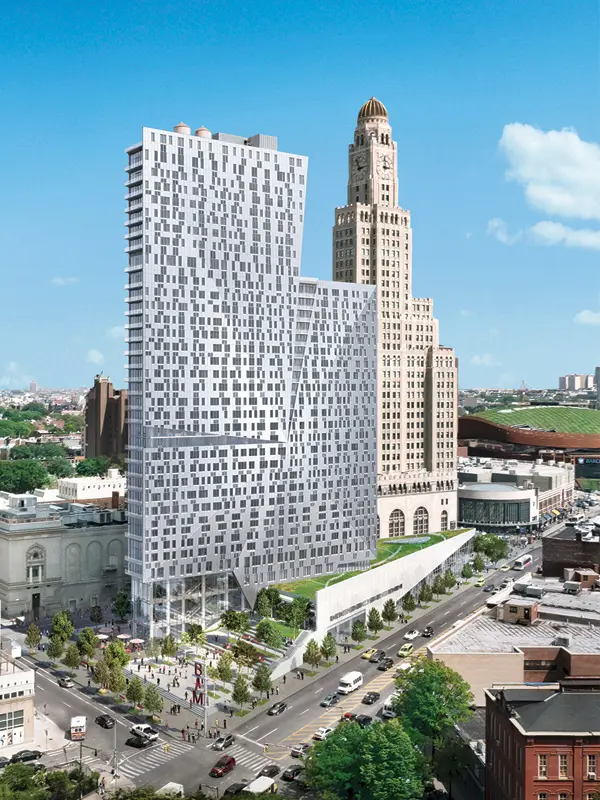 Review of 300 Ashland Place by
Carter Horsley

Carter B. Horsley, a former journalist for The New York Times, The International Herald Tribune and The New York Post. Mr. Horsley is also the editorial director of CityRealty.com.
This stunning, 32-story apartment building at 300 Ashland Place in the Fort Greene section of Brooklyn just to the east of the great Brooklyn Academy of Music and the former Williamsburgh Bank Tower (now One Hanson Place) and a little south of Barclays Center is a finely cut, aluminum-clad wedge with 379 rental apartments.
The architect is Ten Arquitectos, which is headed by Enrique Norten, and Ismael Levya Architects.
It was completed in 2016 by Two Trees Management whose other major projects include Jane's Carousel in Dumbo on the East River, the redevelopment of the Domino Sugar complex on the East River, the Wythe Hotel in Williamsburg and the curving Mercedes House in the Clinton section of Manhattan. The latter project was also designed by Mr. Norten's firm, which recently completely Centro, a large university in Mexico City with a very grand and beautiful grand black-and-white staircase, exterior stepped transportation modules similar to those at Beaubourg in Paris, and a huge, wavy wall of brise-soleils.
In addition to its apartments, which include 76 "affordable" housing units, this mixed-use development also includes about 50,000 square feet of cultural space including BAM cinemas, 651 Arts dance studios, a new branch of the Brooklyn Public Library, and a new home for MoCADA, the Brooklyn-based Museum of Contemporary African Diasporan Arts.
The mixed-use development will also include about 43,000 square feet of retail space.
It is very convenient to 9 subway lines and the Long Island Railway.
Bottom Line
This very modern, shining knight jousts with the dark lizard skin of the Barclays Center and the Byzantine limestone décor of Brooklyn's greatest clocktower at the new heart of the borough.
Description
Although it is not as high as the clocktower at One Hanson Place and only presents a thin façade to the Barclays Center, this is no pale rider of the Four Horsemen of the Apocalypse on Brooklyn's horizon but a new "Bucephalus" worthy of serving as Alexander the Great's legendary horse and the Brooklyn Dodgers. Apocalypse be damned.
It is a gleaming, but mysterious steed.
Its slab façades are punch-card marked with a dizzying amount of windows and myriad pairs of dark-metal panels sufficient to foil architectural marksmen who might mistake a broad horizontal gash mid-tower and an angled vertical gash where its setback joins the tower as kinks in its armor.
The irregularity of fenestration gives the tower an extremely energetic sense of motion, so much so that one hopes that Siena's great "palio" horse race might be enacted around the site with many banners and great hoop-la.
Apartments start at the sixth floor as they are elevated above the fray of competing cultural and transit venues.
The east side of the site has a projecting dash of green vertical stripes at its base to mark some cultural facilities while the west side has a ramp that steps up broadly to the landscaped roof of the complex's glassed-in south end.
The north end of the slab is a glassed, four-story-high "cutaway" that contains some of the cultural entrances and lobbies and provides a larger counterpoint to the thin horizontal and vertical gashes higher on the tower.
The slab's fenestration pattern is appropriately dizzying in keeping with the witches' brew of activities here that is further compounded by the ramp's increased height at the sound end and its diagonal struts.
The slab tower is setback at its north and south ends to lessen interference with the visibility of adjoining landmarks.
The building has a green rooftop terraces curated by James Corner Field Operations, the designers of the High Line park in Manhattan.
The only concession to New York City irrationality is that the north and south ends are not continuations of the tetris-like east and west façades but are thin balcony "edges."
Amenities
The smoke-free building has a 24-hour concierge, a fitness center on the 29th floor, a residents' lounge, a bicycle room, resident valet and package services, a live-in superintendent, and a garage.
Apartments
Apartments have solar shades, white oak hardwood floors, Corian window sills, and Caesarstone and stainless steel kitchen countertops with Bosch kitchen appliances.
Apartments have built-in washers and dryers, in-sink garbage disposals and keyless electronic apartment entry.
Apartment 12T is a two-bedroom unit with 906 square feet and a 15-foot-long living room with an open kitchen with an island and a wide balcony.
Apartment 10U is a one-bedroom unit with 733 square feet at the tower's sound end with a long entry foyer that leads to an open kitchen with an island and a 16-foot-long living room with a slightly angled wall and a wide balcony.
Apartment 10R is a one-bedroom unit with 636 square feet, a wide entry foyer next to an open, pass-through kitchen and a 16-foot-wide living room.
Apartment 10C is a studio unit with a 17-foot-wide living area and an open kitchen.