Hub in Downtown Brooklyn: Review and Ratings | CityRealty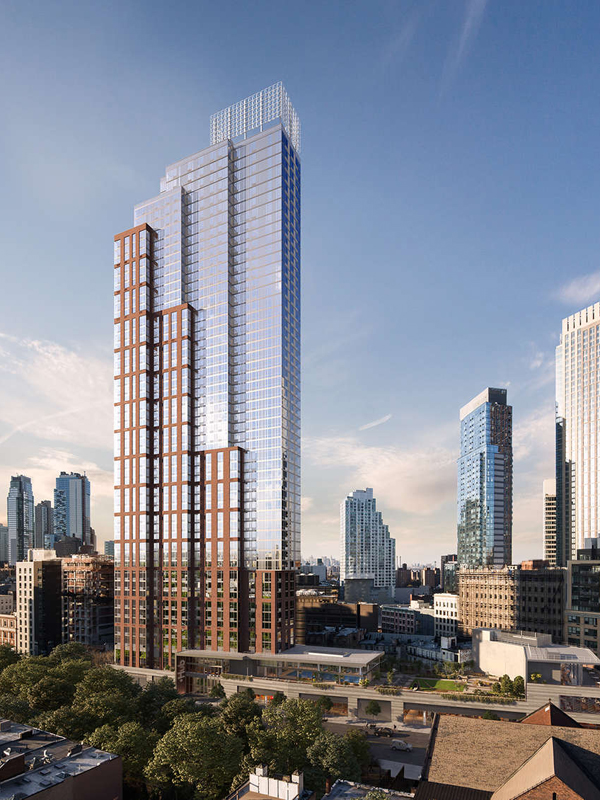 Review by
Carter Horsley

Carter B. Horsley, a former journalist for The New York Times, The International Herald Tribune and The New York Post. Mr. Horsley is also the editorial director of CityRealty.com.
This very handsome, 55-story apartment tower at 333 Schermerhorn Street between Flatbush Avenue and Nevins Street in Downtown Brooklyn and was the tallest in the borough briefly and was completed in 2017.
It is known as the Hub and has 750 apartments of which 150 are "affordable."
It was developed by Steiner NYC, which is headed by Douglas Steiner, and designed by Dattner Architects, which is headed by Richard Dattner, who designed the charming, nautically-themed P.S. 234 near the World Trade Center. Hill West Architects is the associate architect.
The finely proportioned building has 42,000 square feet of retail space.
It is convenient to the wonderful Brooklyn Academy of Music and the Barclays Center.
Bottom Line
An extremely attractive, slim, red-brick-and-glass tower with numerous setbacks and a modest cantilever rising from one end of its long, one-story podium close to the former Williamsburgh Savings Bank tower and 13 subway lines.
Description
The slim form of the tower's slab affords 75 percent of its apartments corner windows.
The cascading red-brick portion of the tower, which is aesthetically descendant from the great 30 Rockefeller Plaza skyscraper in midtown Manhattan, is divided into three-story-high, glass sections that help to minimize its mass.
The low-rise base is also divided horizontally into red masonry piers and large glass windows and it serves as "waves" to the tower's "sheets" of sail massing that give the development a superb sense of motion.
The building has a dramatic four-story, recessed entrance and its end facing Flatbush Avenue is mostly glass and the tallest part of the stepped, box-truss roof is an illuminated space frame that, according to the architect, provides a dramatic "crown" to the tower, "an iconic presence on the Brooklyn skyline."
The building has discrete air-conditioners.
Amenities
The building has a 75-foot-long, year-round swimming pool in a double-height, skylit pavilion, a sky lounge on the 53rd floor, a landscaped sundeck and lawn with grilling cabanas, a gym, bicycle storage, indoor and outdoor movie screens, a club lounge, a dog run, a party room, a library, a garage and a children's playroom.
Apartments
Apartments have Bosch washers and dryers, custom window shades, 5-inch-wide oak wood floors, Caesarstone kitchen countertops and marble backsplashes, and stainless-steel appliances.
Apartment C on floors 5 through 34 is a one-bedroom unit with a long entry foyer that leads past an open, pass-through kitchen to a 16-foot-long living room with a corner window.
Apartment 5 on floors 5 through 12 is a one-bedroom unit with a 20-foot-wide living room with an open kitchen.
Apartment L on floors 5 through 25 is a studio unit with a long entry foyer that leads to a 23-foot-long living space with a corner window and an open kitchen.
Apartment H on floors 5 through 12 is a studio unit with an entry foyer that leads past an open kitchen to an 18-foot-wide living space with a corner window and a large alcove.