The Amberly, 120 Nassau Street: Review and Ratings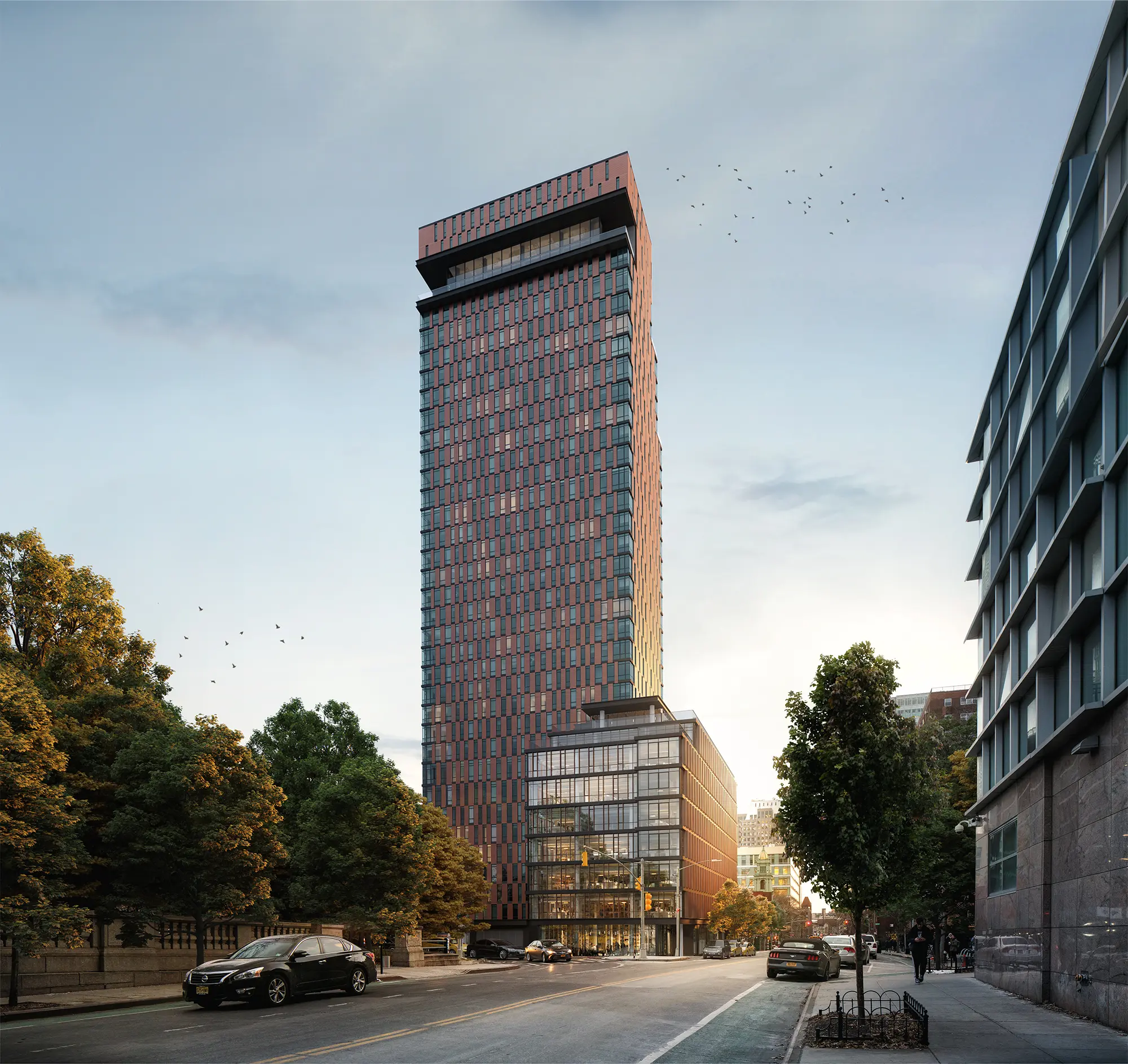 Review of 120 Nassau Street by
Carter Horsley
This very attractive, 33-story, mixed-use apartment building at 120 Nassau Street in Downtown Brooklyn between the Brooklyn and Manhattan bridges. It has 270 rental units and the tower rises above an 8-story base with office and retail space.
The building, which will have a terra cotta façade that pays homage to the historic brownstones of the neighborhood, is known as The Amberly and it opened in 2018.
The developer by AmTrust Realty Corporation.
Woods Bagot was the architect.
A CityRealty.com article said that "Across Jay Street, at 90 Sands Street, a 30-story Jehovah Witness dormitory was traded into the hands of Jared Kushner and will likely be converted into a hotel and/or apartments." Another CityRealty.com article, published December 13, 2016 noted that "The New York Post reported last year that Kushner will also be working with Ian Schrager to convert the tower into a new 'iconic' Public hotel of upt to 600 rooms, observatory-like restaurant at the top, and 60,000 to 100,000 square feet of food and beverage services and conference facilities."
Designed by Woods Bagot Architects, The Amberly is a striking 33-story residential tower that's home to 270 luxury rental residences. The striking geometric façade is intelligently-designed to maximize views in living and dining areas while maintaining privacy in bedrooms.
The Amberly is also home to 7,500 sq ft of convenient street-level retail space. It is located at the intersection of Brooklyn Heights, DUMBO and Downtown Brooklyn.
Bottom Line
A robust and very attractive, terra cotta-clad, mixed-use tower in Downtown Brooklyn with a handsome podium base and good transportation.
Description
The development has a 10,000-square-foot public plaza designed by SCAPE Landscape Architecture on the southern side of the tower with a long, angled pool.
According to a CityRealty.com article, "cutting across the plaza will be an 'art corridor' dotted with large river stones and surfaced with a 'streambed' of blue- and white-blasted glass pavers." "A mix of dark and light pavers define the plaza's circulation patterns.Dark pavers are meant to draw pedestrians into the plaza and guide them to the building's entrances. 'Lighter-tone pavers signify spaces for socializing and play,' says the firm."
The rust-colored tower will have corner windows and a large notch beneath its modern cornice. The rear of the tower will have three setbacks.
Amenities
The building will have 112 parking spaces, a roof terrace, a fitness center, a recreation room, a ground-floor live/work lounge with access to a communal plaza designed by Scape Architects. On the 9th floor is The Amberly's lifestyle lounge, wraparound sundeck and outdoor grilling and dining areas. The Overlook, a 33rd-floor sky lounge offers sweeping views of the Manhattan skyline, Brooklyn rooftops and the iconic New York Harbor. Bike storage and below-grade valet parking are also available.
Apartments
Apartments have 9-foot ceilings, floor-to-ceiling windows, Bosch washers and dryers, walnut kitchen cabinetry, Caesarstone countertops with waterfall edges and KitchenAid appliances.
Apartment 16F is a two-bedroom unit with 1,092 square feet and an entry foyer that leads to a 14-foot-square living/dining room with an open kitchen with an island.
Apartment 12K is a one-bedroom unit with 780 square feet and an entry foyer that passes an open kitchen with a breakfast bar to a 19-foot-long living/dining room.
Apartment 15H is a one-bedroom unit with 702 square feet and a 15-foot-long living/dining room with an open kitchen with a breakfast bar.
Apartment 15D is a studio unit with 482 square feet and a 14-foot-long living area with an open kitchen with a breakfast bar.