The Ashland, 250 Ashland Place: Review and Ratings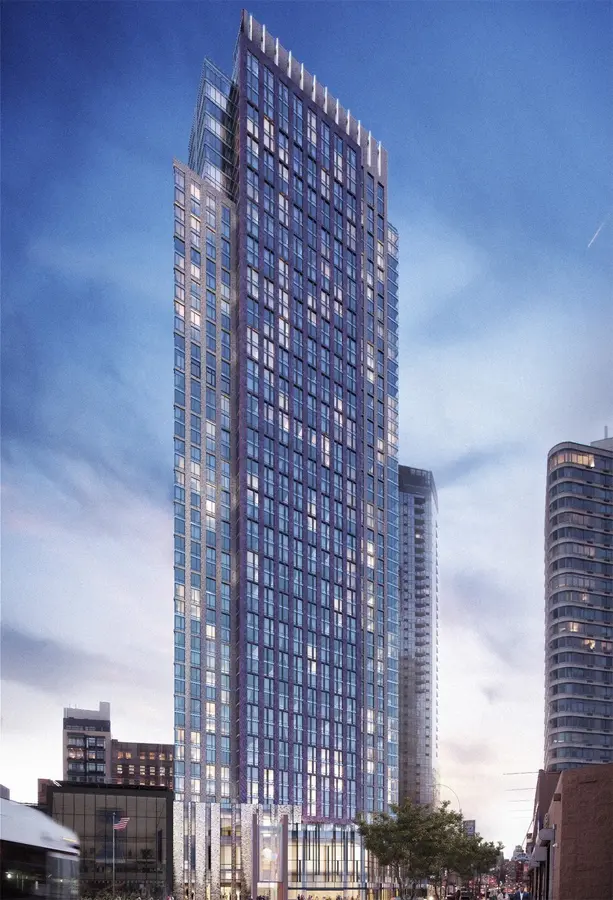 Review of 250 Ashland Place by
Carter Horsley
The Gotham Organization, which is headed by David L. Pickett, is expected to complete the elegant, 52-story apartment tower at 250 Ashland Place in the Fort Greene section of Brooklyn in 2016.
The handsome, 568-foot-high tower will contain 586 apartments of which about 282 are "affordable" to low- and middle-income families. Of the "affordable" units, 56 are studios, 113 are one-bedrooms, 85 are two-bedrooms and 28 are three bedrooms and they are available to households earning between $28,835 and $200,400 a year, depending on family size. They are rent-stabilized and the rent includes gas.
A July 8, 2016 article by Kaya Laterman in The New York Times noted that there 82,262 applications for the affordable units.
The site, which is on the south side of Lafayette Avenue, was a parking lot.
The tower was designed by FXCollaborative.
It is adjacent to the Theater for a New Audience and very convenient to the Brooklyn Academy of Music, One Hanson Place and the Barclays Center.
Bottom Line
A very gracefully proportioned tower with a very handsome two-story podium and many amenities in the midst of Brooklyn's cultural center.
Description
The building's crown is distinguished by thin vertical lighting elements.
The ground floor of the building is the Gotham Market at Ashland, a group of seven eating and drinking establishments.
The second floor will house cultural facilities and the third floor will have some building amenities.
The roof of the tower's two-story base is landscaped and has a handsome vertical design motif.
The setback tower had the center of its long façades in red brick
Apartments start on the fourth floor.
Amenities
The building has a 24-hour attended lobby, a fitness center, a children's playroom, a residents' lounge, a concierge, a package room, stroller parking, indoor and outdoor screening areas, a barbecue area, a laundry and bicycle storage. The playroom is available to all residents but most of the other amenities require a fee.