One Museum Mile at 1280 Fifth Avenue: Review and Ratings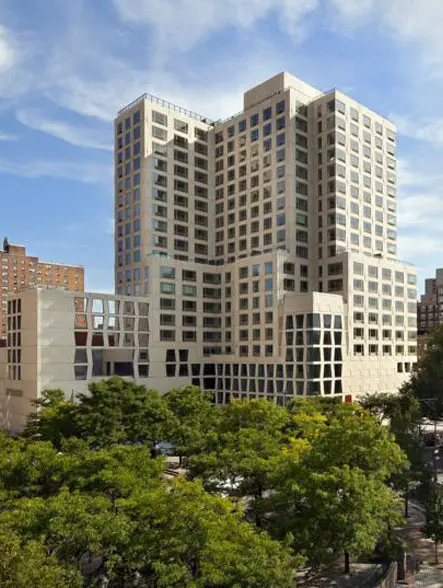 Review of 1280 Fifth Avenue by
Carter Horsley

Carter B. Horsley, a former journalist for The New York Times, The International Herald Tribune and The New York Post. Mr. Horsley is also the editorial director of CityRealty.com.
This large, white and bulky, mixed-use building, known as One Museum Mile, was designed by Robert A. M. Stern and SLCE Architects for Parkview Fifth Ave. Associates, headed by Bruce Brickman and Sidney Fetner.
The 19-story building, which is also known as 1280 Fifth Avenue, has 116 residential condominiums.
The residential portion of the building was completed in 2012.
The northern, low-rise portion of the building contains a multi-story, cultural space for the Museum of African Art that was founded in 1984 by Susan Mullen Vogel, an art history professor, and has had a nomadic history.
Bottom Line
This attractive building completes the Central Park frontage of Fifth Avenue and is across 110th Street from the very handsome twin octagonal towers of Arthur Schomberg Plaza and directly across from Harlem Meer and a memorial plaza dedicated to Duke Ellington.
Description
The low-rise north section of the building is distinguished by the "dancing mullions" of the trapezoidal windows of the planned Museum of African Art and that handsome angularity is also carried thematically onto the masonry façades, but not the windows of the rest of the building.
A July 23, 2010 article by Fred A. Bernstein in The New York Times noted that the interiors were by Andre Kikoski, who designed the Wright restaurant at the Solomon R. Guggenheim Museum at 88th Street and Fifth Avenue. "It's no surprise that Mr. Kikoski decided to use the park as inspiration for the building's public spaces. That meant, he said, that the interiors would include copious natural materials. In one case, he conceived a lobby wall of alabaster, but found that it was more practical to mount a giant photo of the stone (by Weil Studio) between sheets of glass, creating a translucent, wall-sized mural. The lobby ceiling is East Indian laurel wood."
Amenities
One Museum Mile has a roof deck with views of Central Park and the Robert F. Kennedy Triborough Bridge, a residents' lounge with a fireplace, a garage, a children's play room, a teen game room, a live-in superintendent, a fitness center with a swimming pool, a 24-hour doorman and concierge and an entrance marquee.
Apartments
Kitchens have teak cabinetry with over and under lighting.
Bathrooms have Kallista chestnut double vanities Bianca Dolomiti marble countertops and Zuma tubs.
Apartment 12P is a two-bedroom unit with an 8-foot-wide entry foyer that opens onto a 10-foot-long, angled, pass-through kitchen and a 19-foot-long living area in one direction and a 12-foot-long home office in the other.
Apartment D on the 7th though the 10th floors is a two-bedroom unit that has an 8-foot-wide angler that opens onto a 10-foot-wide open kitchen and a 18-foot-long living/dining room.
Apartment B on the 6th through the 10th floors is a two-bedroom unit that has a 14-foot-long entry foyer that leads past a 10-foot-wide pass-through kitchen to a 18-foot-long living area.
Apartment K on the 6th through the 10th floors is a two-bedroom unit that has an angled, 8-foot-wide entry foyer that leads to a pass-through kitchen adjacent to a 26-foot-long living area.
Apartments D on the 11th through the 20th floors is a two-bedroom unit that has a 7-foot-wide foyer that opens onto a 10-foot-long angled pass-through kitchen off the 19-foot-long living area and a 12-foot-long home office.
Apartment 5C is a two-bedroom unit with a 9-foot-long entry foyer that leads past a 10-foot-wide pass-through kitchen adjacent to a 20-foot-wide dining area that opens onto a 26-foot-long living room in one direction and a 20-foot-long terrace in the other.
Residence ABC on the 15th floor has 6 bedroom and 5 and a half baths with a 19-foot-long entry foyer that opens onto a 21-foot-long dining from adjacent to a 10-foot-long, angled kitchen with a 15-foot-long breakfast room. The foyer also leads to a 15-foot-long gallery that opens onto a great rooms and library. The apartment also has a family room and a playroom area.
History
A May 12, 2012 article by Patricia Cohen in The New York Times said that "for the fifth time in three years, the Museum of African Art has been forced to delay opening its new home at 110th Street and Fifth Avenue, in East Harlem, as it continues to work to raise money the finish the project."
The article quoted Elsie McCabe Thompson, the museum's president and wife of former City Controller William Thompson, that the museum needed to raise $10 million to finish construction on the site. The museum closed its gallery in temporary quarters in Long Island City, Queens, about 7 years ago.
It said that "Ms. Thompson declined to say just when the museum, which had been slated to open later this year, would be ready. It closed the gallery in its temporary quarters in Long Island City, Queens, nearly seven years ago to focus on the new development.
"With some soul-searching, we decided not to open a portion of the building," she said, or do a cheaper design that would drain "out the very life of the building." Ms. Thompson, who has worked for 15 years to convert her dream into bricks and mortar - or, in this case, concrete and aluminum - added, "Africa deserves the best that we could give it."
As of last year, the museum said, it had raised a total of $86.3 million for the project, which includes an education center, a library, a cafe and a gift shop. A June 2011 financial statement showed that it had received more than $20 million from the city and state in the previous 12 months; the federal government has chipped in with tax credits. The more than 70,000-square-foot space cost nearly $44 million, according to the financial statement.
"Elsie dreams big," said Margarita Aguilar, executive director of El Museo del Barrio, several blocks south on Fifth Avenue. Ms. Aguilar has developed and hosted educational programs with the African art museum and said the museum's opening should increase traffic to neighboring arts institutions, turning the area into a "cultural hub."
Both the museum and the 116-unit condominium broke ground in 2007, just months before the financial crisis hit. At the time, the museum projected that its new home would open in late 2009.
El Museo del Barrio averages more than 250,000 visitors a year. The African Art museum has predicted that it will attract more visitors than that, but museum officials have declined to detail how they reached that estimate or to answer questions about their fund-raising.
"It's a critical moment in the fund-raising campaign," said Kenita Lloyd, the museum's deputy director and chief operating officer. "We're in the middle of sensitive discussions about naming rights." Previously, Ms. Thompson had said that naming rights could be worth up to $50 million.
In addition to construction costs, Ms. Thompson has estimated the museum's yearly operating costs to be $8 million, about twice what it currently spends when it is not operating a building that is open to the public.
The museum's president is not the only Thompson looking for donations. Ms. Thompson's husband, William C. Thompson Jr., is running for mayor next year. A former comptroller who was the Democratic nominee in 2009, Mr. Thompson resigned in 2012 from the chairmanship of the Battery Park City Authority to focus more intensively on his campaign.
Without a permanent home, museum staff members have been focusing on education and training programs and have helped organize traveling exhibitions. So if you want to see shows that the museum has developed this year, you might try Houston, for a glimpse of the South African artist Jane Alexander's sculptures, or Raleigh, N.C., for a retrospective of the work of the Ghanian artist El Anatsui. Still farther away, the museum has put together a show of art by the painter Ibrahim El-Salahi that is on display in the United Arab Emirates.
In March, 2012, the developers of the condominium project renamed the building One Museum Mile, a reference to the fact that Fifth Avenue is in line with many cultural institutions starting with The Frick Collection at 70th Street. Traditionally, the Museum Mile race starts at 84th Street and goes south, but this project's developers did not appear to mind that.
The museum is across 110th Street from the very impressive and tall twin octagonal towers of Arthur A. Schomberg Plaza at Frawley Circle designed by Gruzen & Partners.
For a while, the museum rented quarters in SoHo and around 2000 Mrs. McCabe arranged a partnership with Edison Schools, a for-profit education company to buy a Fifth Avenue parcel from a housing development where Edison would build a school and a corporate headquarters. In 2002, the project was abandoned and the museum moved to a temporary location in Long Island City.
With a loan from the Community Preservation Corporation, the museum secured the Fifth Avenue land from Edison by 2003 and with help from two of its trustees, John L. Tishman of the Tishman Realty and Construction Corporation, and Jonathan D. Green of the Rockefeller Group, it arranged a partnership with two developers, Brickman and Sidney Fetner.
The city's Economic Development Corporation arranged for the museum to buy four other parcels.
Bernard Tschumi won a competition for the museum's design in 1999 when he was dean of the Graduate School of Architecture, Planning and Preservation at Columbia University and his design had an undulating wooden façade set within a glass box, an intriguing complement to the curves of the Solomon R. Guggenheim Museum further south on the avenue. Brickman and Fetner designed to drop the interesting Tschumi design and asked Mr. Stern for a new plan.
In an interview with Kate Taylor in The New York Times June 15, 2010, Mrs. Thompson said that "the more people tell me it can't be done, the more I want to prove that it can."
Mrs. Thompson, then 51, "had singular qualifications to shepherd the museum project when officials tapped her to lead the institution in 1997," according to the article, which noted that "though not an art historian, she was a Harvard-trained lawyer (and Eliot Spitzer's moot court partner in law school) who had once held a high post in city government, [and] clearly understood its mechanics and had established her own viable ties to the Harlem political leadership. And as the project moved forward, it did not hurt that she was the close friend and later spouse of Mr. Thompson, who held one of the city's most powerful offices and remains today one of the front-runners for the 2013 Democratic mayoral nomination."
"Mrs. Thompson is the mother of twins," the article continued, "and with her wide smile and a slightly husky voice, she exudes a kind of matriarchal warmth, even toward the museum. She hugs. She describes the museum as 'my baby,' and she will interrupt a conversation to dab at a stain on a female colleague's shirt. 'I wanted my kids, my little African-American kids, to be proud of being African-American,' she said recently to explain her passion for the museum. A native New Yorker, she worked for the law firm Shearman & Sterling before joining the administration of Mayor David N. Dinkins. Afterward, when she was turned down for jobs because she did not have experience running a big nonprofit, she founded one, devoted to bringing computer technology and training to poor urban neighborhoods. She makes no apologies for knowing little about African art when she took the museum job. 'I sought to learn a lot, and I did,' she said.
The article said that she was formerly married to Eugene L. McCabe, the president of the North General Hospital in Harlem, who died in 1998.
A very enthusiastic April 24, 2011 article by Jason Sheftell in the New York Daily News, maintained that Museum for African Art president Elsie McCabe Thompson…has heroically championed this project to ensure the 27-year old museum's first permanent home is a world-class building worthy of a world-class cultural institution."
"Taking over 40 percent of the block, the building with the museum and 1280 Fifth Ave.'s luxury condominiums is as important a cultural complex to come to New York City since the Time Warner Center at another corner of the park. It could do for this section of Harlem what the Standard Hotel did for the Meatpacking District - ensure the constant flow of people and positive energy that inspires locals, draws tourists and retail, and leads to area redevelopment and growth.
"Sitting at the northeast corner of Central Park, there might not be a better combination residential/cultural setting in the country. Capping off Museum Mile at Fifth Ave. and 110th St., the site was a former garage, three city-owned vacant lots and a post-production facility," the article continued.
"When Thompson first saw the site more than 10 years ago, the area was dreary. The Central Park Conservancy refurbished this section of the park, but the general condition of 110th St. was considered unsafe by some locals. Today, after successful condominiums such as 111 Central Park and a new plaza for entering the 2,3 subway station at 110th St. and Lenox Ave., the area is seeing revitalization spearheaded by Central Park, the museum building and new ownership at Heritage Towers, a 1970s-era two-tower, three-building rental project (market rate and affordable) on 111th St. between Fifth and Madison.
"We want our tenants - new and old - to participate in the excitement of the museum and all the good things happening at this end of the park,' says Josh Eisenberg, a principal at Urban American, the developer who purchased Heritage Towers in 2007 and upgraded the apartments and common spaces. '110th St. is not that far uptown anymore.'
The article quoted Mrs. Thompson as stating that when the took the job at the museum, she knew "bupkis about art, running a museum or real estate."
But if Mr. Sheftell's article was laudatory about the project, a December 5, 2011 article by Robbie Whelan in The Wall Street Journal was not, noting that "while there are no doubt good intentions behind the design of the museum development, which is scheduled to be completed next year, they're being executed with considerable banality."
"The whole project resembles the condo towers being built near the Williamsburg waterfront these days: huge, contemporary boxes of glass, concrete panels and metal that have as little character as the chain retail stores that populate their ground floors."
The article, however, fails to appreciate Mr. Stern's trapezoidal windows and ruggedly angular façade.
At a news conference at the Solomon R. Guggenheim Museum on February 9, 2007, Mayor Michael R. Bloomberg hailed the project as "the first new construction of a museum on Museum Mile since the great Guggenheim opened in 1959."
His remarks were a bit of a stretch as Museum Mile traditionally has been thought to begin at The Frick Collection at 70th Street, but has taken on broader boundaries in recent years.
In his article about the news conference, Sewell Chan wrote in The New York Times that Mr. Stern, the architect, said that the south wall of the museum's lobby, "made of richly colored etimoe wood from Ghana…suggests if you look at it, the woven shapes of baskets and so forth- and weaving is so much a part of African Art," adding that "it's not a literal interpretation…it's an abstract one."
Mr. Chan observed that "at the rear , a cylindrical enclosure sheathed in performated copper that Mr. Stern likened to a drum will house a staircase." He compared the museum to the Norman Rockwell Museum in Stockbridge, Mass., but added that "its not built around a person, but a continent" and "takes African out of the museums of natural history where it sometimes is – and also out of museums of the modern art."
Book a Tour or Get More Information on this Building
319 Buyers
are interested in buying at
1280 Fifth Avenue!
Interested in Selling?
We'll introduce you to the agents that
specialize in 1280 Fifth Avenue and are
experts in selling apartments there.

And they'll be able to contact all of the buyers interested in the building.
There's no obligation and your inquiry is confidential.
Call us at (212) 755-5544