The Heritage Fifth Avenue, 1295 Fifth Avenue: Review and Ratings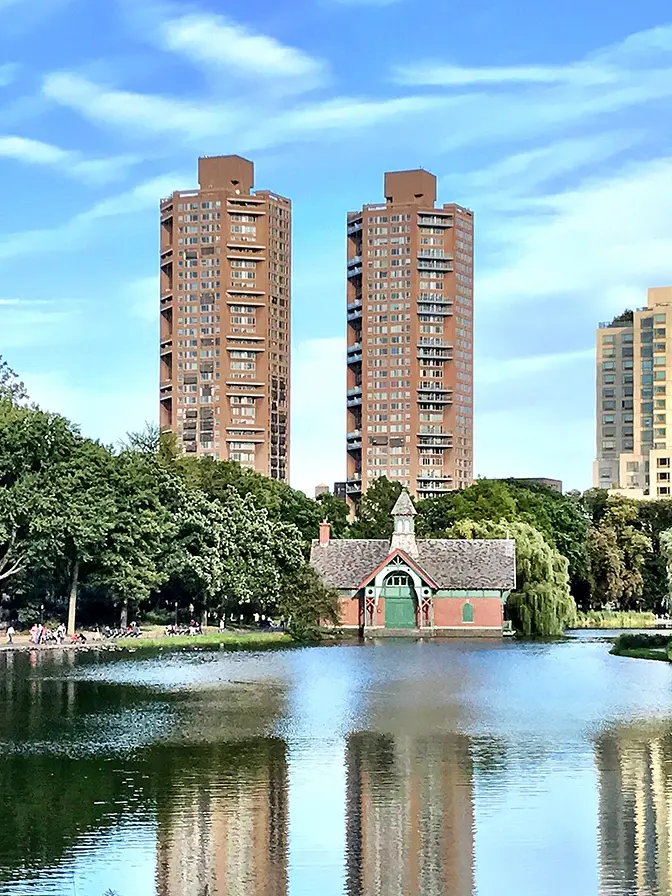 Review of 1295 Fifth Avenue by
Carter Horsley
One of the major landmarks along the boundaries of Central Park is the twin, octagonal rental apartment towers on the northeast corner of Fifth Avenue and 110th Street.
Designed by Gruzen & Partners in association with Castro-Blanco, Piscioneri & Feder, the 35-story towers contain 600 apartments and were completed in 1975.
The same architects also designed the lower, 446-unit, twin "L"-shaped Fifth Avenue Lakeview Apartments three blocks south on the avenue. That development was completed in 1976.
In their great book, "New York 1960, Architecture and Urbanism Between the Second World War and the Bicentennial," authors Robert A. M. Stern, Thomas Mellins and David Fishman wrote that though the plan of the Lakeview Apartments "effectively allowed the Fifth Avenue street wall to be maintained while providing a maximum amount of midblock open space, the low-cost materials that were required gave the project an institutional appearance, decisively setting it apart from its grander prewar neighbors."
In their discussion of the twin octagonal towers to the north, the authors provided the following commentary:
"In 1965 a proposal was presented for the Arthur A. Schomburg Plaza, a mixed-income project designed by Gruzen & Partners in association with Casto-Blanco, Piscioneri & Feder for a site that formed the northeast quadrant of Frawley Circle, founded by 110th and 111th streets, Fifth and Madison avenues. The design placed twin thirty-five story reinforced concrete octagonal towers along the circle and an eleven-story slab along Madison Avenue. Sponsored by a coalition of neighborhood groups and the New York State Urban Development Corporation (UDC), the project was completed in 1975. Like other super-scaled housing projects, the towers of Schomburg Plaza loomed above their surroundings, but here they added an arguably appropriate landmark to the city's skyline at a pivotal intersection on a key corner of Central Park. The building's façades were well articulated and effectively punctuated by pairs of recessed balconies located with two floors between each pair. The design resolution at street level was less successful, with the buildings failing to coherently refine Frawley Circle. In addition to housing, the complex contained commercial space, a day-care center and the Northside Center for Child Development. A multi-level, landscaped outdoor space within the complex provided an inviting public space, punctuated by wooden gazebos, a contrast to the barren plazas that had become a hallmark of so many housing developments."
In 2005, the buildings, which were erected under the Mitchell-Lama program, were sold to Cammeby's International for just under $300 million and two years later they were purchased for $918 million by Urban American Management with a $700 million mortgage that originated with Deutsche Bank and a large investment by the City Investment Fund, which is supported by city and state pension funds.
An April 3, 2014 article by Max Saffer at thenewyorkworld.com reported on a rent strike at the buildings as "tenants charge that improvements to their buildings have been substandard, with complaints that include mold, peeling lead paint, vermin, roaches, poor insulation, deficient heating, broken front doors, destitute security, broken pipes and faulty windows that have led to leaks in many apartments."
Bottom Line
With fabulous vistas down Fifth Avenue and west over Central Park's Harlem Meer, these buildings handsomely carry on the great tradition of twin towers around Central Park and should have led to an architectural renaissance for East Harlem and Harlem that is only now beginning.
Description
The only distinguished tall towers along the Fifth Avenue edge of Central Park other the Sherry-Netherland and Pierre hotels are the park's southeast corner, these buildings are also among the city's most attractive concrete buildings and their pairs of recessed balconies located with two floors between each pair is an extremely attractive façade modulation.
The towers are originally known as Frawley Plaza.
Amenities
The building has a live-in superintendent.
Apartments
Apartment 4D is a three-bedroom unit with an entry foyer that leads past an 8-foot-long kitchen to an angled 22-foot-long living room with an angled balcony.
Apartment 11F is a two-bedroom unit with and angled 21-foot-long living room with an angled balcony and an enclosed 8-foot-long kitchen.