EVE, 433 East 13th Street: Review and Ratings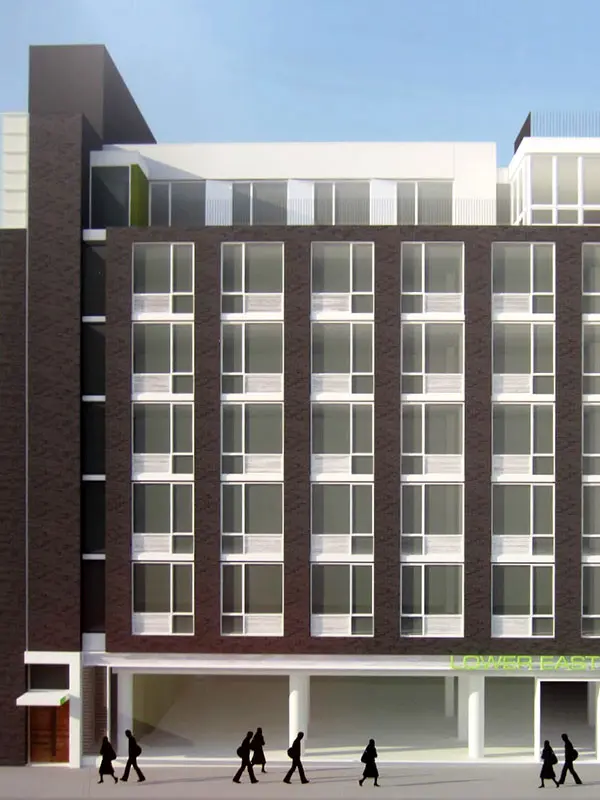 Review of 433 East 13th Street by
Carter Horsley
A stellar example of the East Village's dramatic 21st century renaissance is the eight-story, mid-block rental building at 433 East 13th Street known as EVE. Built by Mack Real Estate Group, Benenson Capital Partners and Urban Development Partners and designed by SLCE Architects, the building's 113 apartments feature interiors by CL-OTH–and a large courtyard mural by Remko Heemskerk depicting some of the neighborhood's most iconic bands. Apartments are studios, one- and two-bedroom units with oversized windows and open kitchens with sleek integrated appliances. Amenities at this thoroughly modern residence start at the top with a landscaped roof deck furnished with a sprawling lawn, grilling area and outdoor TV and sound system. Additional amenities include a billiards room, lounge, fitness center with outdoor activity area, bike room, concierge and pet grooming station. You won't have to go far to shop at Trader Joe's (the building's retail tenant), and a Target just opened a few doors down. Tompkins Square Park with its famous dog run is three blocks away. The surrounding neighborhood is filled with restaurants and bars including Momofuku Noodle Bar, Cafe Mogador, Xi'an Famous Foods and Please Don't Tell. The 4 express and 6 subways are three blocks away at Astor Place, and the L is nearby for travel to north Brooklyn (or Eighth Avenue).
Bottom Line
A sleek, mid-rise, mid-block rental apartment courtyard project in the East Village with good amenities, artwork celebrating iconic local bands and a Trader Joe's.
Description
The grey-brick building has 12 masonry piers along its front façade which is divided between a 6- and an 8-story section, both of which have a thin masonry bandcourse above the second floor.
The building has sidewalk landscaping and an entrance marquee.
Amenities
The building has a full-time concierge, a live-in superintendent, a residents' lounge with fireplace and artwork by Francis Le Gaucher and Alexander Jackson that pays homage to the neighborhood's iconic bands, a media room, fitness center, a private dining room, a pet wellness station, a billiards lounge, a landscaped courtyard with pergola, and a roof deck with barbecues and outdoor television.
Apartments
Apartments have open kitchens with stainless steel appliances and a laundry.
Apartment 6BS is a two-bedroom unit.
Apartment 2BS is a one-bedroom unit with a living/dining area with an open kitchen.
Apartment 6GS is a studio unit with a small entry foyer with an open kitchen and a large living/dining/sleeping area.
Apartment 6FS is a studio unit with a long entry foyer with an open kitchen and a large living/dining/sleeping area.