Seaport Residences, 161 Maiden Lane: Review and Ratings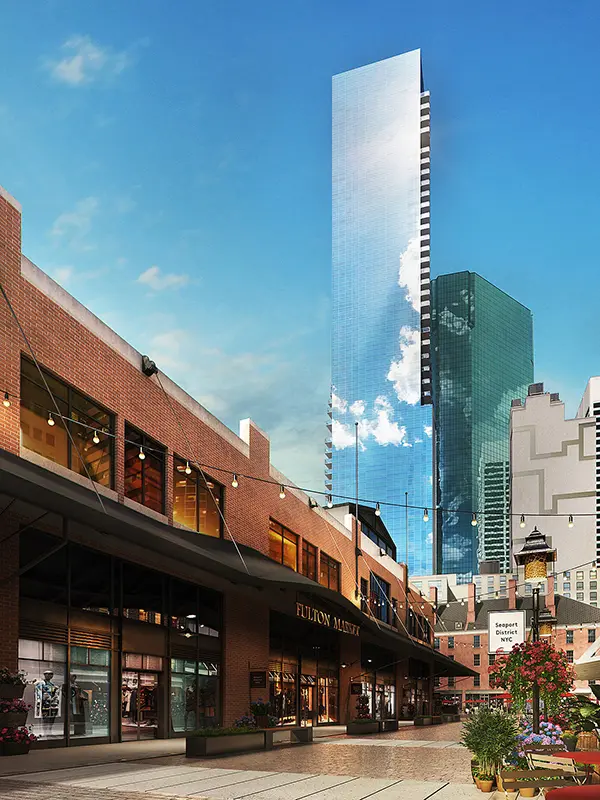 Review of 161 Maiden Lane by
Carter Horsley
This 60-story, reflective-glass-clad apartment tower at 161 Maiden Lane near the South Street Seaport was developed in 2016 by the Fortis Property Group, which is headed by Jonathan J. Landau, and designed by Goldstein, Hill & West. It is known as 1 Seaport and has 80 condominium apartments.
S. Russell Groves is the interior designer.
According to a July 15, 2016 article at 6sqft.com by Ondel Hylton the slim tower on "a 5,000-square-foot site…is slated to give way to a 150,000-square-foot tower positioned to become downtown's first residential skyscraper directly fronting the East River."
The skyscraper is bounded by South Street, Front Street, Maiden Lane and Fletcher Street and is on landfill dating back to the turn of the eighteenth century," the article noted, and "was occupied by nearly a dozen small structures servicing the district's then-robust shipping industries."
It should not be confused with One Seaport Plaza, the very handsome, polished gray granite office tower immediately to the north that was developed by Jack Resnick & Sons as the incarnation of the office of "The Man in the Gray Flannel Suit."
Last year, the Resnick organization sued Fortis over the name of its planned tower maintaining that it was acting "in bad faith and with the willful intent to confuse customers and profit." The parties reached a settlement in December, 2015, with Fortis agreeing to rename its project after sales ended, according to an April 22, 2016 article in The New York Times by C. J. Hughes. The article said that Mr. Landau "did not yet know what the new name would be, though he said 'Seaport Residences' was under consideration."
Bottom Line
Some projects in New York take decades to gestate and others, like this one, seem to spring out of nowhere and take shape surprisingly quickly, taking its cue from midtown's rash of as-of-right SuperTalls. This spindly project at least has some elegant lighting flourishes at its top to announce its impressive riverfront presence and distract from its asymmetrical form.
Description
The building's southeast corner will have balconies that are vertically staggered around the tower's southeast corner and also diminish in size as they descend.
There are also some small balconies on the west façade.
The building's most distinguishing feature on the skyline will be thin horizontal bands of light placed seemingly at random at the top of the building. One rendering seems to indicate that there are four equal piers of such lights and one considerably smaller at the west end of the southern façade. Presumably, the lighting treatment extends all around the top, but the published literature makes no reference to it and whether or not it will be "animated" and that the light bands will change position, or color, which is puzzling since it is the building's most distinguished feature.
The 26th floor will have an outdoor pool deck and lounge.
Amenities
The building will have a 24-hour concierge, and attended porte-corchere and a Water Club on the 30th floor with a glass-edged horizon pool, a misted waterfall passageway, a sun terrace and a lounge
Apartments
Floors five through ten will each have four apartments and floors 11 through 24 will have two. Floors 27 through 51 will be full-floor units.
Apartments will have ceilings over 10 feet.
The Hughes article noted that "teak, a wood often associated with boats, was used in the master baths as a deck for the bathtubs," adding that "in the lobby, a long log-type bench resembles a hunk of driftwood."
Penthouse 1 is a four-bedroom duplex unit with 2,640 square feet of interior space and 435 square feet of outdoor space on the lower level and 1,849 square feet of interior space and 116 square feet of outdoor space on the upper level. The lower level has a five-foot-wide entry foyer that leads to a 36-foot-wide gallery that leads in one direction to the 24-foot-wide great room with a wrap-around balcony and in the other to the 22-foot-long dining room and 18-foot-long open kitchen. One of the bedrooms on the upper level has a balcony.
Penthouse 3 is a three-bedroom unit with 2,641 square feet of interior space and 435 square feet of outdoor space with a five-foot-wide entry foyer that leads to a 36-foot-long gallery that leads to a 23-foot-long living room with a wrap-around balcony, a 17-foot-long dining room and an 18-foot-long open kitchen. The master bedroom has a balcony.
Duplex 14 has 959 square feet of interior space on each level with 704 square feet of outdoor space on the lower level and 92 square feet of outdoor space on the upper level. The lower level has an 11-foot-long entry foyer next to a staircase on one side and to the 14-foot-wide open kitchen on the other side and a 16-foot-long dining area that adjoins the 16-foot-long living room that turns to a gallery/library and the large, wrap-around terrace. The upper level has a 7-foot-long foyer and two bedrooms, one with a balcony.
Apartment 39A is a two-bedroom unit with 1,311 square feet of interior space and 135 square feet of outdoor space with an 11-foot-long entry foyer that leads past a 10-foot-lobng open kitchen to a 23-foot-long living/dining room. There is a balcony off the 16-foot-long master bedroom.
History
This site should not be confused with one a block to the north that was widely published for a design by Santiago Calatrava for a tall building of stacks of townhouses. Mr. Calatrava is the architect of the Oculus transit hub at the World Trade Center that was designed to conjure a bird in flight with movable wings, a scheme that was abandoned to save money as the amended plan was two billion dollars over budget. The recession killed Mr. Calatrava's celebrated skyscraper plan.
The July 15, 2015 article by Ondel Hylton provided the following commentary about the site's history:
"By the 1950s, the waterfront district's vital industries of manufacturing, wholesale, and goods-handling were in steep decline. By 1965, only 18 of Lower Manhattan's 51 piers were in regular use, and all three of its markets were planning their departures. In response, numerous proposals to revive the area were envisioned, including early concepts for a World Trade Center, a 1966 plan to submerge the FDR and build a new mixed-use neighborhood on landfill not unlike Battery Park City, and, more recently, a branch of the Guggenheim Museum designed by Frank Gehry in the form of a cloud-like titanium structure rising above the piers on stilts….In 1977, eleven blocks and several piers north of John Street were designated as the South street Seaport Historic District, preserving the surviving eighteenth century structures and allowing for low-rise contextual development. The most striking change in recent years has been the $165 million recreational reinvention of the East River shoreline, creating a picturesque two-mile esplanade and bikeway lined with greenery and seating. After Superstorm Sandy, a mixed-use master plan dubbed Seaport City was envisioned to safeguard downtown from future flooding and provide new uses for the area."
The reinvention of the shoreline has proceeded, albeit in the shadow of the elevated FDR Drive.
The article included a rendering by FXFowle Architects of Seaport City indicating high-rise development of slab towers south of the seaport whose redevelopment in recent years has moved ahead very slowly.
These various piece-meal plans pale in comparison with the very dramatic and wonderful Gehry Guggenheim plan that the museum apparently could not, tragically, finance and would have revitalized Lower Manhattan as much as the rebuilding of the World Trade Center site.
Book a Tour or Get More Information on this Building
Multiple Buyers
are interested in buying at
161 Maiden Lane!
Interested in Selling?
We'll introduce you to the agents that
specialize in 161 Maiden Lane and are
experts in selling apartments there.

And they'll be able to contact all of the buyers interested in the building.
There's no obligation and your inquiry is confidential.
Call us at (212) 755-5544