70 Pine Street: Review and Ratings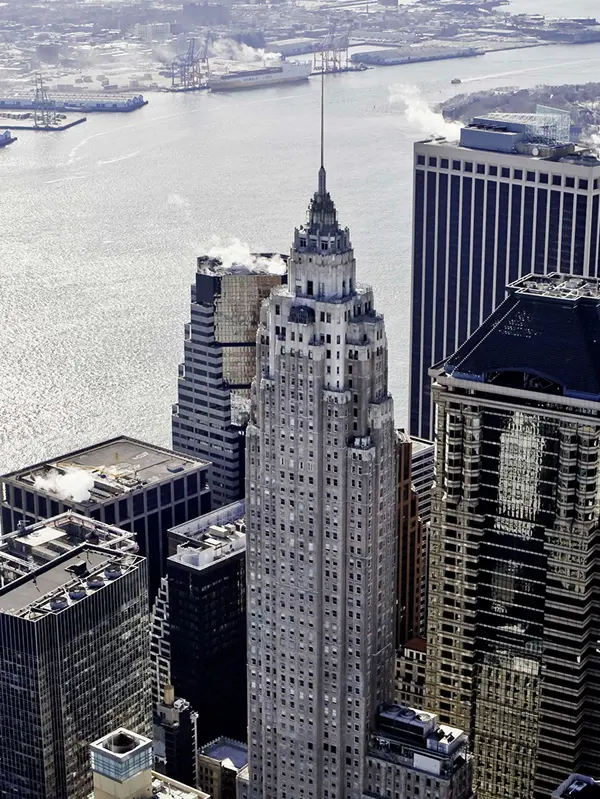 Review of 70 Pine Street by
Carter Horsley

Carter B. Horsley, a former journalist for The New York Times, The International Herald Tribune and The New York Post. Mr. Horsley is also the editorial director of CityRealty.com.
One of the world's most iconic skyscrapers, 70 Pine Street is a spindly, brown-brick shaft topped with a short spire over a totally glass-enclosed observatory that was once described by Carter B. Horsley as the world's greatest room.
The tower was a very important element in the world's most dramatic skyline at the start of the Depression. The 66-story, 952-foot-high tower was completed in 1932 when it became the city's tallest building and the third tallest structure in the world.
It was designed by Clinton & Russell, Holton & George for Cities Service, an oil company later known as CITGO. The Clinton & Russell firm also designed the very handsome Graham Court apartment complex in Harlem and the Apthorp Apartments on Broadway at 79th Street.
It is also known as 2-18 Cedar Street and 171-185 Pearl Street and was declared an official New York City landmark in 2011 when its ground-floor space were also designated an official landmark interior.
It is being converted to 644 rental apartments, 137 extended stay hotel rooms and 35,000 square feet of retail space by Rose Associates, which acquired the building in 2012 from Nathan Berman of Metro Loft Management, and DTH Capital Inc., which is owned by Ageas Insurance, a publicly traded, Belgium-based insurance cmopany and the Eastbridege Group, a European private investment company. Mr. Berman bought the building in 2011 from Young Woo and Associates that had acquired it from the American International Group (AIG), an insurance concern that collapsed in 2009 and was bailed out by the United States government.
The building's four floors of extended stay hotel rooms will be operated by Q&A.
Cities Service changed its name to Citgo in 1965 and in 1976 it was purchased by the American International Group.
Bottom Line
Until the Chase Manhattan Plaza tower in the 1960s and the World Trade Center in the 1970s ruined it, the Lower Manhattan skyline as defined by this building, 40 Wall Street, 20 Exchange Place, 1 Wall Street, the Woolworth Building 26 Broadway and the original bulbous Singer Building. It was the most famous, most important and most romantic skyline, inspiring the world with the drama and aesthetic potential of high-rise cities.
Description
The building's top nine floors have small setbacks with steel railings with aluminum lacquer culminating with the eight small balconies, also with railings, of the building's observatory above which are three glass-enclosed levels comprising a 27-foot-high "lantern" that is illuminated, often in color, at the base of its narrow 97-foot-tall, tapered, stainless-steel spire.
The observatory originally was the top floor of the triplex designed for Henry Latham Doherty, a grade-school dropout left school to sell newspapers in saloons and who became the chairman of the Cities Service Company, which was chartered by Mr. Doherty in 1910 and eventually controlled 150 energy concerns in 38 states including many oil and power suppliers.
According to its landmark designation report, Thomas J. George of Clinton & Russell is believed to have been the lead architect on the project "enriching the lower floors with stylized reliefs that rival any architectural ornamental created during the Art Deco period in New York City."
"Of particular interest," the report continued, "is the company's triangular logo, as well as sunflowers, sunbursts and stepped pyramids, which direct the eye upward and recall the shape of the spire."
"The northeast and southeast portals are the most distinctive entrances, with four-story tall archways leading to multi-story vestibules connecting the first floor and basement lobbies. At the center of both east portals is a limestone model of the Cities Service Building. In a city crowded with new skyscrapers, this unusual sculptural feature illustrated what had become almost impossible to see – the building in its entirety."
These limestone models are 14 feet high and the designation report notes that "Rene P(aul) Chambellan (1893-1958), who designed the figurative reliefs on the aluminum elevator doors in the first floor lobby, was a celebrated architectural modeler and may have played a role in each sculpture's design."
The building had some "innovative" features such as escalators connecting lower floors and the city's first double-deck elevators. Each elevator has a pair of stacked components that permitted passenger to enter or exit from two floors simultaneously. "When in use," the designation report stated, "primarily during the morning and evening rush, the upper cabs stopped at the even-numbered floors, and the lower cabs, at odd. This technology attracted considerable media attention and remained in operation until 1972."
The west elevation adjoins the Down Town Association that is a designated city landmark.
According to a publicist, Mr. Doherty "generally speaking…, insisted on dignity with beauty, to the absolute avoidance of garish, the flamboyant, and the over colorful." As a result, mostly light-colored materials were used such as south Indiana limestone for the lower elevations and four different shades of white-gray face brick that darken slightly near the top "to increase the contrast of the tower against a bright sky." The base has a polished red-and-black Brazilian granite veneer."
The lobby has storefronts on the east, west and Pine Street halls and they face inward and are not accessible from the streets.
The building has a spectacular slenderness ratio that can best be observed from Nassau Street to the west looking over the great Dubuffet sculpture in the One Chase Manhattan Plaza.
Amenities
The building will have a Leave It To Max Concierge Service, a La Palestra a spa/wellness club on the lower and basement levels and a members-only Panorama Club on floors 63-66. The building has 21,000 square feet of recreational amenities including a bowling alley and a screening room.
The building will also have a "rooftop restaurant by April Bloomfield and Ken Friedman.
Apartments
Most apartments will have 12-foot-ceililngs, oak flooring, Bosch washers and dryers, walk-in closets
Apartment 1519 is a southeast corner unit with three bedrooms, a 13-foot-wide entry foyer that leads to a 22-foot-long, living/dining room with an open, pass-through kitchen.
Apartment 1218 is a northeast corner unit with one-bedroom and an entry foyer that leads past an open, pass-through kitchen to a 22-foot-wide living/dining room that opens onto a very large wrap-around terrace. Apartment 1605 is a one-bedroom corner unit with a 16-foot-wide living/dining room and an open, pass-through kitchen. Apartment 1127 is a one-bedroom unit facing south with a 12-foot-long entry foyer that leads past an open, pass-through kitchen to a 19-foot-long slightly angled living/dining room with a terrace. Apartment 1207 is a studio unit with a 20-foot-long living/dining room with an open, pass-through kitchen and a north-facing terrace.
History
When it was erected, it was close to the Third Avenue Elevated railroad that ran along Pearl Street to South Ferry.
In his wonderful book, "New York Streetscapes, Tales of Manhattan's Significant Landmarks and Skyscrapers" (Harry N. Abrams Inc., 1983), a compendium of texts from his popular column in the Sunday Real Estate Section of The New York Times, Christopher Gray provides the following commentary about this great tower and Mr. Doherty:
"At twelve he was an office boy in a gas company office; he rose quickly as a manager and engineer, came to New York, and at forty founded the Cities Service Company, which both explored oil and gas fields and supplied local users. Doherty lived on top of an office building at State and Bridge Streets - where 1 Battery Park Plaza is now - with a gym, squash court, and motorized bed that slid out onto the terrace. [The landmark designation report noted that he was listed in city records as the building's janitor "to overcome restrictions on private use.] He bought several downtown sites for redevelopment but was hindered by recurrent bouts of arthritis. Doherty almost died in 1927 from complications of the disease - causing Cities Service stock to plunge - but recovered with the help of a family friend, Grace Eames, whom he wed in December 1928. She was a widow; it was his first marriage. In 1930 Doherty filed plans for what became Wall Street's last jazz-age skyscraper. Designed by Clinton & Russell, Holton & George, the new building took the street address 70 Pine Street, but an aerial bridge connection with 60 Wall Street, initially took the name 60 Wall Tower for cachet. For a sixty-six story building, it was a tight plot, only 120 feet wide on Pearl. Engineers estimated that the economic height of the building was forty-eight stories - beyond that the service core of plumbing, stairs, and, especially, elevators, took up too much space relative to rentable area. But in January 1930 D. L. Lundquist, chief engineer for Otis Elevator, had been interviewed in The New York Sun on the limiting factor for tall buildings and had predicted that double-deck elevators - two connected cabs using the same shaft -could solve the problem. Doherty adopted the Otis plan, and the resulting design provided sixty floors of rentable offices, plus six smaller floors, including a kitchen and a mechanical floor. A 1932 article in Engineering News Record stated that eight shafts with double-deck cabs saved $200,000 in construction costs over fourteen regular elevators, and freed up 40,000 square feet....On the outside, the architects created a tapering shaft of simple streamlined design with sophisticated touches -in the corners of the upper floors, every third brick is rounded instead of square, giving animation to the tower. The topmost floor, an observation deck is a greenhouse-aerie [23-by-33-feet solarium, according to the designation report]…, with 360-degree views. It's in near-original shape, a glass jewel box at the top of the world. It has tiny outside balconies, a dizzying look down at 950 feet of upward streamlining can make one appreciate the view from the street."
The designation report noted that the solarium was "reached by an elevator of unusual design which disappears beneath the platform floor after discharging passengers…."
The view was more vertiginous before the erection of One Chase Manhattan Plaza nearby that almost feels that it can be touched at arm's length when standing outside on one of the balconies.
In an article for The New York Post, I described the observatory as the world's greatest room.
"Most of the upper floors were rented to law firms that benefited from the convenience of an extensive tenants-only law library on the 29th floor….An early tenant of renown as McGovern's, occupying the seventh floor. Artie McGovern was a former boxer and trainer, whose clients included Babe Ruth and well-known businessmen. Previously located on east 42nd Street, the 25,000-squre-foot athletic facility incorporated a gymnasium facing Pearl Street, as well as six handball and squash courts, and areas for ping pong and golf. Reportedly, 1,000 men visited McGovern's each day. Advertisement described it as the "World's Largest Private Gymnasium."
In her preface to the book, "Skyscraper Rivals, The A.I.G. Building and the Architecture of Wall Street" by Daniel M. Abramson, Princeton Architectural Press, New York, 2001, (See The City Review article) Carole Willis, the architectural historian and founder of The Skyscraper Museum, notes that while Wall Street is world famous its "physical place is indistinct" and adds that apart from a "few key towers" the skyscrapers of New York's Financial District "are oddly anonymous."
"When completed, the 952-foot Cities Service Building was the world's third tallest skyscraper, after the Empire State and Chrysler Buildings. Owned by a large utilities conglomerate, the brick-clad Cities Service Building was `considered off the beaten path,' at the financial district's northeastern corner. Isolation enhanced the sculpted tower's prominence and helped its streamlined profile become a favorite subject of artists, including the photographer Arthur Fellig, known as Weegee, who thought it 'the most beautiful building of all.' The building's architects, the firm of Clinton & Russell, Holton & George (with Thomas J. George as designer), embellished the Cities Service Building's lobby in an exuberant Art Deco style, and placed a jewel box of an observation gallery on the 66th floor. Inspired and directed by Cities Service founder Henry L. Doherty as well as company engineers, the skyscraper was filled with the latest technology, including hot-water heating and double-deck elevators, plus an in-house gymnasium and law library to attract tenants to the upper rental floors."
"Given its historically high land values and strong demand for prime office space, Wall Street," Ms. Willis wrote, "was surprisingly slow to give way to skyscrapers. Perhaps the conservative and clubby world of bankers was the reason that the nineteenth-century buildings with the posh executive offices, but limited areas of work space, survived so long. When the change came, the older structures collapsed as if on a fault line. If one mapped all the sites under construction in 1928 to 1931, the area would cover about a quarter of the financial district. These new towers of the financial district were different in character from the Art Deco extravaganzas of midtown. There were some flashes of glamour or example, the red and gold mosaic reception room at One Wall Street - but otherwise the Art Deco styling, even in such glorious cases as the Cities Service/AIG Building at 70 Pine Street, was restrained by standards of midtown where signature skyscrapers such as the Empire State, Chrysler, and RCA Buildings monumentalized their modernity in two-story lobbies. The star-power towers and a chorus of Art Deco dolls such as the Chanin, Fred French and Paramount buildings reflected midtown's more commercial character as a district that mixed business, shopping, and entertainment and that opened its storefronts to the street to seduce pedestrians. Downtown was a zone of work and interior environment of privilege and status."
"It is disheartening," Ms. Willis continued, "to realize how much material on these commercial buildings and others less spectacular has been lost. There are, for example, no surviving records for architectural firms as important to the development of the financial district as Clinton & Russell, whose partnership, established in 1894, was responsible for at least a dozen downtown high rises, including the Broad-Exchange Building at 25 Broad Street and the Hudson Terminals, which early in the century were two of the largest office buildings in the city and the world. The firm continued under the name Clinton & Russell after the death of the principals in 1910 and 1907 and was rechristened Clinton & Russell, Holton & George in 1926. As architects of the Cities Service Building the firm produced one of the most inspired Art Deco Towers of the period and a building with numerous technological innovations, yet we cannot say with any certainty who in the office designed the tower or how the office functioned."
An August 7, 2012 article by Steve Cuozzo in The New York Post said that Rose Associates had bought the building in June 2012. He noted that AIG had soled it and a small adjacent building in2009 for $150 million to Kumho Investment Bank and New York developer Youngwoo & Associates, who planned to turn them into condo apartments.
"After Youngwoo left the partnership, Kumho sold 70 Pine alone to Metro Loft and Eastbridge last winter for $205 million."
An October 2013 article by Mr. Cuozzo at The Post said that "up to 15,000 square feet of the 66-story landmark tower's 35,000 square feet of retail space will be available for the nobly proportioned high-ceilinged restaurant space with tall windows, once long-term tenant Captain's Ketch moves out next year….Barely slowed by Superstorm Sandy, the top-to-bottom transformation is barreling along. Rose landed a $300 million construction loan last winter for the $550 million project. It's putting in nearly $30 million of its own, and the rest is by financial partner Eastbridge Group. The tower will have 644 rental units, more than 100 of them with terraces, plus 132 more on floors 3-6 to be used for extended stay to be managed by Furnished Quarters."
The Furnished Quarters units will average 800 square feet and have fully equipped kitchens and a 24/7 front desk attendant.