Post Towers, 110 Washington Street: Review and Ratings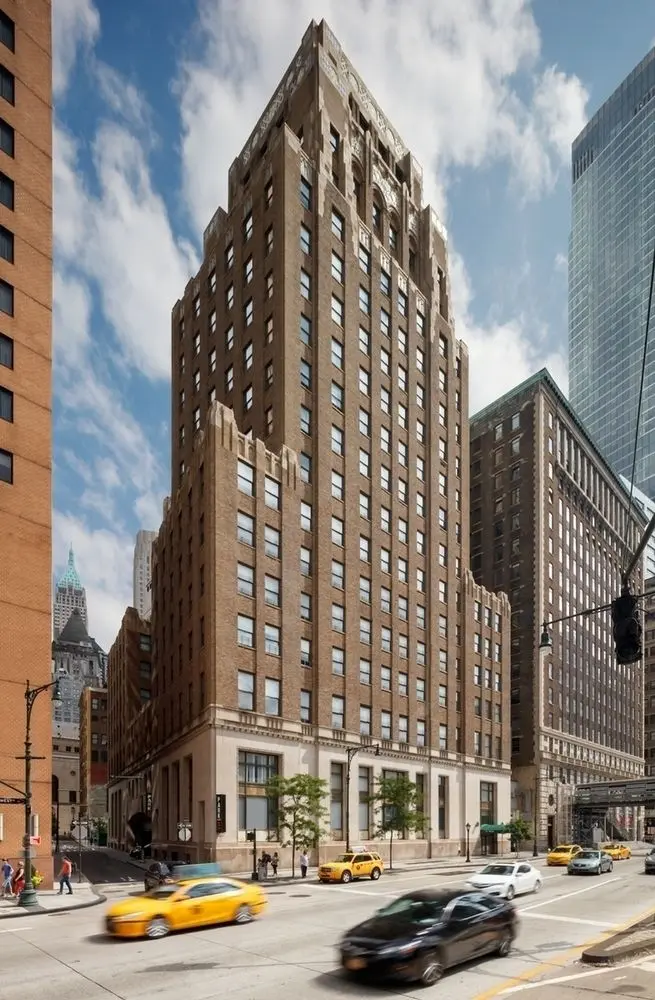 Review of 110 Washington Street by
Carter Horsley
This handsome, 21-story building was erected in 1926 at 75 West Street and was designed by Horace Trumbauer, an architect who designed many major mansions in and around Philadelphia.
It is distinguished by its handsome and colorful geometric designs in terracotta at the cornice and top two setback levels and its two-story limestone base.
According to the website www.epicharmus.com, the designs "give it a touch, a tincture of the 'Oriental' exotic."
The building was originally used as offices by the New York Evening Post and late it housed the Bank of New York until 1996 when it was acquired by Skyline Developers, the New York arm of Garden State Developers, which converted it to 192 rental apartments.
The building is now known as Post Towers.
The dark-brown brick building is across from Battery Park City and has some great views of the Statue of Liberty and the harbor.
The building has a 24-hour doorman, a fitness center, a roof deck, bicycle storage, double-paned windows, private storage, a business center, a laundry, an on-site superintendent and a sauna and steam room. The building is conveniently located just steps from public transportation and beautiful Battery Park. Residents also enjoy complimentary access to fitness center and sauna.
There is garage parking available and the building is pet friendly. The building is also known as 14-20 Carlisle Street and 108-116 Washington Street.
Garden Homes was founded by Harry and Joseph Wilf in 1954 and now manages more than 50,000 apartments and more than 25 million square feet of commercial space.
In a July 16, 2006 article by Alison Gregor in The New York Times, "when the developer Orin Wilf encountered what he considered a lackadaisical demolition crew during a visit to one of his construction sites a few years ago, he said he picked up a jackhammer and began pulverizing walls to inspire the group."
"The workers, at 75 West Street in Manhattan's financial district, at a building being converted to rental apartments may have felt some satisfaction as Mr. Wilf, the third-generation scion of a prominent real estate family, got his hands dirty," the article continued.
His company's other Manhattan projects include the residential conversion of 37 Wall Street and the new condominium tower at 170 East End Avenue.
Costas Kondylis was the architect for the conversion of 75 West Street.
The New York Evening Post had been previously housed in the 1906 "Art Nouveau," 14-story building at 20 Vesey Street that had been designed by Robert D. Kohn with sculptural façade elements by Gutzon Borglum depicting the "Four Periods of Publicity."
The Post subsequently moved to a large low-rise building north of the Brooklyn Bridge and eventually relocated to a building at Rockefeller Center in midtown.