7W21, 7 West 21st Street: Review and Ratings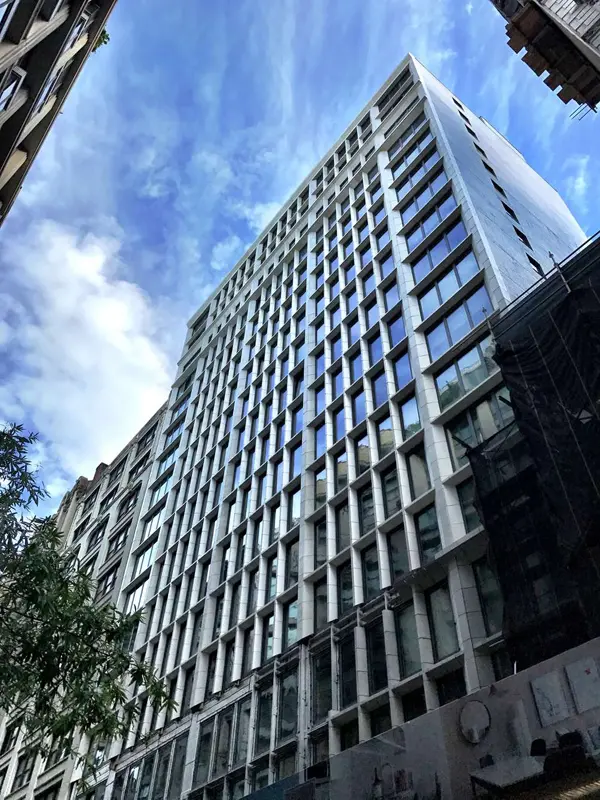 Review of 7 West 21st Street by
Carter Horsley
This large, modern, rental apartment development is a through-block project with nearly identical 18-story buildings at 7 West 21st Street and 6-14 West 22nd Street in the popular Flatiron District.
It has about 288 rental apartments of which about 20 percent are "affordable."
It was erected in 2016 by the Metropolis Group and was designed by Morris Adjmi and Stephen B. Jacobs Architects.
The buildings share a second-floor, multi-level courtyard.
The building has about 13,000 square feet of retail space and some bay windows in the base of its frontage on 21st Street.
Bottom Line
With its deeply inset windows, angled mullions and four large central piers, the symmetrical street façades of this stone and terracotta development are very impressive as are its roof deck's views of the fabulous Flatiron Building nearby.
Description
The handsome building's street façades are highly sculptural with deeply inset windows with angled mullions and a small angled solid cornice.
The 17th Street façade has a two-story central section with large bay windows and a upturned entrance marquee.
The base is stone and the upper façade is glazed terracotta.
Amenities
The building has doormen, a large rooftop terrace with lounge areas, a residents' lounge with catering kitchen, a fitness center, a video game room with foosball, billiards and virtual golf, private event space and children's room, a garage, bicycle room, and an elegant courtyard garden. Pets are allowed.
Apartments
Apartments have washers and dryers.
Apartments 404 to 1701 are two-bedroom units with 23-foot living/dining rooms with open, pass-through kitchens.
Apartments 4 to 12F are two-bedroom units with 19-foot-long living/dining rooms and open, pass-through kitchens.
Apartment 4 to 17G are one-bedroom units with 19-foot-long living/dining rooms with pass-through kitchens.
Apartments 4 to 17A are alcove studios with 13-foot-long living rooms with adjacent 12-foot-long alcoves and pass-through kitchens.
Apartments 506 to 1706 and 804 to 1404 are studio units with 15-foot-wide living rooms and enclosed kitchens.