110 Green Street in Greenpoint: Review and Ratings | CityRealty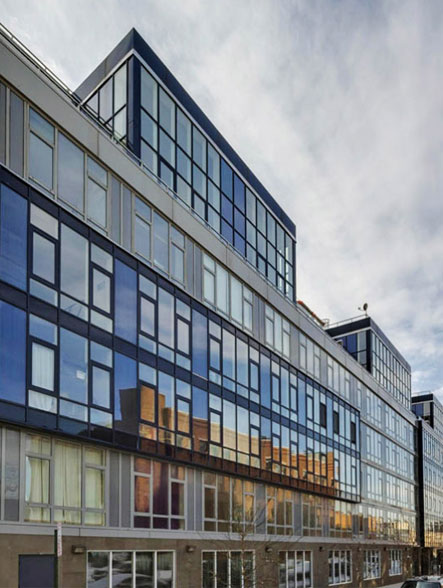 Review by
Carter Horsley

Carter B. Horsley, a former journalist for The New York Times, The International Herald Tribune and The New York Post. Mr. Horsley is also the editorial director of CityRealty.com.
The large and very handsome rental apartment complex known as 110 Green Street between Franklin Street and Manhattan Avenue in Greenpoint, Brooklyn, was designed by Meltzer/Mandl in 2006 for an investment group that included Earvin "Magic" Johnson, the basketball player.
The complex, which is also known as 133-137 Huron Street, was originally known as Viridian.
The six-story building has 131 apartments and was built on the sites of two former warehouses and has a covered glass parking area and pedestrian passageway between its two buildings on Green and Huron streets.
In December, 2010, the development was sold by developer Joel Schwartz for $58 million in bankruptcy to Chaim Gross, Martin Friedman and Joseph Brunner. It had failed as a condominium but survived as a rental. Mr. Schwartz's company, 110 Green Street Development, had filed for Chapter 11 bankruptcy in February 2009 after sales, which began in June, 2008, did not catch on.
The building received its certificate of occupancy in January 2009.
According to an article at therealdeal.com by Adam Pincus, "at the time of the bankruptcy filing, the Bank of New York held the senior mortgage of $35.75 million, and a fund controlled by Canyon-Johnson Urban Funds held a mezzanine loan valued at $12.4 million." The article said that "Earvin Johnson's Johnson Enterprises and Canyon Capital Realty Advisors created Canyon-Johnson as a joint venture real estate fund," adding that "In the bankruptcy sale, the buyers paid Bank of New York about $33.5 million while Canyon-Johnson was paid $20.2 million, which was comprised of the original loan plus interest and penalties. In addition, a group of unsecured creditors such as contractors were paid 25 percent of the amounts they were owned, bankruptcy records show."
The article said the "developer filed for bankruptcy to protect the building from the mezzanine lender Canyon-Johnson, because it feared Canyon Capital might pursue a 'loan to own' strategy and take control of the building."
In late 2013, the building was acquired by Meadow Partners from 110 Green Street Apartments LLC for $72 million and an ny.curbed.com article said that Jeffrey Kaplan, a managing partner of Meadow Partners, said that the large pool had never been opened.
Bottom Line
This very long, low building with a blue-glass overlay and several turrets is one of the most attractive residential complexes in Greenpoint with an indoor pool, a reflecting skylit pool in the courtyard and a putting green on the roof.
Description
The building has a very elegant façade that is divided into three sections each highlighted by protruding blue-glass façades and tops.
Amenities
The building has a 24-hour concierge, a roof terrace, on-site parking, a fitness center, a children's playroom, bicycle storage, a residents' lounge and a 75-foot indoor lap pool.
Apartments
Apartments have floor-to-ceiling windows, oak hardwood floors and individual climate controls. Kitchens have stainless steel appliances and Bosch cooktop, and Caesarstone Blizzard white countertops.
Apartment A503 is a two-bedroom unit with an 18-foot-long living/dining room with a 12-foot-wide kitchen with an island.
Apartment B507 is a two-bedroom unit with a 17-foot-long living/dining room with a 55-square-foot balcony and a 9-foot-long kitchen with an island.
Apartment A103 is a two-bedroom unit with a 16-foot-long living/dining room and a 9-foot-long kitchen with an island.