26 West Street: Review and Ratings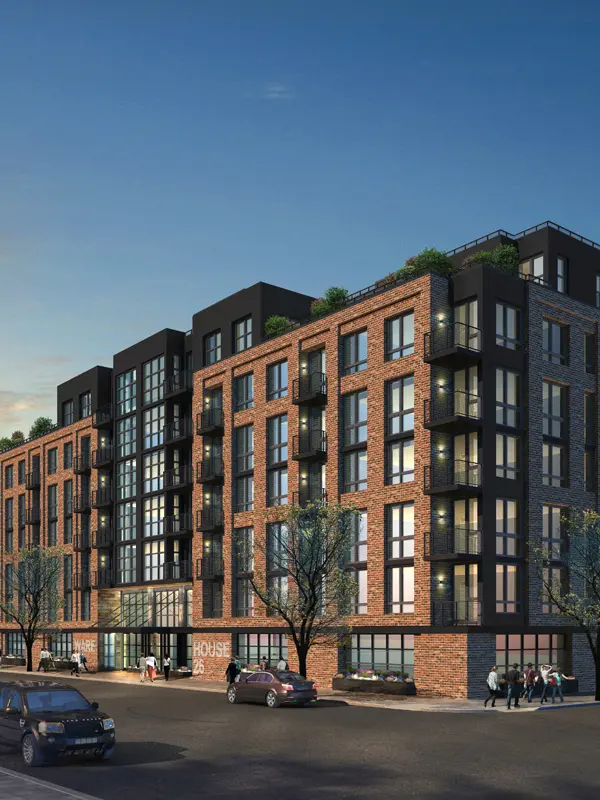 Review of 26 West Street by
Carter Horsley

Carter B. Horsley, a former journalist for The New York Times, The International Herald Tribune and The New York Post. Mr. Horsley is also the editorial director of CityRealty.com.
This attractive, 7-story apartment building at 26 West Street between Oak and Calyer streets in Greenpoint, Brooklyn was erected in 2017 and has 96 rental units.
It was designed by Karl Fischer and developed by the Rabsky Group of which Simon Dubshinsky is a principal.
Durukan Design is the interior designer.
Bottom Line
This building has undergone several major redesigns and has finally settled on one that mixes industrial-style, multi-paned windows with a red and gray façade palette over a post-modern, light-stone rusticated base with large, semi-circular windows and openings with a slanted upwards glass entrance marquee surrounded by a clear-glass industrial window façade on which the top of the symmetrical building "floats." (We don't mind run-on sentences….)
Description
The development is a couple of blocks away from the East River waterfront and Consolidated Freight commissioned Mr. Fisher to design a multi-towered development and Perkins Eastman Architects designed an adjacent riverfront site that was called Greenpoint District Terminal. Some of these mid-rise buildings have been erected but two towers have not yet been built.
The top floor is setback except for the portion over the entrance and the second floor over the entrance is highlighted by a slanted upwards, multi-paned broad window.
The entrance has a large projecting surround.
A recent renderings of the building showed a rusticated ground floor with four very broad semi-circular windows and a second floor that appeared to be completely multi-pane windows that had the effect of making the top of the building float. There were also numerous corner windows and an entrance marquee suspended by cables.
A symmetrical, low-rise composition that mixes red and gray brick façade sections with balconies and multi-paned windows over a one-story base with an entrance marquee.
An even earlier design that was published had a darker gray palette, far fewer white balconies and no set-back top floor.
The building has a double-height lobby with a large dark gray wall facing the street and a residents' lounge with a large TV beneath a ceiling of deep honey-comb-type metal lights whose honey-comb shapes are highlighted on part of the walls and the floors in a major hallway.
Amenities
The building has a doorman, a landscaped court yard, a fitness center, a roof deck, a residents' lounge, a garage, a laundry room, a business center and bicycle and personal storage.