1 Christopher Street: Review and Ratings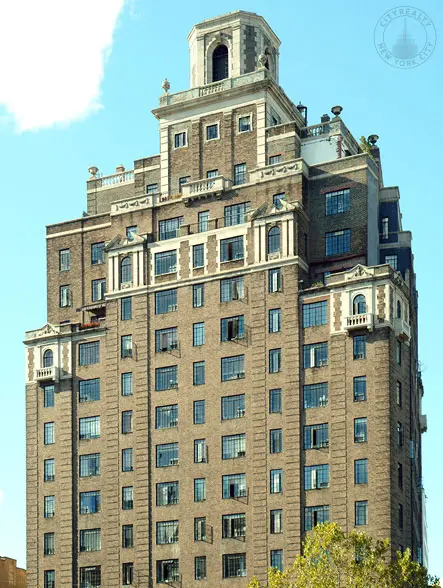 Review of 1 Christopher Street by
Carter Horsley
The 16-story building at 1 Christopher Street is one of the finest pre-war rental apartment buildings in Greenwich Village, especially since the demolition of the Women's House of Detention that obscured its grand vistas of the Jefferson Market Courthouse.
The former women s jail was replaced by a community garden that eventually was enclosed with a very handsome fence.
The brown-brick apartment building has a canopied entrance, a two-story limestone base and 131 apartments.
In addition to now facing a lush community garden directly across Greenwich Avenue, this building has always faced very low-rise structures directly across Christopher Street, including the original open fruit stand known as Balducci's that subsequently moved across the Avenue of the Americas and indoors before relocating many years later to a former bank building at Eighth Avenue and 14th Street. As a result, it has high visibility in the neighborhood as well as pretty spectacular views.
Gay Street, one of the city's more picturesque one-block-long, curved streets is a few feet to the west and a block to the west is the site of the famous Stonewall Inn as well as such famous watering holes as the former Lion's Head and No. 55 bars facing Sheridan Square.
For many years, this elegant building had the best location in the Village in terms of propinquity to movie theaters: The Loew's Sheridan and the Greenwich Theater were a few blocks to the west on Greenwich Avenue, the Eighth Street and Art movie theaters were to the east on Eighth Street and the Waverly was a few blocks south on the Avenue of the Americas.
The building's greatest attraction, however, for some Village residents was that it was one block south and across Greenwich Avenue from Sutter's, a bakery that made the greatest prune danishes in the history of the city. Sutter's, sadly, eventually closed despite its great popularity.
This building was designed by Van War & Wein who also designed several other very distinctive apartment buildings in Manhattan including 40 Fifth Avenue, where Judge Joseph F. Crater lived, 10 Gracie Square and the Campanile on East 52nd Street.