The Greenwich Lane, 155 West 11th Street: Review and Ratings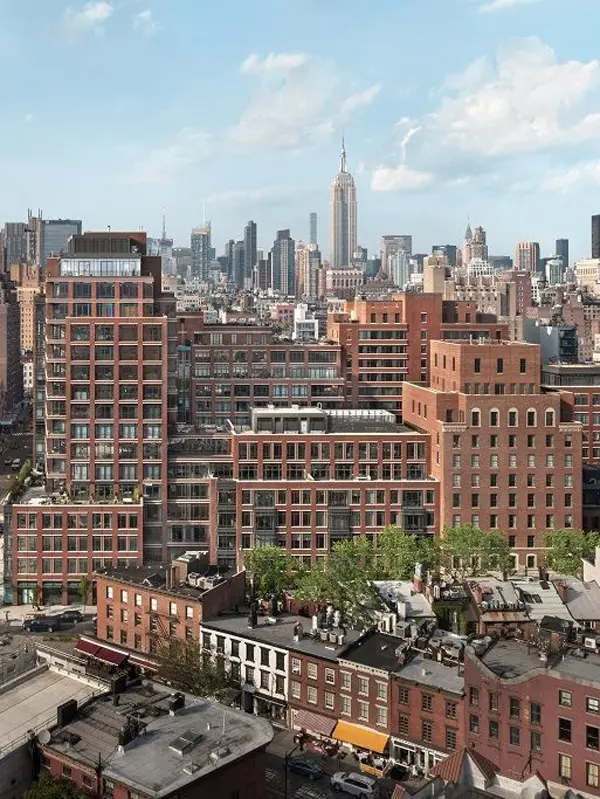 Review of 155 West 11th Street by
Carter Horsley
This building at 155 West 11th Street is part of the large Greenwich Lane development of the western end of the block bounded by 12th and 11th Streets, Seventh and Sixth Avenues in Greenwich Village.
The entire complex consists of 200 condominium apartments in several preserved buildings of what was formerly St. Vincent's Hospital as well as some new buildings and five, 5-story townhouses.
This 17-story building has 67 apartments.
The extremely complex redevelopment of the hospital's 10 buildings on the east side of Seventh Avenue between 11th and 12th Streets was undertaken by the Rudin Organization and Eyal Ofer of Global Holdings.
FXFowle was the architect. M. Paul Friedberg & Partners was the landscape architect. Thomas O'Brien of Aero Studios was the interior designer.
In addition to this building, which is on the northeast corner at Seventh Avenue, other buildings in the complex include 160 West 12th Street, 150 West 12th Street and 140 West 12th Street, and 145 West 11th Street and 5 townhouses at 143, 141, 139, 137 and 135 West 11th Street.
The developers agreed to develop a triangular block directly west of the complex into a small park with an AIDS memorial.
Bottom Line
This large and important complex represents a happy ending to a controversial redevelopment project during which a disparate assemblage of buildings across Seventh Avenue that housed St. Vincent's Hospital were converted into 200 luxury condominium apartments, the former Loew's Sheridan movie palace was demolished and converted into a park and truck station and the former National Maritime Union building was preserved and converted into a medical facility.
Description
The project has pre-certification as a Gold Residential Development by the U.S. Green Building Council.
This building has a canopied entrance with sidewalk landscaping.
M. Paul Friedberg & Partners designed a very handsome central formal garden with a reflecting pool that passes into a birch allée with limestone benches followed by a trellised pavilion.
The building is across from a park at Greenwich Avenue and half a block from a station of the IRT subway.
Amenities
The building has a large, landscaped center courtyard overlooked by a suite of social and entertaining rooms including a private lounge, a dining room, a fully outfitted guest chef's kitchen and a separate catering kitchen for larger events, a children's playroom designed by the Roto Group of Dublin, Ohio, a 22-seat screening room with a wet bar, 24-hour attended lobbies with grocery storage, on-site resident managers, and a garage with electric vehicle charging stations and bicycle storage.
The fitness center has professional training facilities designed by The Wright Fit and a 25-meter-long swimming pool under a vaulted, sparkling glass mosaic ceiling that's bordered by a translucent glass wall.
Apartments
Penthouse 7West at 155 West 11th Street is a three-bedroom unit with 2,521 square feet of interior space and 945 square feet of exterior space with a 50-foot-long living room that opens onto a 368-square-foot south terrace and a 577-square-foot north terrace and a large enclose kitchen.
Apartment 7A at 155 West 11th Street is a four-bedroom unit with 3,687 square feet of interior space and 44 square feet of exterior space with a 15-foot-long gallery that leads to a 26-foot-long living room and a 15-foot-long family room with a large open kitchen.
Apartment 6D at 155 West 11th Street is a two-bedroom unit with a 23-foot-long living room with an angled window and a large, pass-through kitchen.
Apartment 5M at 155 West 11th Street is a one-bedroom unit with an 18-foot-long living room and a large kitchen.
History
St. Vincent's Hospital was founded in 1849 by the Sister of Charity of St. Vincent de Paul. It was the first oldest and the first Catholic hospital in the city.
In 1897, William Schickel and Isaac F. Ditmars of Schickel & Ditmars designed the Elizabeth Bayley Seton Building for the hospital on the northeast corner of 11th Street and Seventh Avenue. The quite long, 7-story, Georgian-style structure was one of the handsomest institutional buildings in the city and similar to other fine Georgian-style structures are Bellevue and Mt. Sinai hospitals. This building was demolished in 1987 for a very unattractive, Brutalist-style, low-rise building known as the George Link Jr. Pavilion that was designed by Ferrenz, Taylor, Clark & Associates.
It was not the first unconscionable demolition perpetrated by the hospital for in 1967 it had demolished the only movie palace in Greenwich Village, the Loew's Sheridan, which occupied the triangular block on the west side of Seventh Avenue between Greenwich Avenue and 12th Street and whose interior was the subject of two major paintings by Edward Hopper. The 2,342-seat theater with large smoking balcony was opened in 1921 and the hospital planned to replace it with a residence for nurses. The hospital changed its plans and opened a community garden on the avenue frontage and a handling center at the rear a couple of years later.
Meanwhile, the National Maritime Union had commissioned Albert C. Ledner to design a new headquarters building on the block just to the north of the Loew's Sheridan. His design reflected the nautical nature of the union with window-less, scalloped-bottomed floors over two large circular glass-block buildings. The building was completed in 1964 and in his November 25, 2007 "Streetscapes" column in The New York Times, Christopher Gray noted that the scalloped overhangs were "porthole symbolism
In 1973, the union sold the building to St. Vincent's, which converted its interior to hospital uses.
In 2005, the hospital filed for bankruptcy and two years later announced plans to build a new hospital across the avenue on the site of Edward and Therese O'Toole Medical Services Building that taken over the union's building with funds from the Rudin real estate family that planned to redevelop its properties across the avenue residentially.
In 2009, the Landmarks Preservation Commission approved the plans, which called for a 21-story, curved hospital tower designed by Pei Cobb Freed & Partners. Later that year, however, six leading preservation organizations filed a brief challenging the commission's authorization of the demolition of the O'Toole building. The organizations were the Municipal Art Society of New York, the New York Landmarks Conservancy, the National Trust for Historic Preservation, the Friends of the Upper East Side Historic Districts and the Brooklyn Heights Association. The brief was in support of a case brought by several other organizations including DOCOMOMO New York-Tristate, Landmark West! and two nearby residential condominiums.
As a result of the controversies, the plans were reduced a bit in scale and the preservation of the wonderful O'Toole building.
The market soured, however, and in April, 2010 the hospital closed its emergency room.
Construction did begin but the complexity of the plan took a long time to finish.
The final result was a mix of pretty attractive but not daring new structures with a mix of several of the older red-brick buildings that were nice but not special.
What was sensational was the large center garden courtyard that connects to all the development's buildings, including the townhouses.
Book a Tour or Get More Information on this Building
464 Buyers
are interested in buying at
155 West 11th Street!
Interested in Selling?
We'll introduce you to the agents that
specialize in 155 West 11th Street and are
experts in selling apartments there.

And they'll be able to contact all of the buyers interested in the building.
There's no obligation and your inquiry is confidential.
Call us at (212) 755-5544