409 Edgecombe Avenue in Hamilton Heights: Review and Ratings | CityRealty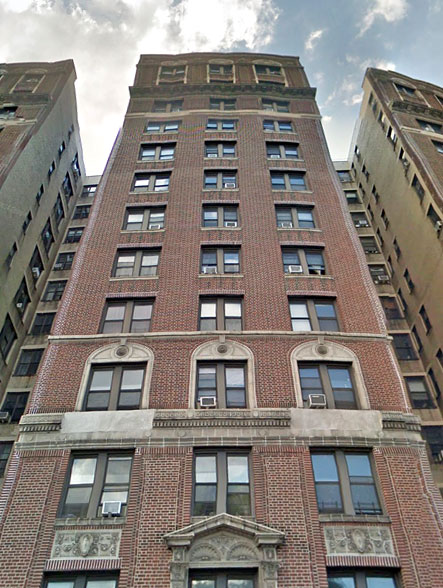 Review by
Carter Horsley

Carter B. Horsley, a former journalist for The New York Times, The International Herald Tribune and The New York Post. Mr. Horsley is also the editorial director of CityRealty.com.
This very handsome, 13-story apartment building at 409 Edgecombe Avenue near 155th Street in Hamilton Heights in Harlem fronts on Jackie Robinson Park and was erected in 1917.
It was designed in neo-Georgian style by Schwartz & Gross.
It has 123 co-operative units.
Bottom Line
This prominent and elegant co-operative apartment house with large layouts and an illustrious resident history fronts on Jackie Robinson Park in Harlem and was designed by Schwartz & Gross.
Description
With two courtyards on the avenue, this slightly angled apartment building has a distinguished façade with some arched window surrounds and a couple of broad bandcourses above a stone base.
It has a marble lobby.
Amenities
The building has a full-time doorman, a live-in superintendent and permits cats and dogs.
Apartments
Apartment 14C is a two-bedroom unit that has an entry foyer of 125 square feet that leads to a 144-square-foot kitchen and an 180-square-foot living room with access to a 846-square-foot terrace.
Apartment 8D is a two-bedroom unit with a 12-foot-long entry foyer that leads to a 21-foot-long living room with a curved bay window, a 16-foot-long dining room and a 13-foot-wide, windowed kitchen.
Apartment 5E is a two-bedroom unit that has a long entry foyer near the 15-foot-wide, windowed kitchen and 13-foot-wide windowed dining room and the 19-foot-long living room.
Apartment 14B is a one-bedroom unit with a 9-foot-wide entry foyer that leads to a 34-foot-wide living room, an 11-foot-wide eat-in kitchen and a 27-foot-long terrace.
History
In his July 14, 1994 "Streetscapes" column in The New York Times Christopher Gray provided the following commentary about the building:
"The 1917 apartment house at 409 Edgecombe Avenue, just south of 155th Street, is 13 stories tall, unusual in a sea of more modest buildings half its height. It was designated as a city landmark a year ago because from the 30's to the 50's it was the address of choice for some of New York City's black elite.
"After a generation of decline, it is now near a city-sponsored co-op conversion.
"While the hillside site in Manhattan looks over Jackie Robinson Park and has a commanding view of the Harlem River Valley, Schwartz & Gross, the architects, were artistically unmoved by this panorama and recycled the same tepid neo-Georgian formula they used on scores of other apartment houses of this period.
"Upon completion in 1917, 409 Edgecombe Avenue was like any other new apartment house in the city. Its occupants were middle-class, with small families - and all white. The latest available source for racial composition for specific addresses is the 1925 New York State census and it records 83 white families.
"Of these, only seven had live-in servants, two of whom were black, the only people of their race in the building.
"A real estate recession in 1905 began to open new buildings in central Harlem to black tenants and by the 1920's Harlem was the nation's largest black settlement, gradually expanding to buildings farther north and south.
"One of these was 409 Edgecombe Avenue, which had its first black tenants in the late 20's. By the 40's, it was filled with the city's black elite, who selected it in part because of its luxury relative to the less expensive, lower buildings around it.
"The earliest identified black tenant was Julius Bledsoe, a classical concert singer and composer in the late 20's. He also took popular parts - for example, as Joe he sang "Ole Man River" in the Ziegfeld premiere of "Show Boat" in 1927. In 1929, Walter Francis White moved in, just as he began his tenure as acting secretary, and later executive secretary, of the National Association for the Advancement of Colored People, which lasted until his death in 1955. His apartment was called the "White House of Harlem," says the Landmarks Preservation Commission's designation report.
"Tenants who arrived in the 30's included Aaron Douglas, a Paris-trained painter known as the 'father of black American art,' who moved in in 1934, and Roy Wilkins, who later succeeded Mr. White as head of the N.A.A.C.P., who arrived in 1936.
"The 40's brought the scholar-critic W.E.B. DuBois, who had split from the N.A.A.C.P. in 1935 as part of his increasing radicalization; William Stanley Braithwaite, poet, editor and anthropologist; Clarence Cameron White, violinist and composer, and Thurgood Marshall, then an N.A.A.C.P. lawyer.
"Mr. Marshall won a string of civil rights cases culminating in 1954 when the United States Supreme Court decided, in Brown v. Board of Education of Topeka, Kan., found the 'separate but equal' system of education unconstitutional. He served on the Court from 1967 to 1991.
"...From its high point in the 40's and 50's, 409 Edgecombe Avenue went into a decline, and it was taken back for taxes by the city in 1979. Now New York City is preparing to sell it back to its tenants for $250 an apartment...."
Book a Tour or Get More Information on this Building
276 Buyers
are interested in buying at
409 Edgecombe Avenue!
Interested in Selling?
We'll introduce you to the agents that
specialize in 409 Edgecombe Avenue and are
experts in selling apartments there.

And they'll be able to contact all of the buyers interested in the building.
There's no obligation and your inquiry is confidential.
Call us at (212) 755-5544