Barbizon 63 at 140 East 63rd Street: Review and Ratings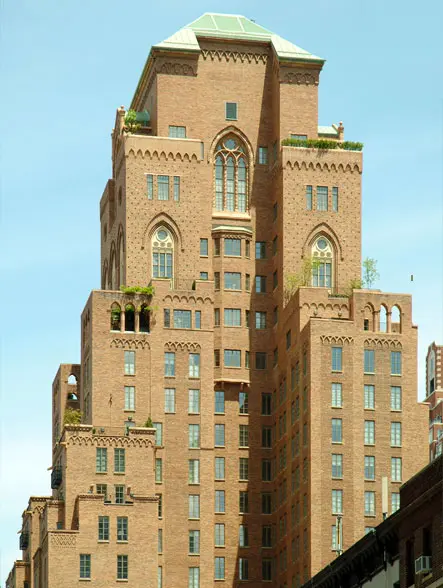 Review of 140 East 63rd Street by
Carter Horsley

Carter B. Horsley, a former journalist for The New York Times, The International Herald Tribune and The New York Post. Mr. Horsley is also the editorial director of CityRealty.com.
The Barbizon 63 is a very handsome, 24-story building that began as a residential hotel for women in 1927 with about 700 rooms and then was operated as a normal hotel and in 2005 it was converted to condominium apartments.
It was designed by Murgatroyd & Ogden and opened as the Barbizon Hotel for Woman where no men were permitted above the lobby floor.
Barbizon/63, as the building is now known, has 65 apartments.
The sponsor of the conversion is Barbizon Hotel Associates, L.P., an affiliate of BPG Properties Ltd.
Nancy Ruddy of Cetra/Ruddy Inc., is the architect for the conversion.
Bottom Line
This very attractive, pre-war building has been converted from a 700-plus room hotel to a 65 apartment condominium building in the heart of the Upper East Side, convenient to shopping and public transportation.
Description
In their fine book, "The A.I.A. Guide to New York City Architecture, Third Edition," (Harcourt Brace Jovanovich, 1988), Norton White and Elliot Willensky described the building as "A romantic, neo-Gothic tawny brick charmer, lovingly restored in the 1980s."
The building's second floor has tall arched windows and the 18th floor has a tall arched loggia and the 21st floor has oculi and double-height arched windows. There are setbacks at the 3rd, 11th, 12th, 13th, 15th, 16th, 18th and 22nd floors.
The building is 266 feet high.
In their excellent book, "New York 1930, Architecture and Urbanism Between The Two World Wars" (Rizzoli International Publications, 1987), Robert A. M. Stern, Gregory Gilmartin and Thomas Mellins observed that the design of the "tawny-colored" Barbizon was "romantically massed and detailed."
The authors compared it with the more modern design of the Shelton Hotel on Lexington Avenue and 48th Street, which was designed by Arthur Loomis Harmon in 1924, and found that "the overall mass of the Barbizon was in no way as compelling as that of the Shelton." "Nonetheless," they added, "the design was memorable for the richness of its intricate exterior brickwork and interior detailing, and in particular for its extraordinary roofscape with its large tower containing studios rising to form a chapel-like conclusion to the composition. The eighteenth-floor rooftop was particularly fine, with lounges, a restaurant, and solarium opening to Gothic arcades that edged a walkway, framing breathtaking views of the midtown skyline that inspired the photographer Samuel Gottscho as well as the painter Georgia O'Keeffe."
The Shelton is more hard-edged but is notable for its fine gargoyles.
The massing of the building, which has remained highly visible on the Upper East Side, is, in fact, quite impressive and has a monumentality far beyond its actual size. There are tall arched windows on the second floor, open arches on the 18th floor, and very tall and large pointed-arch windows higher up, all topped by a broad red pyramidal roof.
Amenities
Residents can use Club Salon, a private dining and reception area that can be catered by Feast & Fetes, which is operated by Daniel Boulud. Club Salon also has a library and a 20-seat screening room.
The building has 24-hour doorman service and residents are enrolled in the Barbizon/63 Bergdorf Goodman private shopping service, "a benefit found at no other address in the city," according to a press release for the project.
Apartments
Apartments have Bolivian rosewood flooring, crown moldings and new French casement windows.
The Barbizon, which is located on the southeast corner of Lexington Avenue and 63rd Street, has long been a prominent landmark in the 60's west of Third Avenue.
Units range in size from one-bedroom apartments to a duplex penthouse with 5,345 square feet of interior spaces. Other penthouses have terraces with over 900 square feet.
Apartment 11C is a three-bedroom unit that has a 10-foot-long foyer that leads to a 16-foot-wide gallery that opens, past a 22-foot-wide kitchen, onto a 31-foot-long living/dining room.
Apartment 12D is a two-bedroom unit that has a long entrance foyer that leads to an 18-foot-long living/dining room adjacent to an enclosed 13-foot-long kitchen.
Apartment 12E has a foyer that leads to a long gallery that opens onto a 25-foot-wide living/dining room with a wet bar and two small corner terraces. The two-bedroom unit has a large enclosed kitchen.
Penthouse 4 is a duplex that has on its lower level a broad entrance gallery that leads to a 17-foot-long solarium that opens onto a 17-foot-long living room that opens onto a 17-foot-long library that is adjacent to a 26-foot-wide dining room next to a20-foot-long kitchen and a 19-foot-long media room.
History
Murgatroyd & Ogden had designed a women's residence club at 18 Gramercy Park South the same year as it designed the Barbizon.
It gained fame in the 1950s and 1960s when its residents included Grace Kelly, Candice Bergen, Ali McGraw and Liza Minelli. Its rooms were small but it had a nice large lobby and some splendid meeting rooms at the top. Men were finally admitted as guests in 1981.
In 1988, Golden Tulip Barbizon Inc., sold its majority interest in the hotel to a partnership led by Philip Pilevsky and Arthur B. Cohen. And in 2002 it was renovated at a cost of about $40 million when it become the Melrose Hotel, operated by the Melrose Hotel Company, a subsidiary of the Berwind Property Group Inc., of Philadelphia. The renovation converted the property's 700 or so rooms into 306 hotel rooms.
Melrose spent about $40 million in renovating the building and converted it to the Melrose Hotel, which closed in 2005 when Berwind Property decided to convert it to condominium apartments.
It gained fame in the 1950s and 1960s when its residents included Grace Kelly, Candice Bergen, Ali McGraw and Liza Minelli. Its rooms were small but it had a nice large lobby and some splendid meeting rooms at the top.
Book a Tour or Get More Information on this Building
488 Buyers
are interested in buying at
140 East 63rd Street!
Interested in Selling?
We'll introduce you to the agents that
specialize in 140 East 63rd Street and are
experts in selling apartments there.

And they'll be able to contact all of the buyers interested in the building.
There's no obligation and your inquiry is confidential.
Call us at (212) 755-5544