Eastgate in Lenox Hill: Review and Ratings | CityRealty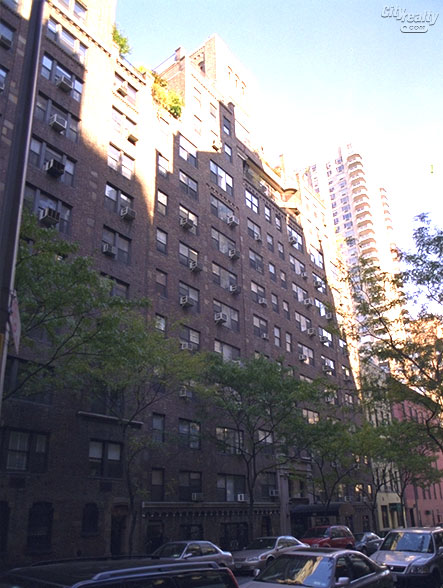 Review by
Carter Horsley

Carter B. Horsley, a former journalist for The New York Times, The International Herald Tribune and The New York Post. Mr. Horsley is also the editorial director of CityRealty.com.
There are very few full-block, "luxury" residential developments on the Upper East Side - other than Manhattan House between Third and Second Avenues and 65th and 66th Streets and Imperial House between Lexington and Third Avenues and 68th and 69th Streets - or, even better, coordinated developments of specific streets.
Eastgate is not a full-block development, but it is one of the city's rare residential enclaves that occupies both sides of a street, albeit not the entire street and not the corners.
(The Beaux-Arts apartments in the 40's between Second and First Avenues are somewhat similar urbanistically, but much smaller in scale and different in style. Tudor City, straddling 42nd Street, of course, is a stylistically coordinated enclave that occupies several "streets," and is perhaps Manhattan's best known such compound and it and London Terrace, which occupies the block between Ninth and Tenth Avenues and 23rd and 24th Streets, are stylistically related to Eastgate. Ruppert Houses on the east side of Third Avenue in the low 90s is, of course, a multi-block compound of huge modern towers that is more of the "tower-in-a-park" genre.)
Built between 1928 and 1936, Eastgate consists of six, brown-brick apartment buildings in the middle of the 73rd Street block between Third and Second Avenues. The Third Avenue "El," of course, was in full roar at the time so it is not surprising that the complex did not extend itself to Third Avenue. The "El" came down in the mid-1950s and Third Avenue in the 60s and 70s has since become one of the city's more desirable residential addresses in the last couple of decades of the Twentieth Century.
The buildings were erected by Bing & Bing and designed by Emery Roth and the development was initially known as East Village and its apartments were marketed as "mansionettes." Most of the units had sunken living rooms and fireplaces although in the last two to built, this and 230 East 73rd Street, the fireplaces were merely decorative and did not work.
The six buildings are not identical, but consist of three "twins," facing each other across the street, but not perfectly aligned. The buildings have excellent masonry accented by asymmetrical "knobbing" of bricks to provide greater façade texture. Each building has its own canopied entrance and sidewalk landscaping, but their heights and detailing are not the same. The "knobby" façade texture, along with random stones on the façade, greatly enhance the amiance of this enclave and reflects a general enchantment with both the Georgian Period, noted for its redbrick elegance, and the Tudor Period, noted for its quaintness and coziness. This informal/formal building type was quite popular with such major developers as Fred F. French and Bing & Bing. The success of Forest Hills in Queens, a high-end residential project that relied mostly on Tudor traditions, was very influential at the time.
Urbanistically, mid-rise, red- or brown-brick residential buildings have a sense of stature and solidity as well as warmth and it is not surprising that they constitute the majority of buildings along Park Avenue and West End Avenue, two of the city's finest residential boulevards.
This 13-story building was erected in 1930 and converted to a cooperative in 1987 and is a close "twin" of the Eastgate building across the street at 230 East 73rd Street. This one has 91 units. Like the others, it has a canopied entrance, consistent fenestration and sidewalk landscaping and permits protruding air-conditioners. Its has a step-down lobby that is modern and bright and a concierge. The building has gargoyles, some terraces and nice hanging lanterns flanking its entrance, which has a revolving door. It has an unusual bandcourse on the first floor with V-shaped masonry highlighted by a white brick at the base of the "V," and an attractive rooftop watertank enclosure with some open arches.
This central and quiet Upper East Side location is very convenient to many stories such as Grace's Market and Gracious Home along Third Avenue and there are many restaurants in the vicinity. There is good cross-town bus service on 72nd Street, but subway stations are several blocks away.
Carter B. Horsley
Book a Tour or Get More Information on this Building
177 Buyers
are interested in buying at
235 East 73rd Street!
Interested in Selling?
We'll introduce you to the agents that
specialize in 235 East 73rd Street and are
experts in selling apartments there.

And they'll be able to contact all of the buyers interested in the building.
There's no obligation and your inquiry is confidential.
Call us at (212) 755-5544