170 Amsterdam Avenue: Review and Ratings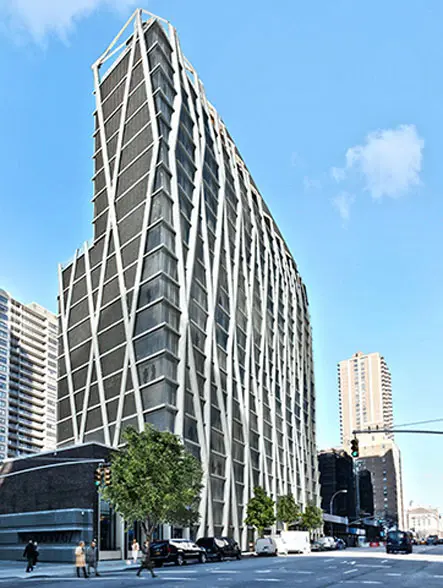 Review of 170 Amsterdam Avenue by
Carter Horsley
The exoskeletal apartment building at 170 Amsterdam Avenue at the western terminus of 68th Street is one of the most attractive new buildings architecturally in the Lincoln Center for the Performing Arts neighborhood and one of the city's most spectacular from an engineering standpoint.
The 20-story slab tower was designed by Gary Handel for Equity Residential, which is headed by Sam Zell, and contains 239 rental apartments. Mr. Zell leased the site in 2011 from American Continental Properties for 99 years for $76.5 million.
It was completed in 2015.
Bottom Line
A very exciting and complex structure whose diagonal piers are bent inwards slightly near the top and extend above and over the roof and are also offset to create unexpected irregularity in a masterpiece of slapdash. jury-rigged, if not "drunken," engineering that is awesome!
The top seven floors on the building's west façade are setback.
Description
At first glance, the building's diagonal grid of external columns appears quite neat but closer inspection reveals that this exoskeleton is no normal beast but an off-kilter, asymmetrical and very cute monster of a slab apartment tower that obviously got its "dizzy" from the angled Broadway nearby.
Amenities
The buildings have a 24/7 concierge, a roof terrace, a lobby lounge overlooking a private garden, a fitness area, a children's playroom, and a yoga room.
Apartments
Apartments have column-free spaces and floor-to-ceiling windows and stainless-steel kitchen appliances.
The number of diagonal concrete columns outside each apartment varies as does their positioning.
Apartment 3F is a two-bedroom unit with a 14-foot-wide living/dining room and a pass-through kitchen.
Apartment 3D is a studio unit with a 21-foot-wide living/dining room and an open kitchen.
Apartment 3J is a studio unit with an entry by the long open kitchen leading to the 17-foot-wide living/dining room.