4540 Center Boulevard in Long Island City: Review and Ratings | CityRealty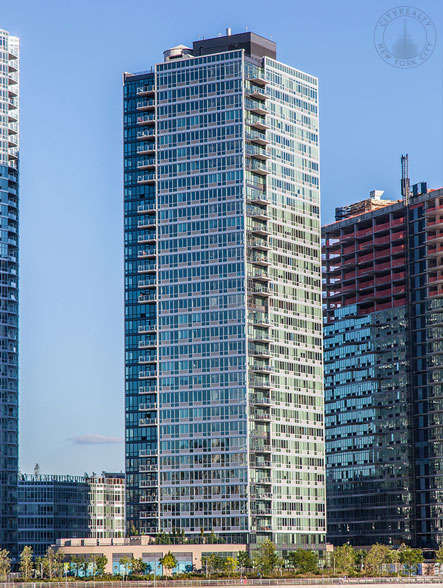 Review by
Carter Horsley

Carter B. Horsley, a former journalist for The New York Times, The International Herald Tribune and The New York Post. Mr. Horsley is also the editorial director of CityRealty.com.
4540 Center Boulevard is a very handsome, waterfront rental building in Long Island City in the East Coast development owned by TF Cornerstone.
Constructed in 2012, the 32-floor rental contains 345 apartments that feature floor-to-ceiling windows. Residences, which range from studios to three-bedroom units, have kitchens and bathrooms equipped with top-of-the-line fixtures.
Additional TF Cornerstone rentals on the 21-acre site include 4545 Center Boulevard, 4615 Center Boulevard, 4720 Center Boulevard and 4610 Center Boulevard.
Bottom Line
Less architecturally gymnastic than its fellow East Coast towers, this very attractive building seems a bit straight-laced but its conservatism is appropriate for its prominent location and overwhelming vistas.
Description
The building has many corner balconies and is a little to the north of the giant Pepsi sign.
The sheer tower is setback atop a one-story brown masonry base with a multi-sided glass shaft that penetrates the lobby.
The building has a very large and handsome glass and steel entrance marquee with a revolving door.
The tower's balconies are stack in 6-story groups at the building's corner.
Amenities
Amenities at 4540 Center Boulevard include a 24-hour concierge, a free bus shuttle, a gym, a laundry, a live-in superintendent, and valet services. It is pet friendly.
Apartments
Apartments have floor-to-ceiling windows.
Apartment 3202 is a one-bedroom unit that has a foyer that leads past a pass-through kitchen to the 20-foot-long living/dining room
Apartment 2601 is a two-bedroom unit has that a foyer that leads to a 20-foot-long living/dining room with a pass-through kitchen and a balcony.
History
See the entry for 4615 Center Boulevard for commentary about the architectural merits of the EastCoast development.