The Forge, 44-28 Purves Street: Review and Ratings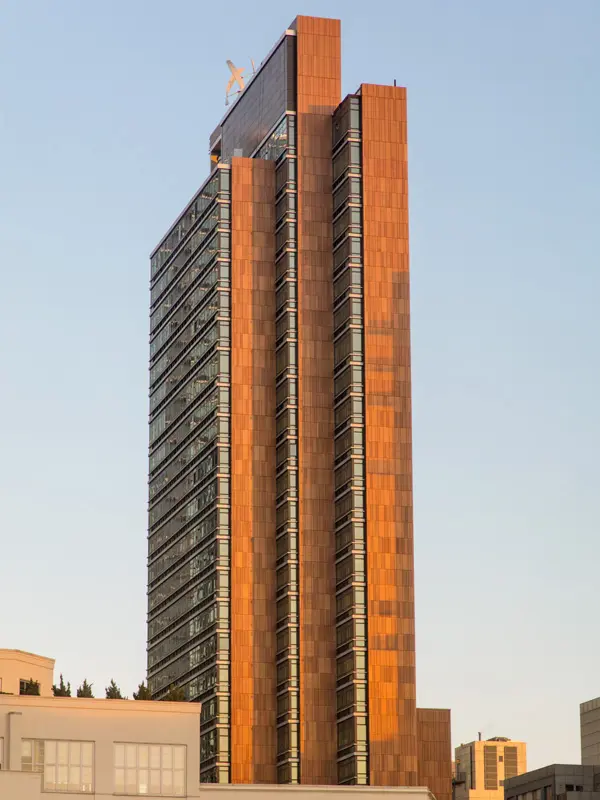 Review of 44-28 Purves Street by
Carter Horsley
This stunning, 35-story rental apartment building at 44-28 Purves Street at the corner of Thomson Avenue in Long Island City was completed in 2017 by Brause Realty, the Gotham Organization and ABS Partners Real Estate. It has 272 apartments.
It is known as The Forge and was designed by FXFOWLE.
Its slipped slab form is a stylistic descendant of the skyscraper forms of Raymond Hood's 30 Rockefeller Center in Manhattan and John Portman's famous Peachtree and Embarcardero centers in Atlanta and San Francisco, respectively.
FXFOWLE's other major New York City buildings include 3, 4 and 11 and 3 Times Square, Sky House, 35XV, the Greenwich Lane, and the Northside Piers.
Bottom Line
A very elegant and striking slab residential skyscraper on a podium in Long Island City recalling some of John Portman's famous landmark slab towers several decades ago at Peachtree Center in Atlanta and Embarcadero Center in San Francisco.
Description
The façades of the long sides of this development resemble those of the Secretariat Building at the United Nations with long and continuous bands of multi-pane windows, but its window-less narrow ends are opaque, copper-colored panels to the Secretariat's white marble.
There are three tall slabs of slightly different heights and one mid-rise slab on one side. They rest on a large two-story high base that is trapezoidal in plan.
The building hopes to achieve LEED Silver status and has wind and solar panels.
The double-height lobby will have rusty steel and exposed rivets and beams, concrete and wood.
Amenities
The ground floor will have a double-height lobby and a coffee shop, a 75-car garage, bicycle storage, a laundry and tenant storage.
The project also has a two-story amenity and retail building that is connect to the tower via a second-floor courtyard with a pool, a grill, a bar area and a movie screen. The second floor of the tower has a children's playroom, a private conference area, and a kitchen and fireplace. The ground floor of the amenity and retail building will have 2,000-square feet of retail space and a fitness center.
The 35th floor will have a billiards room, a wet bar and a terrace.
The non-smoking, development will have art installations by local artists and a 24-hour doorman and LIVunLTD Concierge Services.
Apartments
Apartments will have KitchenAid and Bosch stainless-steel Energy Star appliances, Bosch washers and dryers, European white oak floors, quartz kitchen countertops.