Hayden in Long Island City: Review and Ratings | CityRealty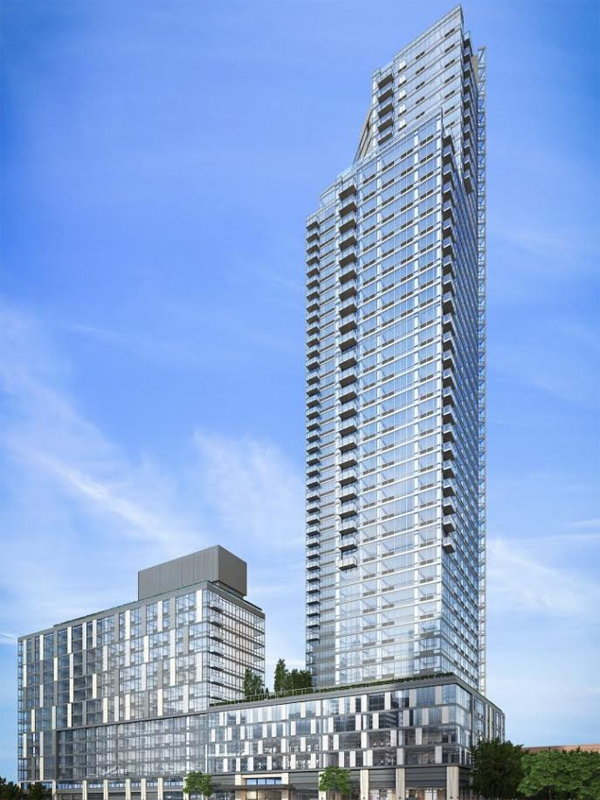 Review by
Carter Horsley

Carter B. Horsley, a former journalist for The New York Times, The International Herald Tribune and The New York Post. Mr. Horsley is also the editorial director of CityRealty.com.
When this very handsome project, which is known as Hayden, at 43-25 Hunter Street near Court Square in Long Island City was first announced in 2013 by Rockrose Development, it was planned as the tallest building in Queens.
When it was topped out in May, 2016 at 51 stories and 535 feet high, Rockrose had planned a taller rental tower at 43-22 Queens Street that will rise 598 feet and be known as the Eagle Electric Factory development.
This tower, which was designed by SLCE Architects, however, has 924 apartments while Eagle Electric will have only 783. It is scheduled for completion in early 2017.
Hayden will be the city's largest "80-20" project outside of Manhattan as 20 percent of its units, or 195 apartments, are "affordable."
Rockrose, one of the city's major residential builders, however, is not destined to hold the title of building the borough's highest building.
Property Market Group swooped in with a 772-foot-high condominium apartment tower it proposed at 29-37 41st Avenue. It will contain 930 apartments and is due for completion in 2019.
Before that tower is completed, however, United Construction & Development is expected to be completed in 2017 a 964-foot-high building at 22-15 44th Drive.
Bottom Line
With its bent and glassy façade, Hayden is a fine compliment to Citibank's skyscraper at Court Square, the area's long-time visual landmark, especially as it is separated from it by the mid-rise, curved and glassy office building. This very attractive trio, however, may lose its standing as the shiny and bright heart of Long Island City as a tsunami of new big but lesser projects begins to arise around and engulf them.
Description
While this tower lost its race to residential height supremacy in the borough, it is still in the running for most eye-catching base for a tall building in the borough as its low-and mid-rise components are like a storm-tossed flurry of wave caps in a blue-glass sea as their light-colored piers appear with random heights and spacing and bear no relation to the tall tower.
The tower, meanwhile, has an angled plan with a setback and an asymmetrical balcony plan that is in sharp contrast with the very handsome symmetry of the Citibank tower nearby that has been the borough's most prominent landmark for many years.
While such "discrepancies" might disturb some aesthetic purists, they are not, in this instance, all that disruptive and may, in fact, help the project stand out.
The building will have 19,400 square feet of retail space on its ground floor and 18,000 square feet of amenities.
It is close to several subways.
Amenities
The building has a fitness center, a basketball court, a billiard room, a rooftop solarium, a yoga studio, a Zen garden, a screening room, a library, and children's playroom, and a "great lawn."
Apartments
The building will have 348 studios, 459 one-bedrooms and 167 two-bedrooms.