Norfolk Atrium at 115 Norfolk Street: Review and Ratings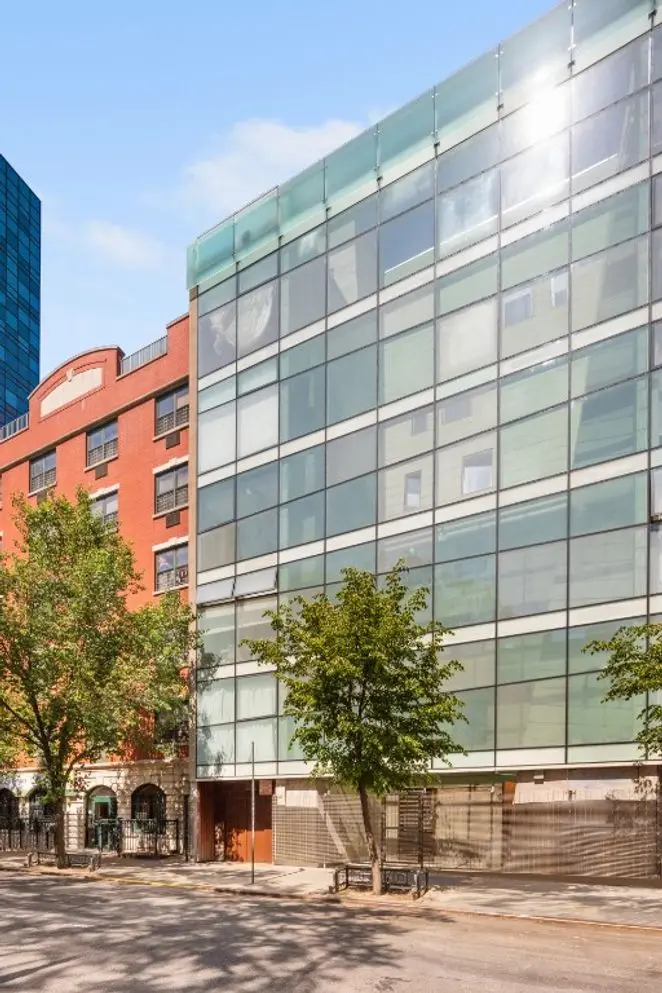 Review of 115 Norfolk Street by
Carter Horsley

Carter B. Horsley, a former journalist for The New York Times, The International Herald Tribune and The New York Post. Mr. Horsley is also the editorial director of CityRealty.com.
This extremely attractive 7-story building at 111 Norfolk Street on the Lower East Side was designed by Grzywiniski Pons Architects, who gained famed as the designers of the earlier and taller The Hotel on Rivington Street nearby that is known as "THOR" at 107 Rivington Street, a handsome, green-glass, 20-story mid-block tower that has a "womb-like" entrance, and interiors that are both wild and elegant.
At first glance, this Norfolk Street structure appears as a boxy, 6-story, industrial building.
Its windows, however, have horizontal panes that are slightly angled, alternately upwards and downwards, from south to north, giving the building an askew, a-kilter appearance as if something slipped or slid during construction.
Furthermore, the large central portion of the façade on Norfolk Street is a large window on an atrium that is open to the sky with some of its walls tapering inwards.
The building, which is 8 blocks east of The Bowery, has 24 condominium apartments.
It was completed in 2011.
Bottom Line
At first glance, a clean, modern, glass-clad apartment building. On closer examination, a sophisticated façade of slightly angled windows in front of a roof-less, tapering atrium that makes this the second most interesting block in the city after Bond Street in NoHo.
Description
The pale green glass façade of this mid-block apartment building is highlighted by its gently angled panes that hover over its steel-mesh fence and gates at street-level.
The atrium is slightly off-center to the south of the building's frontage on Norfolk Street. The atrium's west wall is angled upwards and towards the west and rises a bit above the roofline.
Apartments that overlook the atrium have the same fretted glass windows as the Norfolk Street façade. Mr. Grzywinksi told CityRealty.com that his firm had been working on the project before it learned about the "Blue" project. "When we saw it, we chuckled," he said, adding that the street's "concentration" of new projects is "a hot bed for progressive architecture."
"The adaptation and interpretation of the prevalent typology in many high density European cities of a large inner courtyard in both single and multifamily residences was a fundamental component in our formal approach," he explained on his website.
"While small lots and current New York City Building Code preclude central courtyards, we expounded upon a provision that allows for a narrow outer court wherein its depth is limited by its width, in an attempt to achieve the effect of a private interstitial outdoor space – a bridge between street and residence. Our court grows both wider and deeper as it rises…which also lends a special quality of both augmented perspective and perceived scale to the void. We wanted to continue the continuity of the street wall, so we spanned the unitized curtain wall across the interior and exterior portions of the façade. The ceramic frit on the glazing provides privacy to the residents and lends a gauzy subtlety to the distinction of solid and void behind it. Variable lighting conditions throughout the day and night alternately celebrate and conceal the semi enclosed court," he said.
In the units themselves we chose to exalt the structure and paired the purposefully rough aggregate with honed marble, bleached oak, granite and warm whites. The bright and generous expanses of frit glass and the warm, elemental palette yield cheerfully refined interiors without painting the residents into a corner with respect to their choice of furnishings. The building's common spaces in particular were designed to retain their elegance and durability even while conjoining the private to the public to the street," he continued.
Amenities
The building has a roof garden with a lap pool, a garage, central air-conditioning, and a virtual doorman.
Apartments
The building has 16 one-bedroom units, 5 two-bedroom units and 3 three-bedroom duplex penthouses.
Ground floor apartments will have private rear yards and 13 of the apartments will have balconies or terraces.
Apartment 101 is a two-bedroom unit that has an entry foyer that opens onto a 12-foot-square, open kitchen with an island and a 23-foot-long living/dining room that leads to a 30-foot-side private yard. There is also an 18-foot-long library/home office.
Apartment 103 is a one-bedroom unit with a 15-foot-long living/dining area next to an open 10-foot-long kitchen area.
Apartment 201 is a one-bedroom unit with a 25-foot-long living/dining area with an open kitchen, a 10-foot-long library/home office.
There are one-bedroom units on the second through the sixth floors that have a 10-foot-square open kitchen area off the antechamber, and a 20-foot-long living/dining area with a 12-foot-long balcony.
The penthouse has an entry foyer that opens onto a 17-foot-long kitchen area and a 26-foot-long living/dining area with a 24-foot-long balcony. There are three bedrooms and three bathrooms and a15-foot-long terrace.
Penthouse 2 is a duplex that has an angled "antechamber" that leads to a 15-foot-long open kitchen area and a 21-foot-long great room. The lower level has two baths and a 16-foot-long bedroom and the upper level was a 15-foot-long master suite, and a 30-foot-long family room that opens onto a 30-foot-long terrace.
History
This was the third very interesting building along a one-block stretch on the west side of Norfolk Street between Delancey and Riverton streets. The first was Blue, the street's tallest and most colorful. Blue is an angled, bulging mass of beautiful blue glass designed by Bernard Tschumi, an architect noted for his designs of Park Villette in Paris.
The second was the Switch Building at 107 Norfolk Street, the first of several buildings in the city to alternate angled horizontal sections of a building. It was designed by nARCHITECTS.
The 27,000-square-foot site was bought in early 2008 for $10 million by 115 Norfolk Realty LLC of which Nathan Vinbaytel is a principal from Yabba LLC of which Zeyad Aly is a principal.
Book a Tour or Get More Information on this Building
33 Buyers
are interested in buying at
115 Norfolk Street!
Interested in Selling?
We'll introduce you to the agents that
specialize in 115 Norfolk Street and are
experts in selling apartments there.

And they'll be able to contact all of the buyers interested in the building.
There's no obligation and your inquiry is confidential.
Call us at (212) 755-5544