The Beckenstein, 130 Orchard Street: Review and Ratings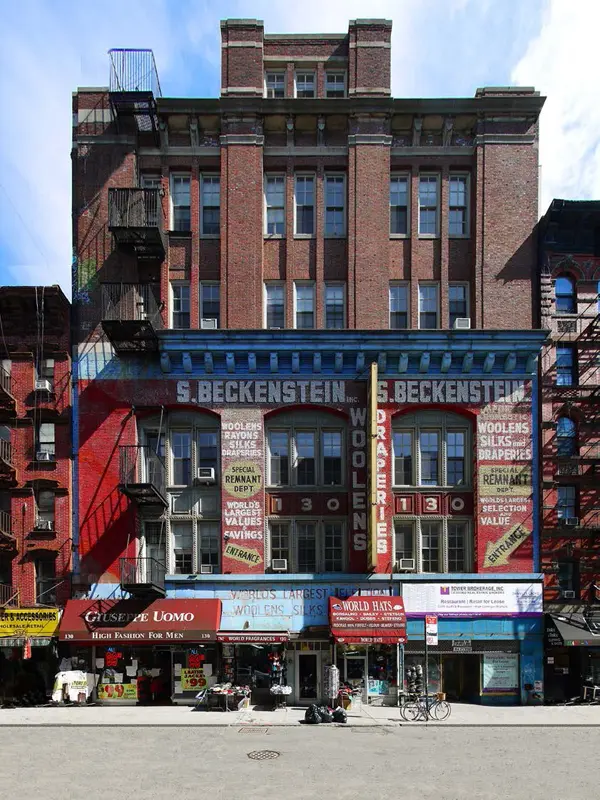 Review of 130 Orchard Street by
Carter Horsley
This 6-story building at 130 Orchard Street between Rivington and Delancey Streets on the Lower East Side was building initially as a three-story building in 1902 for the New York Telephone Company. It was enlarged by three-stories about 1920 when its major tenant was Beckenstein Home Fabrics, which relocated in 1999 to the Garment Center.
According to a 2013 article at waltergrutchfield.net, it was "a part of a small empire that Samuel Beckenstein started some 80 years ago selling rags from a pushcart on Water Strreet." He had been born in Liskova, Poland, and emigrated from Antwerp, Belgium in 1910.
"In his death notice, New York Times, 26 Dec. 1968," the article continued, "Samuel Beckenstein was survived by his wife, Fanny, Beatrice and Irving Boyarsky, Ron and Murray Greenberg, Lillian and Sol Horowitz, and a brother Paul. The Boyarskys and Greenbergs were Beckenstein's successors in his business."
"He grew the business and diversified into men's tailoring, women's clothing, draperies and upholstery....Garry Greenberg. 46, the third-generation president of the home fabric store, is moving to a new location at Fifth Avenue and West 20th Street in the Flatiron district later this month, the better to compete with the other upscale home decor stores in that area."
According to a May 27, 2015 article at www.boweryboogie.com, "Business flourished during the Depression years when the company provided custom trousers when they became too threadbare to wear."
Www.fabricczar.com/4-generations.html noted that "this service ultimately became the inspiration behind the 1932 song 'Sam, You Made the Pants Too long,' later popularized by Barbra Streisand."
The red-brick building the upper part of the building was subsequently converted to 18 rental apartments by Delshah Properties, which paid $28 million for the building, and the ground floor is mostly occupied by Galerie Perrotin, an art gallery.
In April, 2017, Delshah, which is headed by Michael Shah, paid $111.5 million to Mount Sinai St. Luke's Hospital for five very handsome building that will be converted into about 200 rental apartments one block north of the Cathedral Church of St. John the Divine. Two of the buildings were designed in 1906 by Ernest Flagg and are landmarks.
Bottom Line
For many decades an unofficial landmark of the Lower East Side, this red-brick fabric house has been converted to 18 rental apartments and an art gallery and its street façade retains its bright horizontal and vertical signs proclaiming it to be the quarters of S. Beckenstein, which moved in 1999.
Description
The red-brick building has a bandcourse over its ground-floor retail space and the original cornice of the three-story building remains over the slightly arched third-floor windows and beneath the fourth and fifth floors that are topped by a very handsome new, but traditional cornice. The cornice in the middle of the building's frontage is just above "S. Beckenstein" that is painted in white horizontally on both sides of a large, protruding vertical, two-story high sign proclaiming "S. Beckenstein."
The top three floors have small balconies with cast-iron railings protruding from the north end of the building's street frontage.
Amenities
The building has a roof deck, some small balconies at the north end of its Orchard Street frontage, and in-unit washers and dryers.
Apartments
Apartment 44 is a three-bedroom unit with an entry foyer that leads down an angled hall to the living room with an open, windowed kitchen with an island and a ladder to a loft storage space.
Apartment 33 is a two-bedroom duplex unit with an entry foyer that leads down an angled hall with a stairway to a large living room with an open kitchen with an island and there two mezzanine rooms.
Apartment 24 is a two-bedroom unit with an entry foyer that leads down an angled hall to a large living room with an open kitchen with breakfast bar.
Penthouse 1 is a studio unit with an open kitchen and a sleeping area and two large roof terraces.