35 Hudson Yards at 500 West 33rd Street: Review and Ratings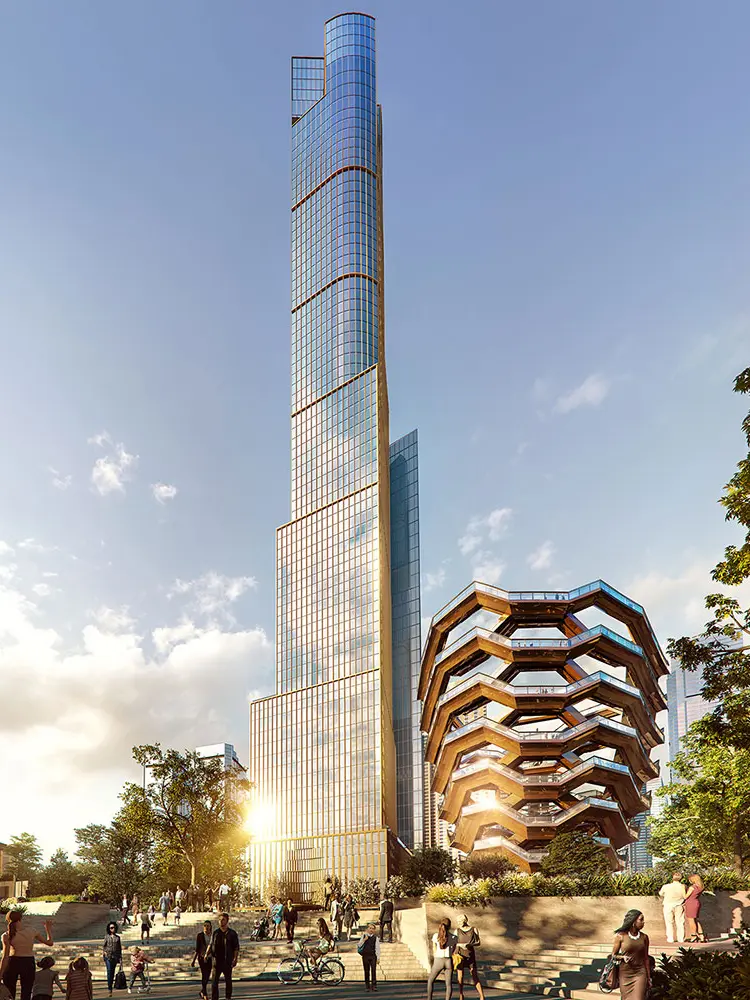 Review of 500 West 33rd Street by
Carter Horsley

Carter B. Horsley, a former journalist for The New York Times, The International Herald Tribune and The New York Post. Mr. Horsley is also the editorial director of CityRealty.com.
This large, 92-story, mixed-use tower at 35 Hudson Yards was developed by the Related Companies and the Oxford Property Group in 2018 and has 143 condominium apartments, a 200-key Equinox hotel, an Equinox fitness center, office space and ground floor retail.
At 1,039 feet tall, it will have the highest apartments at Hudson Yards, a 26-acre site over rail yards that will eventually have 10 million square feet of office space, 4,000 apartments, a school, a cultural center and 12 acres of open space. Its developed costs have been estimated at around $25 billion.
This tower was designed by David Childs of Skidmore, Owings & Merrill, who also designed One World Trade Center.
It is west of Thomas Heatherwick's "Vessel" sculpture that is the dramatic centerpiece of the large plaza just west of the large, low-rise retail base anchored by Neiman-Marcus. The "Vessel" is a glossy, copper-colored, open-work lattice-work, cone-shaped structure with many staircases and a timed admission policy.
This tower is also a bit north of "The Shed," a major, cultural facility at the base of 15 Hudson Yards that is covered with a puffy, "bubble-wrap" that can move on horizontal tracks and looks like a monochrome, patch-work quilt on the inside.
Bottom Line
With a prime, central location at Hudson Yards, this "supertall" mixed-use tower has an impressive and handsome "sucked-in" base beneath a bland asymmetrical glass tower.
Description
This relatively slender tower rises from an handsome, 8-story base with some floors with varying width mullions and, more importantly, some central, curved-in-descending-order indentations above six step-up entrances with flanking layers of sidewalk landscaping beneath large, curved canopies.
These very attractive, sucked-in façades are, unfortunately, not elsewhere used in the façades.
Furthermore, the tower is asymmetric with its lower portions rectilinear but its upper sections having some curved corners and the building's crown is unabashedly sculptural but rather awkward especially when compared with its high-rise neighbor to the south, 15 Hudson Yards, whose top conjures the business end of a double-barreled shotgun.
The apartments begin on the 52nd floor but the lower floors would appear to have more interesting views because of the plaza's "follies" such as the Vessel, the Shed, Neiman-Marcus and the subway station to connect with Times Square. Much of the "upper views" are partially obstructed by other towers and the promise of the "second phase" of development that will clutter the western half of the Hudson Yards with lots of "designer" towers.
The April 23, 2019 edition of The New York Post had a "Stone Age" front page noting Mayor De Blasio's plan to "ban classic glass and steel skyscrapers. Reporters Julia Marsh, Carl Campanile and Ruth Brown wrote that the mayor "is preparing to take New York City back to the stone age - by making 'glass and steel' skyscrapers extinct."
"De Blasio cited unspecified buildings in the Hudson Yards development as "examples of the wrong way to do things," their article continued.
An article by Jeffrey C. Mays in the April 26, 2019 edition of The New York Times noted that the mayor's words "sent a chill through the real estate and construction industries, especially given the timing: Days earlier, the City Council passed legislation to force buildings to reduce their greenhouse emissions by 40 percent by 2030, or face fines that could reach into the millions of dollars year," adding that "the new requirements were part of Mr. De Blasio's Green New Deal, a $14 billion plan to help the city reach its goal of becoming carbon neutral by 2050."
A March 31, 2019 article by Michael Cooper in The New York Times noted, on the opening of The Shed, that "The Hudson Yards, the new development that both critics and admirers have likened to Dubai, and which Michael Kimmelman, the architectural critic of The New York Times, lamented was a 'supersized suburban-style office park, with a shopping mall and a quasi-gated condo community targeted at the 0.1 percent."
Amenities
This building has a doorman, a concierge, a media room, a children's playroom, a live-in superintendent, a swimming pool, a fitness center, a bicycle room, a package room, cold storage, a valet, and valet parking. The building allows pets.
Apartments
Apartment 1 on the 89th floor is a four-bedroom unit with a 7-foot-long entry foyer that opens onto a 28-foot-wide great room and a 25-foot-media room, a 18-room dining room, and an 18-foot-wide kitchen and an 18-foot-wide family room with a curved window wall.
Apartment 3 on the 82nd floor is a four-bedroom unit with 3,436 square feet and a 28-foot-long gallery that leads to a 28-foot-long great room with a curved window wall, a 14-foot-wide kitchen and a 14-foot-wide family room.
Apartment 4 on the 72nd floor is a three-bedroom unit with 3,099 square feet, a 10-foot-long foyer, an 18-foot-long gallery, a 25-foot-long great room with a large curved window wall, and an 18-foot-long windowed kitchen with an 18-foot-long family room.
Apartment 8302 is a three-bedroom unit with 2,656 square feet with an 11-foot-long entry foyer that leads to a 17-foot-long gallery that opens onto a 22-foot-great room with a curved window wall and a 206-square foot triangular balcony, a 13-foot-wide kitchen and a 13-foot-long family room.
Apartment 1 on the 62nd floor is a three-bedroom unit with 2,453 square feet with a 9-foot-wide entry foyer that leads to 22-foot-long great room with a curved window wall next to a 12-foot-long kitchen and an angled 8-foot-long breakfast room.
Apartment 5 on the 62nd floor is a two-bedroom unit with 1,492 square feet, a 6-foot-wide entry foyer next to a 10-foot-long, enclosed kitchen and a 24-foot-long great room.
Book a Tour or Get More Information on this Building
4,268 Buyers
are interested in buying at
500 West 33rd Street!
Interested in Selling?
We'll introduce you to the agents that
specialize in 500 West 33rd Street and are
experts in selling apartments there.

And they'll be able to contact all of the buyers interested in the building.
There's no obligation and your inquiry is confidential.
Call us at (212) 755-5544