53 West 53rd Street: Review and Ratings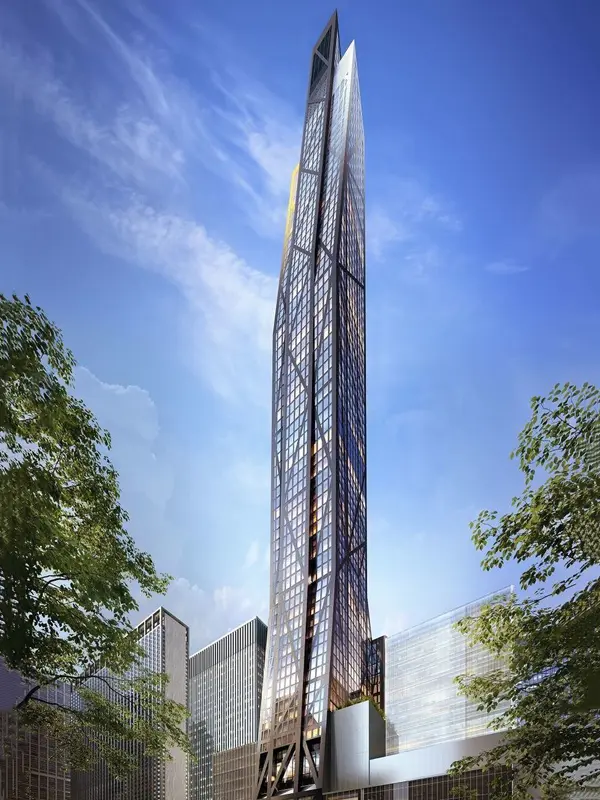 Review of 53 West 53rd Street by
Carter Horsley
This very impressive, tall, tapering tower at 53 West 53rd Street is perhaps the best of the "Supertall" skyscrapers that began sprouting in Manhattan in the first dozen or so years of this millennium. It was designed by Jean Nouvel, the French architect who won the Pritzker Prize in 2008, for Hines Interests of Houston.
A mixed-use building, it contains expansion space for the Museum of Modern Art, a hotel and apartments in its mid-block location at the west end of the museum's properties.
When it was first announced in 2008, it was planned to rise 1,250 feet, the height of the Empire State Building without its antenna spire. But Amanda Burden, then chair of the City Planning Commission ordered that its height be reduced to 1,050 feet. Nicolai Ouroursoff, the architecture critic of The New York Times, said that Burden argued that the MoMA tower "did not meet the aesthetic standards of a building that could compete in height with the city's most famous towers."
Burden's outrageous "decapitation" of this tower was not applied to any of the other Supertalls, many even taller and the city's planners have been very negligent in dealing with the new skyline.
Originally known as the Tower Verre, the tower involved the transfer of about 275,000 square feet of air rights from St. Thomas Episcopal Church on the northwest corner of Fifth Avenue and 53rd Street and 136,000 square feet of air rights from the University Club on the northwest corner of Fifth Avenue and 54th Street.
In his May 2, 2010 article in New York Magazine, Justin Davidson wrote the Nouvel's original design "offered an exuberant counterpoint to the relentless three-dimensional matrix of midtown," adding that "Slashing upward as if trying to catch a particular cloud on the fly, its musculature of asymmetrically slanted beams visible against a taut glass skin, Tower Verre would have been New York's most lithe, athletic skyscraper....The inspiring arrogance of Nouvel's tower should never have been quashed by timorous bureaucrats."
The tower's redesign, interestingly, retained a great deal of the original design.
This tower will have three floors of exhibition space for the museum, a hotel and 145 condominium apartments.
The very handsome American Folk Art Museum designed by Tod Williams Billie Tsien Architects occupied part of this tower's site on 53rd Street.
Nouvel's other Manhattan projects include 100 Eleventh Avenue and 40 Mercer Street. Some of his other notable works are the Institut du Monde Arabe, the Musee du quai Branly, the Foundation Cartier and the Philharmonie de Paris, all in Paris, and the Louvre Abu Dhabi, the National Museum of Qatar in Doha, the National Art Museum of China in Beijing and the KKL Lucerne culture and convention center in Switzerland.
An article in The Slatin Report June 19, 2007, said that Mr. Nouvel had won a design competition for the new tower and that the other competing architects has been Nicholas Grimshaw & Partners, Reiser and Unamoto, Morphosis and Diller Scofidio + Renfro.
Bottom Line
A stunted, but still soaring mid-block, mixed-use shard with three shorn peaks above a tight corset of angled beams, this is the most interesting of the city's SuperTalls and has large apartments and many amenities.
Description
A bundle of steeply angled sections wrapped boldly with an angled corset of beams with significant expansion space for the Museum of Modern Art on its lower floors.
Amenities
Thierry Despont is the interior designer. Amenities include a 24-hour doormen, a live-in resident manager, a chauffeurs' lounge, catered food service for residents, the Wright Fit health club, a squash court, a 65-foot-long lap pool, a golf simulator, bicycle storage, a double-height lounge and private dining room, wine vaults and a tasting groom, pantry-stocking, housekeeping, dry cleaning, maid and laundry service, a pet concierge, and a technology consultant.
Apartments
Penthouse 76 is a duplex unit with three-bedrooms with 7,973 square feet. The lower level has a 38-foot-long living room, a 24-foot-long dining room and a 24-foot-long enclosed kitchen with an island, and a 30-foot-long library and two bedrooms on the upper level.
Apartment 64 is a four-bedroom unit with 6,617 square feet with a 38-foot-long living room with a large open kitchen with an island.
Apartment 72A is a three-bedroom duplex unit with 4,372 square feet with a 38-foot-long living room, an enclosed kitchen and two bedrooms, including a 38-foot-long master bedroom, on the upper level.
Apartment 55A is a three-bedroom unit with 3,848 square feet with a 38-foot-wide living room and an enclosed kitchen with an island.
Apartment 58B is a three-bedroom unit with 3,251 square feet, a 39-foot-long living room, and an enclosed kitchen.
Apartment 36A is a two-bedroom unit with 3,020 square feet, a 29-foot-long living room with an open kitchen with an island and a 25-foot-long master bedroom.
Apartment 151 is a one-bedroom unit with a 30-foot-long living room with an open kitchen.
Book a Tour or Get More Information on this Building
7,631 Buyers
are interested in buying at
53 West 53rd Street!
Interested in Selling?
We'll introduce you to the agents that
specialize in 53 West 53rd Street and are
experts in selling apartments there.

And they'll be able to contact all of the buyers interested in the building.
There's no obligation and your inquiry is confidential.
Call us at (212) 755-5544