535W43 in Midtown West: Review and Ratings | CityRealty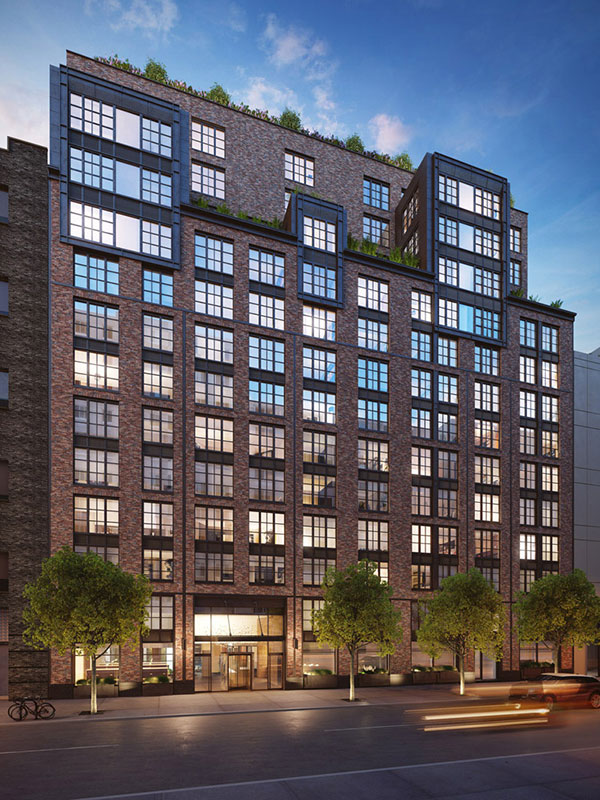 Review by
Carter Horsley

Carter B. Horsley, a former journalist for The New York Times, The International Herald Tribune and The New York Post. Mr. Horsley is also the editorial director of CityRealty.com.
This nice, 14-story, mid-and-through-block development at 535 West 43rd Street is designed by CetraRuddy for Patrinely Group LLC, DHA Capital Inc., and USAA Real Estate Company.
The project consists of two similarly massed buildings that face a central courtyard and they are connected by a two-story-high, orange-colored arched arcade. The second building has an address of 534 West 44th Street.
The buildings, which are between 10th and 11th Avenues, contain 280 rental apartments, of which 62 are below market-rate.
It was completed in 2016.
Bottom Line
The building's asymmetrical and imposing street façades give no hint of the development's interesting and impressive non-apartment spaces and its location in one of the city's newest residential high-rise enclaves with excellent public transportation and proximity to the Hudson River.
Description
Both street-fronts have motley brick façades with marquee entrances, multi-paned fenestration and some handsome, dark, multi-story window surrounds about its 11th story setback. The street-fronts are nicely "scored" with thin dark indentations and brass planters beneath large sheets of single-pane windows on the ground floor.
The double-height lobby off 43rd street sports a very long fireplace beneath a sculpted wall and beside a glass wall overlooking the courtyard.
The lobby also have large mailbox "tables" as opposed to walls and the large area in front of the concierge station is beneath an impressive and very large flock of reflective birds that provides a festive and celebratory air.
The courtyard façades are light-colored and have a narrow indented pier that adds sculptural interest as do the dark metal spandrels. These façades are actually more attractive than the street façades, at least in the project's renderings.
A May 6, 2016 article by Jane Margolies in The New York Times indicated that the bicycle rooms are not in the basement but on the ground floors of both buildings and will have a table where people can fix their bikes.
Amenities
The building has a fitness center, a children's playroom, a game room with a pool table, demonstration kitchen and a bar area, and a soundproofed screening room. One roof deck has four outdoor kitchens and the other has a bar and wood chaises and both are landscaped and have Hudson River views.
There is 24-hour doorman service, storage, pet spas and grooming areas, and bicycle rooms.
Apartments
Apartments have washers and dryers, blood flooring, open kitchens with subway tile backsplashes, dark wood cabinetry, caesarstone countertops and stainless steel appliances.
Apartment 0 on floors 3 through 11 is a two-bedroom unit with a 10-foot-wide entry foyer that leads to an open, 14-foot-wide kitchen next to the 19-foot-long living room.
Apartment H on floors 3 through 11 is a one-bedroom unit with a long entry foyer that leads past a 11-foot-long, enclosed kitchen to an 11-foot-wide dining room that opens onto a 20-foot-wide living room.
Apartment B on floors 4 through 11 is a one-bedroom unit with a 20-foot-long living room and an 10-foot-wide, pass-through kitchen.
Apartment F on floors 3 through 11 is a studio unit with a 15-foot-long, open kitchen that leads to a 11-foot-wide-living area with an 8-foot-wide sleeping alcove.