Avalon Midtown West at 250 West 50th Street: Review and Ratings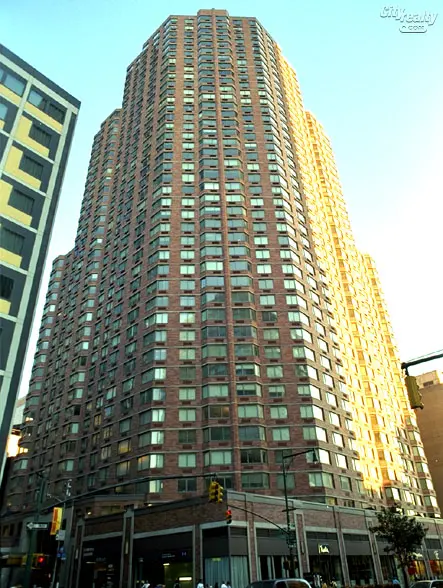 Review of 250 West 50th Street by
Carter Horsley

Carter B. Horsley, a former journalist for The New York Times, The International Herald Tribune and The New York Post. Mr. Horsley is also the editorial director of CityRealty.com.
This very large, rental apartment tower at 250 West 50th Street was developed by Jack Resnick & Sons, Inc., and completed in 1998.
The 41-story building has 440 apartments and was designed by Schuman Licthenstein Claman & Efron.
Bottom Line
The large building has a prime location on Eighth Avenue between the handsome World Wide Plaza and Rockefeller Center West and it is close to the Theater District, excellent public transportation and many restaurants.
Description
The building, which is also known as 810 Eighth Avenue, lessens its impact on the street by chamfering its corner at the avenue. (It is one of the few buildings that do this. Dag Hammarskjold Tower on Second Avenue and 47th Street is another.)
Although such deviations from the midtown's traditional rectilinear streetwall grid are rare and not generally encouraged by planners because they break continuity, they can provide welcome extra "light and air" in congested areas as well as open up different and interesting views for the residents.
It is across the avenue from the very handsome, full-block development known as World Wide Plaza that contains a major office tower, a cineplex, and several residential buildings on the former site of Madison Square Garden. The World Wide Plaza complex, completed about a decade earlier than this building, opened the way for the redevelopment of this once seedy stretch of Eighth Avenue.
Amenities
It has a pool, a garage, a doorman, a recreation room, a sundeck, a fitness center and valet service.
The building has many corner windows and bay windows. Public transportation is excellent.
Apartments
Apartments have open kitchens with breakfast bars windows and bathrooms have windows. Some units have balconies.
The building has many apartments with bay windows in the living/dining areas and in the very large bedrooms.
Some units are furnished and are handled by Oakwood Worldwide that acquired the ExecuStay corporate housing brand from Marriott International in April, 2012.
History
The building was originally called the Gershwin but was renamed the Archstone Midtown West when it was acquired by Archstone.
An article by Steve Schaefer in the November 26, 2012 edition of Forbes noted that Archstone Enterprises was sold to Equity Residential and AvalonBay Communities.