Gotham West, 550 West 45th Street: Review and Ratings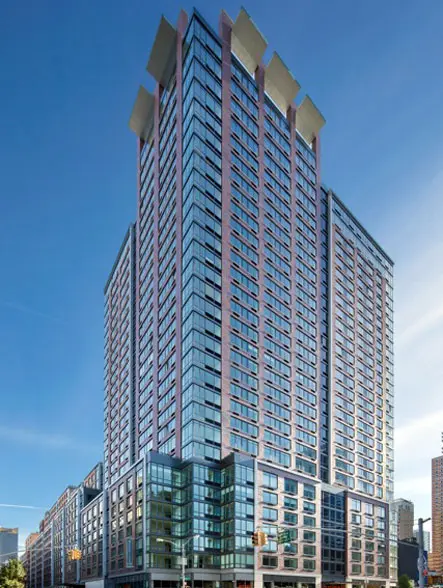 Review of 550 West 45th Street by
Carter Horsley
Gotham West is a 32-story tower at 550 West 45th Street on the southeast corner at 11th Avenue. It is part of a nearly full-block complex of 1,238 rental apartments in total, housed in four buildings stretching to Tenth Avenue.
The light colored brick project was designed by Schuman, Lichenstein, Claman & Efron. Thomas Balsley Associates was the landscape architect. The interior architect was Span Architects.
The building was was completed in 2013. It was built by the Gotham Organization, of which David L. Picket is a principal.
Bottom Line
A brick tower with 550 units, Gotham West is a full-service building that has a communal lounge, fitness center, indoor/outdoor kids' spaces, large courtyard, a roof deck and a number of small restaurants at its base in the Gotham West Market. It is not too far from the Theater District and the Hudson River.
Description
The building is U-shaped, surrounding a 10,000 square foot landscaped courtyard, with the tallest section on 11th Avenue. It has many corner windows, a masonry façade incorporating five shades of brick and discrete air-conditioners.
Amenities
Inside the residential building, amenities include a communal lounge with billiard table, a business center and a test kitchen (breakfast served weekdays). There is also a fitness center offering cardio, weights and daily yoga, cycling or boot camp classes, a children's playroom, an outdoor sky terrace and the large courtyard.
At street level, Gotham West Market features seven small restaurants. Brooklyn Kitchen offers a selection of kitchenware, groceries and cooking classes. A block away from Hudson River Park, Gotham West's residents can store their bikes with NYC Velo, the on-site bike porter and shop.
The building offers a shuttle to 6th Avenue during the week day rush hours and personal concierge services to its residents.
Apartments
All apartments have stainless steel kitchen appliances, wide plank oak flooring and washers and dryers.
History
The site was condemned by the city in the 1970s and mostly cleared. At one point, there were plans to redevelop the site as Studio City New York, a 15-story project with 7 film and TV soundstages and shops.
The site was rezoned to permit housing when the massive Hudson Yards project, a few blocks south, was approved.
The site is two blocks south of Hell's Kitchen Park on Tenth Avenue. Hell's Kitchen was the name given in the 19th Century to the area west of Eighth Avenue in the 30s, 40s and 50s and subsequently part of it have been known as Clinton, Midtown West and Chelsea North.