Icon, 306 West 48th Street: Review and Ratings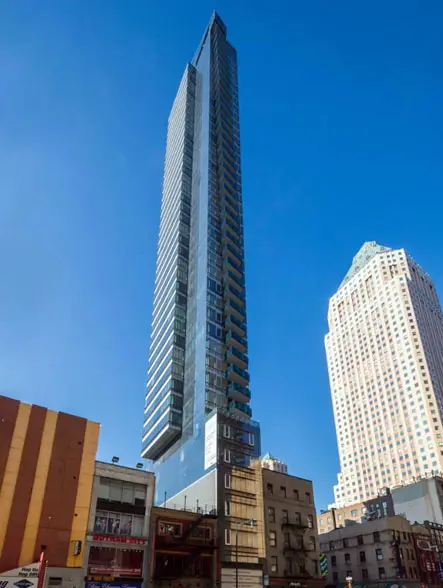 Review of 306 West 48th Street by
Carter Horsley
This very slim, 43-story, midblock, rental apartment condominium tower at 306 West 48th Street between 47th and 48th Streets on Eighth Avenue is one of the most dramatic "slivers" in the city.
Designed by Ismael Leyva, the wedge-shaped building, which is also known as 785 Eighth Avenue, has 122 apartments.
It was developed by Esplanade Capital of which Jay Eisenstadt is a principal.
Bottom Line
A slender blue-glass mid-block rental apartment tower in the Theater District with an angled bay of balconies on Eighth Avenue and a handsome and rakishly angled roofline.
Description
In their wonderful book, "The A. I. A. Guide to New York City, Fifth Edition" Norval White, Elliot Willensky and Fran Leadon wrote that "Sliver was an Ira Levin novel and a steamy stinker of a movie," adding that "but the sliver as building type has made a big comeback, even if Sharon Stone hasn't."
"In the hands of architect Ismael Leyva," the authors continued, "this sliver is higher (556 feet), slimmer (24 feet) and sharper (we assume) than other recently perilously thin condo projects. Viewed from several blocks south, Leyva's icy blue needle contrasts nicely with the bulky Worldwide Center just to its west. But seen at street level, with no other towers visible to give it a sense of context and visual support, the building is elegant but anxiety-inducing: what holds it up?"
The building is partially cantilevered seven feet on its south side over a low-rise building on Eighth Avenue.
Its entrance is at the rear of the tower on 48th Street and has a revolving door under a stainless steel marquee that leads through a landscaped alley to the building.
Unlike most "sliver" buildings that are flat-roof incursions into the streetscape, this one has a very large and dramatic and very attractive angled roofline, containing a circular element, especially when seen from the south where its silhouette is outlined against the larger and bulkier pyramid roof of the Worldwide Plaza main office building. Together with Arquitectonica's geometrically playful and colorful Westin Hotel to the south at 42nd Street and Norman Foster's jagged edges at the Hearst Tower to the north at 57th Street, these buildings have given the once dreary Eighth Avenue in midtown a new skyline personality of considerable flair even if not yet a total transformation.
Seen from the east, the building's angled roof is hard to discern from street-level, but its bay of dark blue balconies is dramatically, and, given the narrow side, jarringly angled from above the 7-story base on the avenue. The tower is setback considerably atop the base.
The tower's massing is elegant and impressive, almost awesome, especially given its rather dingy neighbors.
"If thin is in, then Icon at 306 West 48th Street will be the hottest rental in town," observed Jacob Sheftell in a July 12, 2012 article in the New York Daily News.
"With typically three apartments per floor," he continued, "this boutique rental has more interesting highlights than a Chris Brown nightclub sighting. First, the 122-unit building is an architectural feat that has come back to life after five years of struggles and lawsuits. Second, it was built as a condo….Third, it's just cool, so thin that it appears like a wand waving in the sky….Leyva placed cascading balconies that ascent the building diagonally. It looks like a thrill ride."
The article quoted the architect as stating that he "wanted to give the building movement," adding that "there is so much activity and energy on the streets outside that I needed this building to be dynamic. I couldn't put it on the East Side. They would say horrible things about me and think it was too much. But in Hell's Kitchen and the Theater District, it's a strong addition."
Amenities
The building has a concierge and a full-time doorman, a roof deck, a fitness center and a party room.
Apartments
The full-floor penthouse has 20-foot ceilings.
Studio lofts on floors 3 through 8 have 11-foot ceilings.
Residence B on the third floor is a studio unit that has a 14-foot-long living/dining room with an open kitchen and a 12-foot-long sleeping area and a 30-foot-long roof terrace.