Longacre House, 305 West 50th Street: Review and Ratings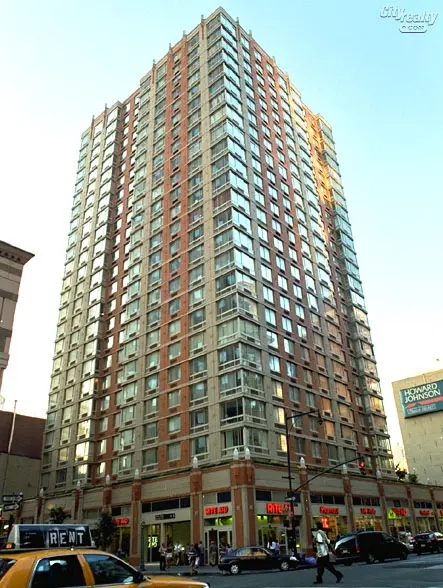 Review of 305 West 50th Street by
Carter Horsley
This rental apartment tower at 305 West 50th Street on the northwest corner at Eighth Avenue was completed in 1998.
The 26-story building, which is called Longacre House, has 293 apartments. It is also known as 831 Eighth Avenue.
It was designed by Schuman Lichtenstein Claman & Efron.
Some units are furnished and managed by Oakwood Worldwide, which acquired the ExecuStay corporate housing brand from Marriott International in 2012.
Bottom Line
Convenient to Times Square and the Theater District and Restaurant Row and public transportation, this pleasant tower offers small apartments and nice amenities.
Description
The building has a one-story base and a tower that has slightly protruding corners with corner windows.
It has a rose and beige colored brick façade dotted by brick clusters positioned at 45-degree angles, with those at the base topped by lanterns.
Amenities
It has a health club, a 24-hour attended garage, a 24-hour concierge, a private garden, a recreation room, a fitness center, a sundeck, valet service and it allows pets. Public transportation is excellent and there is subway access in the building.
Apartments
All apartments have 8-foot-8-inch ceilings and even the smallest studio units have sleeping alcoves.
Apartment 8A is a studio unit with a 14-foot-long living room with an 8-foot-wide sleeping alcove and an enclosed, windowed kitchen.
Apartment 8B is a studio unit with a 12-foot-long entry foyer, a 13-foot-long living room with an 11-foot-wide sleeping alcove and a pass-through kitchen.
Apartment 2D is a one-bedroom unit with a 20-foot-long living room with a pass-through kitchen that opens onto a 25-foot-wide terrace.
Apartment F1034 is a two-bedroom unit with an entry foyer that leads to a 10-foot-wide gallery next to an enclosed kitchen and leading to a 22-foot-long living room.
Location
It is across 50th Street from the full-block development known as Worldwide Plaza that contains a major office tower, a cineplex, and several residential buildings on the former site of Madison Square Garden. The Worldwide Plaza complex, completed about a decade earlier than this building, opened the way for the redevelopment of this once seedy stretch of Eighth Avenue.
This building is on the same cross-street as Rockefeller Center, Saks Fifth Avenue and St. Patrick's Roman Catholic Cathedral and borders on the theater district and the northern fringes of Times Square.