Mercedes House in Midtown West: Review and Ratings | CityRealty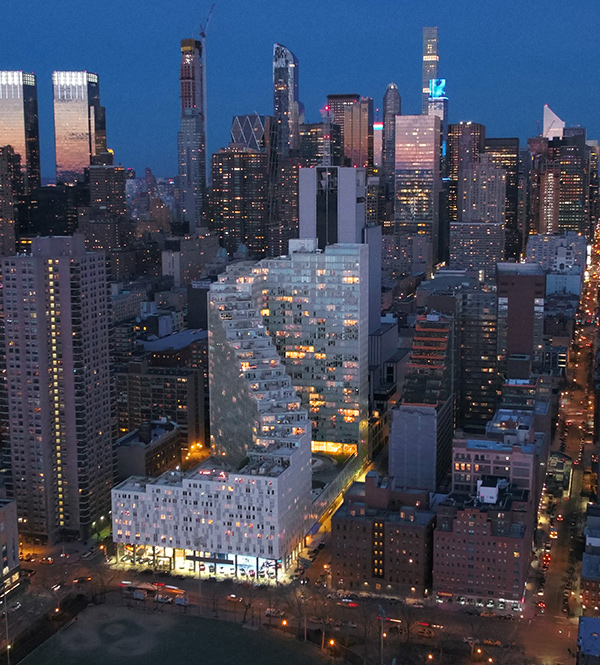 Review by
Carter Horsley

Carter B. Horsley, a former journalist for The New York Times, The International Herald Tribune and The New York Post. Mr. Horsley is also the editorial director of CityRealty.com.
The Mercedes House at 770 Eleventh Avenue is a large rental apartment building overlooking Dewitt Clinton Park on the west side of 11th Avenue between 52nd and 54th streets.
It has 864 apartments, including 180 permanently affordable units under the city's Inclusionary Housing Program, and is 8-stories tall along 11th Avenue where its lower two floors are leased to Mercedes Benz, the car manufacturer, and 31 stories tall at its eastern end.
The building's plan is a Z and it steps down from the east to the west with two large, elevated, mid-block courts.
It was developed by Two Trees Management and designed by Enrique Norten of TEN Arquitectos.
It was completed in 2012 when Invesco brought its top 10 floors that were originally intended to be marketed as condos and announced that they would become rentals.
The building is between 53rd and 54th streets.
Bottom Line
Mercedes House offers has many amenities including many protected views of the Hudson River over the two-block-square Dewitt Clinton Park and proximity to the Theater District and Columbus Circle. Its stepped roofline offers two large terraces on each of 23 floors and many non-terraced apartments also have impressive river views.
Description
The building is just to the west of the tall white A. T. & T. switching building with vertical black stripes on the Tenth Avenue blockfront between 53rd and 54th streets in the heart of Clinton not far from the West Side Highway.
An article by Paul Needham in the August 9, 2011 edition of the Huffington Post said that "from the courtyards, the building almost feels like a cruise ship." Certainly the broad, zig-zag curves of its mid-section suggest waves and the scale of the large building is like some modern cruise ships that seem like high-rise buildings with their seemingly countless levels of cabins unlike those of an earlier era that were more sleek than top-heavy.
The 23 setbacks have sufficient landscaping for the building to be considered the "hanging gardens" of New York.
The light-colored façades of the building are also interesting as they are patterned with perforated screen panels that give them considerable "texture."
This building and another very large residential project planned by The Durst Organization a few blocks north at 57th Street are important contributors to the new West Side/Clinton ambience of unusual and almost ungainly but very interesting buildings. That 750-unit development has been designed by the Bjarke Ingels Group as an oblique pyramid with a large, angular center hole.
Amenities
The building has a 225-car garage and 28,000-square feet of interior contiguous amenity space and 60,000-square feet of outdoor amenity space.
Amenities include a concierge, a gym, a bicycle room, a package room, and indoor and outdoor swimming pools, indoor basketball, boxing ring, golf simulator, screening rroom, volleyball and spa facilities.
Apartments
Studio A has a 15-foot-long living room with and open kitchen with an island.
Studio B has a 15-foot-long living room with an angled window wall and an open kitchen.
Bedroom A has a 15-foot-long living room with an open kitchen and an island and a 12-foot-long bedroom.
Bedroom B has an 18-foot-long living room with an open kitchen with an island and a 12-foot-long bedroom.
Bedroom C has a 15-foot-long living room with an open kitchen with an island, a 11-foot-long bedroom and a 10-foot-long home office.
Bedroom D has a 17-foot-long living room with an open kitchen with an island, a 14-foot-long master bedroom and a 12-foot-long second bedroom.
Two-Bedroom C has a 13-foot-long living room with an open kitchen with an island flanked by 12-foot-long bedrooms.
Two Bedroom D has an entry foyer and gallery that lead to a 16-foot-long living room with an open kitchen with an island, a 12-foot-long master bedroom and a 10-foot-long second bedroom.
History
The Huffington Post article by Mr. Needham quoted Mr. Norten as stating that "in a city that's so tied up with rules, and where it's so hard to build anything, we're proud to show that you can still come up with a new something."
The article noted that "the project began in 2007, required a significant zoning change and won the support of neighbors," adding that "Mercedes at one point pulled out of its deal to become the anchor retail tenants – though Toyota and Lexus were ready to take its place."
The article also said that the New York Police Department "still hasn't finalized a deal to place its horse unit in a 40,000-square-foot space on the ground floor." The mounted unit had been housed in at Pier 36 at West 36th Street that was being taken over by the Hudson River Park.
The Clinton/Hell's Kitchen Land Use Committee of Community Board 4 sent a letter September 5, 2012 to Amanda M. Burden, the chair of the City Planning Commission about the space that had been set aside for the mounted unit. It said that the full community board voted to recommend approval of a text amendment to the New York City Zoning Resolution to permit the building to get a certificate of occupancy without the stable space as previously approved.
The letter noted that "The NYPD Mounted Unit stable has been at a variety of locations in CD$ for many years, provided a reassuring police presence, sidewalk entertainment for residents and visitors alike, and fertilizer for neighborhood gardens."
"Unfortunately," the letter continued, "for economic and other reasons not disclosed to CB4, the City opted to not relocated the NYPD Mounted Unit stable to Mercedes House, even though the developer had already built out the stables and related facilities to the NYPD's specifications."
"With the City no longer willing to occupy the stable," the letter added, "the Applicant cannot get the necessary floor area exemption and thus they will not be able to obtain a Certificate of Occupancy. The present Text Amendment seeks to correct this problem by allowing the exemption upon construction of the stable, not upon occupancy by the NYPD Mounted Unit."
The board recommended approval of the amendment on the condition that the develop work with the community board to find "a mutually acceptable user' for the space that will "benefit" the community.
Two Trees Management is headed by David C. Walentas and his son, Ted. David Walentas has a horse farm upstate and used to play polo and his wife, Jane, built in 2012 a large carousel with moving wooden horses on the Brooklyn waterfront near the Brooklyn Bridge.
Mercedes House was originally planned to be called Clinton Park but when Mercedes decided to occupy a 330,000-square-foot showroom in the base of the building, the name was changed.
Norten is the founder of TEN Arquitectos, in which TEN stands for Taller Enrique Norten with Taller meaning atelier, or studio.
In New York, Mr. Norten's other projects include One York Street on Canal Street and the Cassa Hotel and Residences on West 45th Street. He had also designed a very handsome hotel for Marriott at 125th Street and Park Avenue.
An article by Amanda Fung at crainsnewyork.com October 3, 2012 said that Two Trees was selling the top 10 floors with 162 apartments to Invesco, an investment firm based in Dallas for "roughly $170 million.
Two Trees bought the site in 2006 for about $130 million from Verizon that had used it for vehicle storage.