1 Columbus Place: Review and Ratings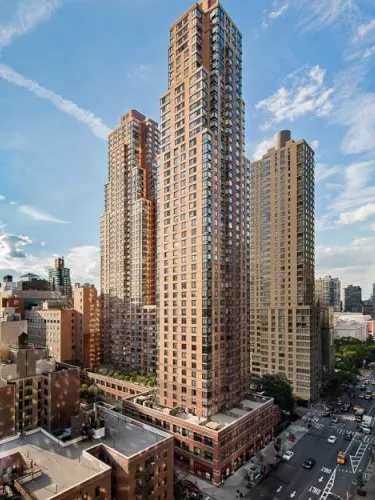 Review of 1 Columbus Place by
Carter Horsley

Carter B. Horsley, a former journalist for The New York Times, The International Herald Tribune and The New York Post. Mr. Horsley is also the editorial director of CityRealty.com.
The two towers of One Columbus Place on the west side of Ninth Avenue between 58th and 59th streets east of the St. Luke's/Roosevelt Hospital complex were developed by The Brodsky Organization, one of the Manhattan's largest builders of luxury rental buildings.
The towers were topped out in 1997 and rise 51 stories above a three-story commercial base abut the 1892 William J. Syms Operating Theater.
Of the development's 700 apartments, 149 are reserved for tenants qualifying as low/moderate income renters.
The building, which is also known as 925 Ninth Avenue and 400-410 West 59th Street, has a 7,500-square-foot health club and 5,500-square-foot landscaped roof terrace. It has a concierge, a roof deck, a garage, laundry facilities, a party room with landscaped terrace and barbecue and a children's play room and it is pet-friendly. It was designed by Schuman Lichtenstein Claman & Efron.
The location is very convenient to the Lincoln Center for the Performing Arts and good public transportation.
In his "Streetscape" column in The New York times October 25, 1987, Christopher Gray wrote that the Syms building was a gift of a retired gun merchant to the hospital and was described in Harper's Weekly as "the finest structure in the world for surgical operations" and had "steeply ascending semicircular tiers of seats that accommodated 184 people."
The Harper's Weekly article noted that the building had been designed by W. Wheeler Smith - who had also designed the long-since demolished College of Physicians and Surgeons across the street - the mildly Romanesque building was one where "beauty of exterior has been sacrificed to utility of interior."
Mr. Gray noted that the "sacrifice" for the interior was an effort to reduce the risk of infection, a constant concern in late 19th-century hospital design: "walls and even ceilings were made of marble, fittings of iron and the mosaic floors curved upward at the edges to reduce corners that might harbor bacteria. Even the laundry chute was lined with marble so that it could be more easily disinfected. To assure good drainage, the Syms building had a moat around its full basement."
According to Mr. Gray, "The last surgery was performed in the Syms building in 1941 and it was converted into office space." It is now used by George Soros's Open Society Institute.
The Brodsky Organization was founded by Nathan Brodsky, who died in 2006 at the age of 89. His firm was very active in the Lincoln Center area where it also build West End Towers and South Park Tower.